Everything is nicely poised for an exciting second leg of the RHB Singapore Cup semi-final clash between Global FC and Tanjong Pagar United at Jalan Besar Stadium this Friday night.
The first one finished 2-2 and the two coaches seemed to think it was a fair result, after what had been an enjoyable and high tempo game.
After their sojourn to Shah Alam Stadium on Saturday night, Jaguars coach Patrick Vallee and four of his players, namely Monsef Zerka, Kamel Ramdani, Ahmad Latiff and Hanafi Salleh, all performed well.
The match also marked the return to action of vice-captain, Walid Lounis, who joined club captain and also recently returned Hafiz Osman at the heart of the Jaguars defence.
Both Lounis and Hafiz came through the game well after putting in solid performances.
"I was pleased with Walid and Hafiz," Vallee said after the game
"We started the game slowly, but I [particularly] liked the fight of my team. We created a lot of chances during the game."
Vallee was not prepared to blame his goalkeeper for the mistake he made towards the end, which cost them a 2-1 lead.
"Aurelien [Herisson] has saved us many times in the past and he played well, otherwise," he noted.
"If another player in the team makes a mistake, it's soon forgotten but when a goalkeeper does it, everyone remembers. But I won't blame him at all, these things happen.
"It's good to be going into the second leg at 2-2, we both have a chance of going to the final. It should be another good game at Jalan Besar."
Rival coach Brian Reid (right), speaking with his now-recognisable broad Glaswegian accent - which must give his own players some difficulty in understanding his intentions - was similarly satisfied that his under-manned side had collected a draw from the game.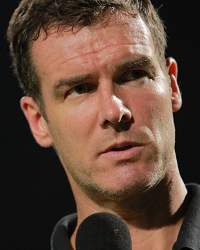 "We only had 14 players available tonight, due to injuries and suspensions, and of our three substitutes one was a goalkeeper," he remarked.
"A lot of players were playing in unfamiliar positions and probably needed to introduce themselves to their team mates, especially the back four!
"We had three suspended and two of them will be back for the second leg."
The third, Carlos de Murga, is understood to be seriously injured and out for the season, according to club insiders.
All the same, it was a good effort by Global on the confines of the Queenstown Stadium pitch.
"We'll enjoy playing much more on the bigger Jalan Besar Stadium pitch, although tonight, even with some regulars out, I thought we played with a high work rate and at an exceptional tempo," Reid went on.
"The home team had the familiar pitch and the crowd behind them, so a draw was a good result for us, I think.
"Of course the second leg is an away game too, but I think we can play just as well, if not better than we did this evening, at Jalan Besar Stadium on Friday night."
The crowd of 1,105 would have been pleased with the football on show and a highly vocal Global supporters' group made doubly sure that the atmosphere was second to none and are likely to bring their enthusiasm to Friday's game in even larger numbers.