The Football Association of Singapore (FAS) has signed a Memorandum of Understanding (MOU) with the French Football Federation (FFF) to learn and exchange expertise and information to develop coaches, referees and especially youth players.
In a ceremony held at the Jalan Besar Stadium on Tuesday morning, FAS president Zainudin Nordin and FFF vice-president Bernard Desumer (both pictured) put pen to paper a four-year agreement that will see both football organisations work together and organise a series of regular exchanges, with the goal of bringing the quality of Singapore football to the next level.
A key aspect of the partnership is the youth exchange programmes, where talented youngsters will be given the opportunity to go for overseas training stints, including at the world-renowned Clairefontaine Technical Centre, which has produced some of the world's greatest football legends like Michel Platini, Jean Tigana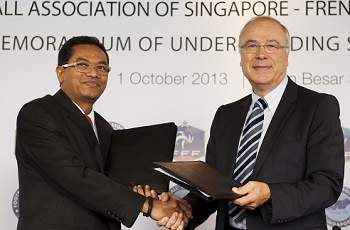 and Zinedine Zidane.
France currently supply the highest number of foreign player imports to other European leagues, showing its success in terms of developmental programmes. The 1998 World Cup winners are also the only side to have won all five 11-a-side men's titles: the World Cup, Confederations Cup, Under-20 and Under-17 Cups and the Olympics.
In addition, the partnership also involves the exchange of information on other aspects of football such as the administration and management of football and its training, including medical matters, IT issues and marketing aspects.
"We are absolutely delighted to have signed this MOU with the FFF, whose national team has been consistently ranked among the top 10 in Europe over the past decade," Zainudin said.
"FFF is renowned for its elite academies which have over the years produced many world-class players and we are confident that we can leverage on its expertise and bring our youth development structure to the next level."
Desumer also echoed Zainudin's statements, stating that the FFF is looking to do their part in helping Singapore improve.
"We are delighted to be working with one of Asia's best football administrators in FAS," Desumer said.
"The FAS has a comprehensive youth development structure, which has seen them earn praise from FIFA for having achieved much despite operating on a much smaller budget as compared to other countries in this region.
"We aim to contribute to the further growth of Singapore football by working with them to improve and upgrade the skills of their coaches and trainers, referees and most importantly, develop their youth players for international standards."
While the partnership would initially seem to benefit FAS more, the agreement will be hugely beneficial for FFF as well. The MOU would give the FFF an important presence in Southeast Asia and provide a good experience for their technical staff to impart their knowledge to Singapore coaches and players.
Information and details of the initiatives from this MOU will be announced at a later date, but it is understood that there will be a sharing session, workshops and trainings sessions to be conducted in the next few days to kick off the partnership.