The Australian cited club chairman S. Thavaneson as a major reason for their desire to reach the StarHub League Cup final, which they did after seeing off Albirex Niigata
Winning Balestier Khalsa coach Darren Stewart was a very happy man following his side's 1-0 StarHub League Cup semi-final win over Albirex Niigata at Jurong East Stadium on Monday night.
Happy, he explained, not so much for himself as for the players and especially for the club's chairman, S. Thavaneson.
"I haven't got words enough to describe the performance by the lads tonight; they were magnificent to say the least," Stewart lauded.
"I can't be more pleased for the boys that they made it to the final. They didn't do it just for me or for themselves; they did it for the chairman.
"Thava has done so much for the players and they and I really appreciate all that he's done for us all."
The Australian was clearly choking back his emotions after a game that saw the Tigers advance to Saturday's final, where they will meet either Woodlands Wellington or Brunei DPMM.
"All of our players gave it everything; they had the hunger and never stopped chasing after every ball, backtracking whenever we lost it," Stewart continued.
"Every player made it their mission to win this match.
"I have an enormous amount of respect for Albirex and their coach [Koichi Sugiyama], who I believe is a very good coach and who I've come to know well since the days when I was with Gombak and we were neighbours.
"I can't speak about how well Albirex played, of course, as this win was about how my players went out and did what was needed. Some were playing with injuries, but you'd never know it to watch them.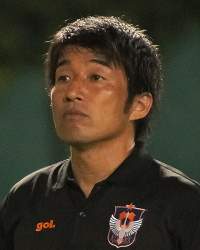 "It wouldn't have mattered who we played this evening, there was no way my players were going to let their opponents win this match.
"To win silverware for the club, the supporters and most of all, for the chairman, is why we are in this final and it will be massive for this club if we can pull it off on Saturday."
Albirex coach Sugiyama (right) was unavailable after the match as he had pressing matters to attend to with his players, but the club's team manager and spokesman, Koh Mui Tee, appeared at the media conference and congratulated Balestier on their win.
"We played according to our game plan," he said.
"Balestier scored and we didn't. It's as simple as that. Our players tried very hard, I must praise the players for their efforts.
"Both teams gave 100 per cent tonight, but we could not score and we know it's been a problem for us lately. We are doing all we can to address that shortcoming and we continue to work tirelessly at training to put it right.
"But all credit to Balestier for making it to the final of the StarHub League Cup."