The head coaches of Albirex Niigata and Balestier Khalsa gave contrasting sentiments about the result after their teams played out a 0-0 draw at Jalan Besar Stadium on Friday night.
Balestier coach Darren Stewart was effusive in his praise for his team and added that the game plan to press Albirex was effectively employed, especially in the first-half.
"I thought we were tremendous and especially in the very first half, we were really, really outstanding," he said,

"It was a great game of football for the S.League, it was tremendous, we pressed fantastic tonight and that took a lot of energy out of us and that possibly put us down a bit in the second half in terms of energy, but it was a superb performance from the lads.
"In the second half, Albirex came back into it but a quality team like them will come back into a game.
"I am just proud of the boys. We had a go in the end and pushed Paul [Cunningham] up front but we just couldn't get the ball to him. With 10 minutes to go, it was 0-0 so we wanted to go for the win."
However, Albirex coach Koichi Sugiyama (right) admitted he was disappointed with the result and lamented Balestier's defensive tactics.

"In today's game, sometimes we could play our football but sometimes we could not play our football," he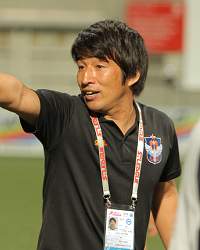 said.
"I am not satisfied, but we can have a new target."
The Japanese coach also revealed how he tried to deal with Balestier's tactics, which yielded a better showing from his side in the second half.
"Today, Balestier's defence was active, so I said at half-time that we wanted [to be] careful of Balestier's long balls and to get the second ball [after the defending the long ball]," he explained.
"In the last 15 minutes, Balestier changed from defence to attack, so we could control the ball a little bit; we made many chances but we could not score."
With his side having to compete against Albirex again on September 9 in the League Cup, Stewart revealed that he was looking forward to playing them once more having successfully held them at bay.
"I look forward to that as I will have five players back, five first-team players back, ready to play [so] we will have a full squad," the Australian said.
"They hit the post, but they were lucky; they (the attempts) were cross-shots, and not [proper] shots."
Sugiyama was also not worried about facing Balestier again and insisted his team had time to improve and start scoring goals.
"We have one week or 10 days and we will try to practise again [for] the new task," he said.
"Against Tampines [Rovers] we scored three goals, but tonight we could not get the goals. Today Balestier [had] a defensive system, I think it was very defensive, so we did not get the goals.
"I think it's not a problem. Next game is the next game, this game is this game. We have to change the mind[set], and we have training to change it. The S.League is the S.League, but the League Cup is the League Cup."