There must have been plenty of tension on both benches during Friday night's S.League match at Jalan Besar Stadium as lowly Geylang International and top-three aspirants Woodlands Wellington slugged it out over more than 90 enthralling minutes.
Even when down to 10 men, Geylang continued to make a game of it and the issue was not settled until stoppage-time with Woodlands' winner coming from left-back Rosman Sulaiman to nick it 2-1.
Rams coach Salim Moin was obviously delighted when he spoke to the media at the end of the game.
"At times it was very frustrating for my team tonight," he said.
"I tried a new formation in this match and it took the players a while to get used to it, but I think it will be successful and I will continue with it.
"It allows us to keep things a lot tighter in the defending third and to apply more pressure in other areas.
"Everybody wanted to win tonight, I can say that at least.
"We should have scored twice in the first half; Chang scored his goal well, but he missed another good chance too when somehow he lost control of the ball."
Moon Soon Ho had found strike partner Chang, but the ball spun away from the tall number 7 as he tried to turn his opponent and it travelled harmlessly on to the Geylang goalkeeper.

"I knew though that if we were patient it (the winner) would come and it eventually did," Salim continued.
"Our aim of ensuring we make the top six is on track, we're almost there now."
Woodlands would then be in a strong position to challenge for third-spot, which was their pre-season target, with the top-six almost guaranteed for them now.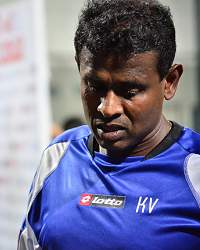 As for Geylang, a disconsolate Vedhamuthu Kanan (right) could only reflect on what might have been.
"The turning point was the sending off, obviously," he said.
"We can't comment on referees, but I'm still mystified about what led to Noor Ali being sent off. I was probably going to replace him anyway, as he was beginning to look tired.
"Jozef [Kaplan] took his goal well, but he missed an easier chance later and he's not playing as well now as he was before Stefan [Milojevic] came back from injury.
"I'm not sure what it is, but they don't seem to be working as well together as I'd hoped they would.
"They both missed chances, but when we went down to 10 men, that was a clear turning point for us.
"We now know we'll be playing in the bottom-six for the final five games of the season after this outcome."
Geylang could so easily have made it 2-1 seven minutes after Kaplan had equalised.
From the halfway line, Milojevic split the defence with a superb pass for Noor, who in turn brilliantly guided a deft pass to Kaplan. But the Slovakian uncharacteristically put his finish wide with only Yazid to beat.
"I think if Jozef had scored, that sending-off would not have happened as play would have been totally different after we scored, but we didn't," Kanan reflected.
"I thought the first-half was a bit scrappy, but apart from their goal I don't think they really threatened us at all.
"It was a lot livelier after we brought Andrew [Tan] and [Shotaro] Ihata on and Noor Ali was playing very well up to the time he was sent off."
Geylang have only two Hougang United and Courts Young Lions behind them, both some points adrift, but with this win Woodlands opened up a gap of nine points to the embattled Eagles, which can no longer be closed.

gey-Wood