Malaysian Super League (MSL) champions LionsXII were invited to the National Day reception at the Istana on Saturday evening, which was hosted by Singapore president Dr Tony Tan.
A day earlier, Shahril Ishak and his teammates had featured in the National Day Parade held at the Marina Bay floating platform as the nation celebrated its 48th birthday, alongside athletes from other sports in recognition for their sporting successes.
Also present with the LionsXII at the Istana was 17-year-old Singapore international Adam Swandi, who currently turns out for FC Metz in France, and the group took the opportunity to have a photo together with minister for communications and information Assoc. Prof Dr Yaacob Ibrahim.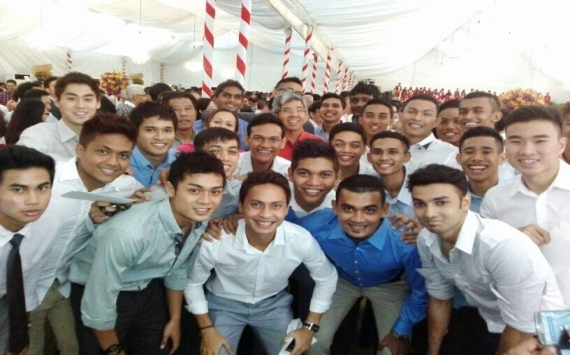 The LionsXII, given a special mention by Prime Minister Lee Hsien Loong in his National Day message, were once again acknowledged by another member of Singapore's cabinet.
"Everyone I've spoken to felt this year's National Day Parade was different, and they liked it,"deputy prime minister and minister for finance Tharman Shanmugaratnam posted on his FaceBook page.
"I did too. I liked the way it featured our sportsmen and women, from our disabled basketballers to the LionsXII."
"And the way it had the familiar things that make us fond of Singapore, our multiracial people and special places, but was fresh and edgy at the same time."
"It captured the new spirit of Singaporeans that continues to bring us together. As our National Anthem puts it: "bersatu, dengan semangat yang baru" (united, in a new spirit)."