Warriors FC coach Alex Weaver was seen deep in conversation with club chairman Lam Shiu Tong for nearly 20 minutes after their goalless draw against Geylang International at the Choa Chu Kang Stadium on Tuesday night.
While the Englishman would not divulge the contents of their conversation, it was evident that he was not too pleased with the result of the match.
"He was just trying to encourage me because he can see that I am frustrated, and also the players too," Weaver explained.
"This is the kind of support that you would want from your superiors and management; it has been great that the club has been supportive ever since I came here.
"It (the conversation) was a few things about next season, which I am already planning for in my head and preparing and I was also explaining a thing or two that had frustrated me tonight."
The former Hougang United coach then went on to explain why he was feeling frustrated, but refused to pin the loss of two points on the players.
"We tried to throw everything at them and the effort was there; we were working extremely hard and we can't fault their (the players') effort and desire to go on and press and put Geylang under pressure," Weaver said.
"But it is frustrating that we lacked the end product because we did put in lots of effort and we needed to win the game; it is very disappointing.
"But you can't fault the team as they have tried their best."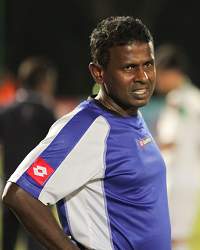 Although Eagles coach Vedhamuthu Kanan (right) lamented his side's inability to finish off their attacks, he was nevertheless delighted with the performance.
"We lacked the bite upfront but both teams were cautious and also very defensive, as we are just a spot apart from each other in the table," he said.
"It was also a very scrappy game and not many chances [were created]; only one or two that we had in the first half from Stefan [Milojevic] and I thought he could have taken that chance on the first time.
"Credit to my players [though] as, if you look at the Warriors team, even though they are below us (in the table), they are still a quality team; from the goalkeeper to the foreigners and the locals also have (contain) ex-international players.
"We did well to keep the score at 0-0 and we look forward to the next three games, and it is a tall order to finish in the top six."