A stirring second-half performance from Balestier Khalsa saw them score twice in four minutes to level their Singapore Cup quarter-final tie on aggregate against Hougang United in the second leg on Friday night, before prevailing 4-1 on penalties.
Tigers assistant coach Kevin Wee was effusive in his praise for the players' fighting spirit as he stood in for head coach Darren Stewart (right) to face the media after the game.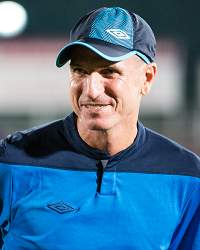 "Tonight I feel that the team played very good pin-ball football, which was strongly mentioned by Hougang after the first leg," he wryly said.
"As what Darren mentioned in the first leg, we didn't play well enough to deserve the win, but look at our second half [tonight] - the boys were tremendous."
After a flat first half in which they hardly looked like scoring, the half-time team talk clearly worked a treat as the Balestier players put in "indescribable" efforts in the second period in a complete attitude change.
"What was said in the changing room, I can't reveal!" Wee smiled.
"But that's the magic of Darren and the boys responded to it and if there's one more thing I could add, it's that football is just so unpredictable. Sometimes one should not speak too soon until you get the result."
Forward Qiu Li, whose work-rate has been doubted in the past, came in for praise.
"To many who don't know Qiu Li enough, they often think that his fitness is an issue," Wee stated about the Singapore international, who scored the first goal before Kim Min Ho added a second.
"But as we can see this year in Balestier, he's playing some of his best football and not just playing, but lasting the whole 90 minutes itself."
In contrast, Cheetahs coach Johana Johari cut a disconsolate figure as he peppered his responses with the word "unfortunate".
"We prepared for this game [and it was] very unfortunate... you look at the way they play, the long ball; we were unable to handle the situation and the wet pitch also caused problems," he said.
Johana added that Balestier were "lucky" to grab the victory, claiming that his side were the ones who tried to play football.
"We were pressing for the early goal in the first half but unfortunately we didn't get it," he lamented.
"Very unfortunately, my two strikers didn't work well today as compared to the last game. My defenders were a little shaky because… we were unable to win the first ball and second ball and that caused problems.
"I should say they are very lucky to win this game; there is not much [of a] strategy [from them], as you can see; it's very clear cut my boys still want to play the ball (on the ground).
"All in all it is not very much of a deserving win, [only] through a share of luck and their long ball strategy [that] does work."
The former match commissioner did congratulate Balestier on progressing despite his own disappointment at missing out of the semi-finals, and absolved his players of any blame.
"The team tried their best, they have given everything," he praised.
"I'm very disappointed, but I'm not disappointed in my players' performances because they have contributed and given their best and I respect that.
"All in all, none of us are perfect and we deserve an off-day. I'm just perturbed because I was so hopeful we could move on to the semi-finals."
While Balestier may have advanced, Wee claimed they would not be thinking about the semi-final until it comes around.
"I just want to enjoy tonight's win; in regards to the semi-final, we'll talk about it later," he said.
"That's always been our style."