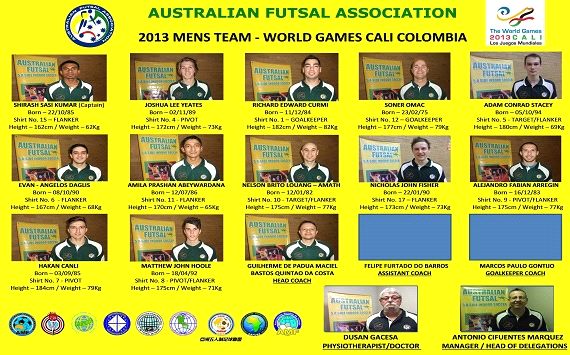 Shirash Sasikumar, the son of a former Singapore international, is making waves in Australia after he was recently picked by the Australian Futsal Association to represent his adopted country in the 2013 World Games in Colombia.
Football fans now may not be familiar with Sasikumar, a midfielder with the Singapore Lions in the 1970s. The team contained stars such as Eric Paine, Quah Kim Song, Mohamad Noor and Nasir Jalil.
Shirash, an Australian national now, confirmed with Goal Singapore that he has been living with his family Down Under for 20 years; he is also the nephew of former Sembawang Rangers player Stephen Rajah.
The 28-year-old, who was named the captain of the Australian team, will lead them to face Brazil, Catalonia and the hosts in Group A, with the group stage games taking place from July 26 to 28.
Shirash was previously the team's vice-captain when they participated in the Pacific Cup in San Francisco a year ago.
He was a key player for the JJ United Perth FC team when they won the Worldwide Tournament in Malaysia the same year, and currently plays for the Perth Lions in the Western Australian futsal league.
Chinese Taipei, Venezuela, Uruguay and Paraguay have been drawn in Group B while Russia, Canada, Czech Republic and Argentina are in Group C.
The group winners and the best second-placed team will advance to the semi-finals to be held on July 29, with the third/fourth placing match and the final both scheduled for July 30.
Photo: Australian Futsal Association