The Filipino claims his side like to play on the artificial turf, while Tanjong Pagar coach Patrick Vallee was pleased his team will take a 2-1 advantage into the return leg
What had loomed as a potential goal-laden match became a far more cautious affair after Tanjong Pagar United and Loyola Meralco Sparks emerged from the dressing rooms for the second-half of Thursday night's quarter-final first-leg tie at Queenstown Stadium.
With the second leg to come at Jalan Besar Stadium on Sunday evening, both coaches expressed their belief that playing there would suit them, so the 2-1 lead Tanjong Pagar will bring with them on Sunday may not be especially important.
Sparks coach Vincent Santos, whose side finished third in the Philippines' United Football League behind Stallion FC and Global FC, explained that his side had a month off since the end of their domestic season but had continued to train.
"I don't think the month without a game made a lot of difference," he said.
"We were very unfortunate to concede from the very first attack that our opponents made tonight and that rocked our confidence a little.
"It was disappointing to concede from a set-piece and then falling further behind and allowing another goal to be scored; but I still fancy our chances over the two legs, as we like playing at Jalan Besar Stadium, where we will be playing on Sunday.
"We've had some good results there and the bigger pitch should suit our game a lot better [than Queenstown].
"Also, the crowd can get a lot closer to the action and give us a lot of vocal support."
Santos acknowledged it would not be an easy task to overturn the deficit, but remained upbeat about their chances.
"It's going to be a tricky one, the second leg, but we are going to take a look at the video of the game and see what we can do to eliminate the mistakes and learn from the first leg," he assured.
"We [have] looked at plenty of tapes of them playing but this time we know how they played against us, which is a lot more meaningful."
Jaguars coach Patrick Vallee (right) was all smiles after the game, even with a slender 2-1 lead to take into Sunday's tie.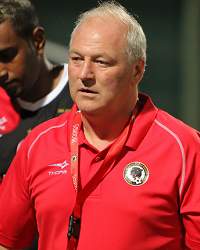 "Yes, I am happy because we have the lead but nothing is finished," he warned.
"I am happy with the way my players followed the plan and Loyola has a good team, too, so this result is important for us.
"Both teams play football and that is important too. We both provided good entertainment this evening, I think.
"The team has worked hard before this game and we worked hard every day to achieve this result.
"The only thing I was not happy about was the way we conceded the goal from a set-piece tonight.
"To play the second-leg at Jalan Besar Stadium is good. If possible, I'd play all of our games there, but I don't think they will allow it!"
The Frenchman could alter his team's tactics, depending on the analysis of this match.
"We will also try and look at what we can improve on from the first-leg," Vallee said.
"We will have a look at the first game in more detail and see what changes we need to make."
Santos had similar ideas on what he might do after looking at the recording of the game.
"Maybe some of the reserves we did not use today will play on Sunday," he hinted.