Balestier Khalsa (0) vs (2) Hougang United (July 26, Friday, 8p.m, Toa Payoh Stadium)
Balestier Khalsa's 12-game unbeaten run was brought to a screeching halt when they
went down 2-0
in the first leg at Hougang Stadium to the Cheetahs, who themselves ended their own seven-game winless streak.
The Tigers will surely bounce back from that defeat, in which coach Darren Stewart believed they played horribly "at times", but he will be without winger Ruhaizad Ismail, who is suspended alongside Poh Yi Feng.
It remains to be seen whether the Australian will deploy big Paul Cunningham upfront as a makeshift striker again or be stuck in back at defence, while Qiu Li should return to the starting lineup after coming off the bench in the first leg.
That remarkable undefeated run took its toll on the players as Stewart admitted after the loss and he would have welcomed the one-week break in between that first leg and this return tie, which might reinvigorate the Tigers.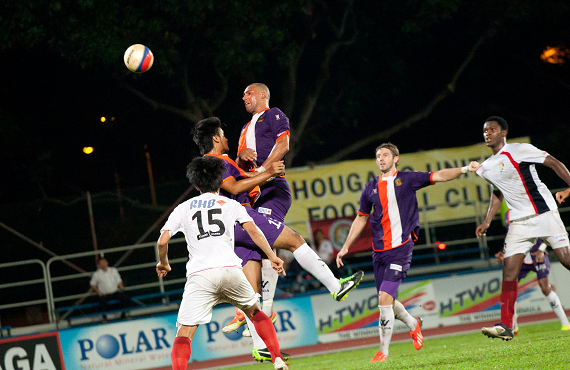 Hougang coach Johana Johari was understandably delighted to clinch his first win since taking over permanently, as he felt his team's
hard work had finally paid off
with a result that matched.
Mid-season signing Igor Cerina has been impressive in the heart of defence since joining, providing stability at the back with his astute reading of the game. Hougang will need the Croatian to continue that form against what is likely to be a direct and punishing assault from Balestier, while goalkeeper Fadhil Salim can be unbeatable on his day.
Thomas Beattie and Azhar Sairudin hold the key to winning what looks likely to be a crucial midfield battle with Johana vowing not to sit back despite holding the advantage, and he will be encouraged by forward Liam Shotton's return of two goals in the last two games.
There are no suspension worries for Hougang but Johana will have to decide whether to field striker Mamadou Diallo, who might need painkillers to play through the pain barrier.
With Stewart assuring after the first leg that his team would go all out to overturn the deficit, spectators should be assured of an interesting clash.
Brunei DPMM (0) vs (1) Global FC (July 27, Saturday, 8p.m, Jalan Besar Stadium)
This tie is far from over as Global FC only hold a slender one-goal advantage over Brunei DPMM, who were on par with their Philippines opponents in the first leg.
But the Bruneians were unlucky to concede a goal in the dying seconds of the match and were also guilty of not putting away chances presented to them.
After the 1-0 loss, coach Vjeran Simunic admitted that he was not pleased with the performance of his foreign strikers Joao Moreira and Arturas Rimkevicius.
Moreira has been sending his attempts into the wilderness in the past few matches while Rimkevicius, according to Simunic, has yet to get accustomed to the artificial pitch at the Jalan Besar Stadium.
This could mean a start for locals Azwan Ali and Adi Said to lead their frontline and snatch the early goal, which will set the clash up for an interesting battle as both side aim to progress to the semis.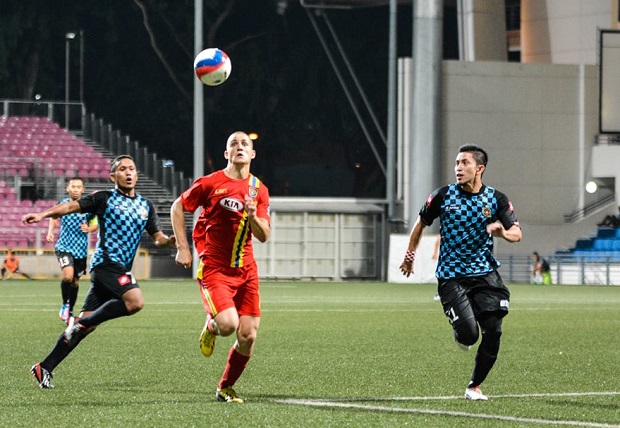 While the Wasps are known for their tactical discipline and build-up play from the middle, Brian Reid's charges also worked wonders with their swift counter-attacking play, often breaking away via their flankers before sending dangerous crosses into the box for lone striker Rufino Sanchez.
Global might not be the fittest side between the two but their coach has cleverly set out a strategy that addressed their weaknesses and slowed down the tempo of the match whenever necessary.
Both sides amassed nine yellow cards between them in the first leg and the second leg will no doubt be just as physical, not forgetting the lively coaches who were having a duel of words on the touchline.
Global captain Ben Starosta, who is leading the team's backline, might be in for a busy night as DPMM will be throwing numbers forward in the hope of overturning the tie to their favour.


Loyola Meralco Sparks (1) vs (2) Tanjong Pagar United (July 28, Sunday, 8p.m, Jalan Besar Stadium)
Tanjong Pagar United are only able to take a one-goal lead going into the second leg of their quarter-final tie with Philippines outfit Loyola Meralco Sparks.
Despite dominating the opening stages of that match, Patrick Vallee's charges were not able to stretch their advantage after storming to a two-goal lead courtesy of a goal each from Monsef Zerka and Ismael Benahmed in the sixth and 18th minutes respectively.
The visitors managed to regroup after that and narrowed the deficit after captain James Younghusband pulled a goal back for the United Football League side.
It was exhilarating end-to-end stuff in the first leg and fans can expect an even more exciting clash at the Jalan Besar Stadium.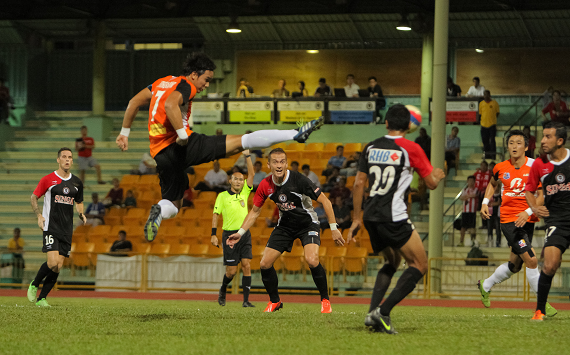 With the match being held on a Sunday, there will be no doubt be an overwhelming support from the Philippines community here in Singapore, which Loyola coach Vincent Santos has said that they are looking forward to.
While the Jaguars heavily relied on their French quintet of Zerka, Benahmed, Anthony Aymard, Kamel Ramdani and custodian Aurelien Herisson, Loyola kept faith in their South Korean legion.
Park Min-Ho and Jang Jo-Won will be keeping guard at the backline, with Jang Jo Woong pulling the strings in midfield and Jeong Byeong Yeol forming a strikeforce partnership with Philippines international Phil Younghusband.
With only two full day of rest before their clash on Sunday, expect tiring legs to be the norm in the second half of the return tie and any mistakes made by either side then could prove to be costly.
All Tanjong Pagar have to do is prevent their opponent from scoring and they will secure progression to the semi-final as they seek a first final spot since 1998 - the year in which they won the trophy.
Home United (2) vs (0) Geylang International (July 29, Monday, 8p.m, Bishan Stadium)
2011 champions Home United have one foot firmly in the semi-finals after a
comfortable 2-0 victory
over a lacklustre Geylang International side in the first leg at Bedok Stadium, where goals in each half from Hafiz Rahim and Firdaus Idros sealed a win that perhaps should have been greater.
Coach Lee Lim Saeng was pleased with how his players responded to a prior run of two straight league defeats with triumph, and he will be looking for more of the same back home at Bishan Stadium.
The Protectors will as usual deploy their high-tempo pressing game, which worked to a tee against the Eagles and gave them no chance to utilise their devastating counter-attack tactics. That sort of tiring game requires a certain level of fitness, and Lee will no doubt be relieved that his players would have had adequate time to rest as the first leg was played last Tuesday.
Jordan Webb looked particularly lively down the left against Geylang with his pace and trickery tormenting them down that flank, although he will be keen to end a seven-game drought in front of goal.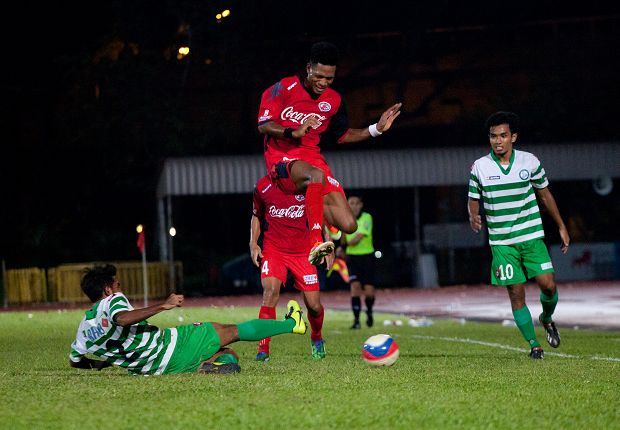 Geylang coach Vedhamuthu Kanan
acknowledged the enormity
of the task facing his side in this second leg, with his young charges weakened by the loss of Yasir Hanapi due to two silly yellow cards in the first leg.
The flying winger will be missed together with midfield enforcer Fabian Kwok and defender Delwinder Singh, which would likely see Japanese forward Shotaro Ihata restored to the starting lineup. Skipper Jozef Kaplan, who had a quiet outing by his standards in the first leg, could possibly drop back to midfield to help out, with Stefan Milojevic leading the line.
The Serbian forward has brought vitality to the Eagles attack since his return from a long injury lay-off and was perhaps the brightest spark in the first leg, and Geylang's hopes of turning this tie around rest largely on him and Kaplan.
It is not mission impossible for Kanan's men but unless he can find a way to deal with Home's tactics, Geylang look set to be eliminated from a competition they last won in 2009.