The Brunei DPMM coach bemoaned his side's failure to put away their chances, while opposite number Brian Reid hailed match-winner Rufino Sanchez's immediate impact on his debut
Global FC and Brunei DPMM played out a pulsating Singapore Cup quarter-final tie on Wednesday night, with the former snatching a late winner courtesy of a goal from debutant Rufino Sanchez to hand them a 1-0 win in the first leg.
The Philippines outfit dominated proceedings in the first half at Jalan Besar Stadium, but the Bruneians hit back and put their opponents under pressure in the final quarter of the match.
However, luck was not on Vjeran Simunic's side as they ended up losing the game and the DPMM coach felt his team did not deserve the result given how the game had gone.
"I am experienced and knew this would happen in the last second," he claimed.
"They put Sanchez up there and then it [the goal] happened. I think we deserved a draw or even a win.
"We are missing last season's second-best player, Shahrazen [Said] very much. If he was playing today, he would have scored two or three goals."
With the second leg scheduled for Saturday at the same venue, Simunic hinted that he might drop his non-performing foreign players to the bench.
"We will see what happens in the second leg but we are upset with this [result] and we have three days to prepare and bring the players up again because we do not deserve to lose," the Croatian said.
"Maybe Adi [Said] will play as some players have problems with scoring."
In contrast, Global coach Brian Reid (right) felt his side could have registered a bigger margin had they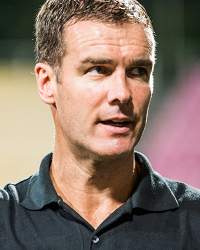 been more clinical in front of goal.
"Based on the first-half performance, I think that we should have been ahead with the several number of clear-cut chances, which I am disappointed that we could not put away," he said.
"There were better chances in the first half compared to the second half and there was better movement too."
Spaniard Sanchez was arguably the best Global player on the pitch and the Scottish coach gave a special mention to the on-loan striker, who was signed from fellow United Football League side Stallion FC.
"Rufino was outstanding tonight and he is the type of player [who] if you give him half a chance, he takes them and it was a good delivery and a superb header," a pleased Reid said.
"There is not a better time to score a goal [than] in the last minute of injury time, but we are not going to get carried away as it is only half time in the tie."