More than 200 lucky LionsXII fans were treated to an exclusive meet and dine session with the Malaysian Super League (MSL) champions at Livewire at 210 Middle Road, home of the new Singapore Pools Building on Tuesday evening.
Those present were given a chance to ask coach V. Sundramoorthy and his boys questions and get up close and personal with the team as they snapped pictures with their favourite players.
Singapore Pools, a long-time supporter of sports especially in the development of football, presented a donation cheque of $10,000 to the triumphant LionsXII team at the event in recognition of the teams' stellar achievement during the recently concluded 2013 MSL season.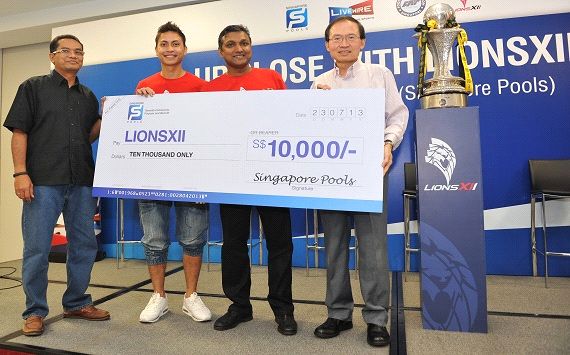 "It's a pleasure for us at Singapore Pools to host this special celebration event in honour of LionsXII and to provide a platform for our Livewire customers a chance to meet and mingle with their favourite players." said John Teo, Singapore Pools's chief financial officer (above, far right)
"We hope to see the passion for football flourish because of the values it symbolises: courage, resilience, teamwork and a spirit of excellence.
"Sports also ignite in us the passion to help people achieve their full potential and lead better lives."
Also in attendance at the event was Football Association of Singapore (FAS) president Zainudin Nordin, who was delighted at the continuous support from various stakeholders for the LionsXII following their success.
"I am pleased that more corporate sponsors are willing to approach us, but at the same time what I am very happy is that the fans are always there," he pointed out.
"When we created LionsXII, the number 12 is [for] the fans and now they are beginning to see what we are trying to do and I hope they continue to support the team.
"At end of the day, it is about the young talents and they will one day become national players, and I hope the fans will support the national team and bring them to the higher level."
The LionsXII also did their bit for charity as the team autographed two of their jerseys, which will be auctioned off at the "Football with a Heart 2013" event, an executive football charity fundraiser to help the disadvantaged in the community that is jointly organised by Singapore Pools together with FAS and the Singapore Sports Council.