We look at the four exciting clashes as the next round of local football's top knockout tournament gets underway
Hougang United vs Balestier Khalsa (July 22, Monday, 8 p.m, Hougang Stadium)
These two teams could not be any more contrasting in form if they tried ahead of this quarter-final clash at Hougang Stadium.
The hosts have failed to win any of their last seven matches, with five defeats amongst those. They have lost their last four matches, including three in a row at home. Meanwhile, Balestier are on an impressive 12-game unbeaten run in all competitions and won six of those matches.
But as they say, the form book goes out of the window when it comes to cup clashes; indeed, Hougang's last victory was an upset 2-1 success against league leaders Tampines Rovers in the preceding round, which paved the way for them to advance to this stage.
New permanent coach Johana Johari is still searching for his first win and will have been encouraged by his charges' showing in their last league match against Tampines, where they went down 3-2 thanks to a last-gasp winner.
The Cheetahs showed plenty of pluck and courage against the Stags and a repeat showing will surely ensure a result here against the Tigers. Striker Liam Shotton will have been glad to have finally found the back of the net last time out and will be keen for more, while big defender Igor Cerina has been a consistent performer since arriving in the mid-season transfer window.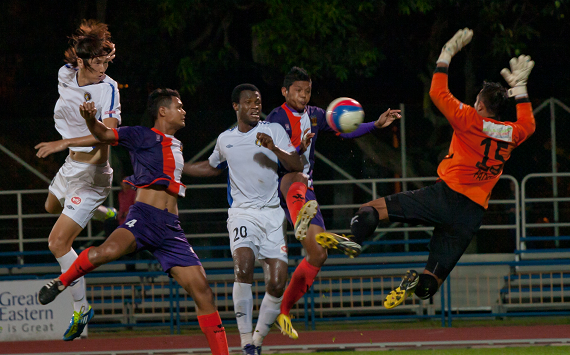 Look out for Thomas Beattie and Azhar Sairudin to helm the Hougang midfield, while their defence and goalkeeper Fadhil Salim will likely have to contend with Balestier's direct tactics.
Coach Darren Stewart is set to utilise big defender Paul Cunningham upfront again, and who can blame him? The New Zealander has features in all 11 of those unbeaten games in a makeshift striker role, and scored the winner against Home United in an impressive 2-1 victory in their last game.
Apart from the Balestier skipper, forward Qiu Li is also another danger for Hougang to keep tabs on. The bulky China-born Singapore international also struck against Home and is a threat from set-pieces, while he is never afraid to take on his man and has the ability to change the game with a piece of magic.
There is no doubt both sides will gun for a first-leg advantage here and spectators should be in for a bruising, no-holds barred game of football.
Geylang International vs Home United (July 23, Tuesday, 8 p.m, Bedok Stadium)
Home United know that the Singapore Cup is their best possible bet of a trophy this season, having been dumped out of the League Cup and currently standing at sixth in the S.League table.
Two successive defeats in their last two league games - a 4-1 hammering by leaders Tampines Rovers and a 2-1 reverse against Balestier Khalsa - has seen their title hopes diminish to a flicker and coach Lee Lim Saeng will order his charges to give their all as he bids to capture a trophy he led them to in 2011.
As always, former South Korean international Lee Kwan Woo will look to control the midfield as he continues to enjoy an impressive debut season, while Singapore striker Indra Sahdan appears to have found his scoring boots in front of goal again.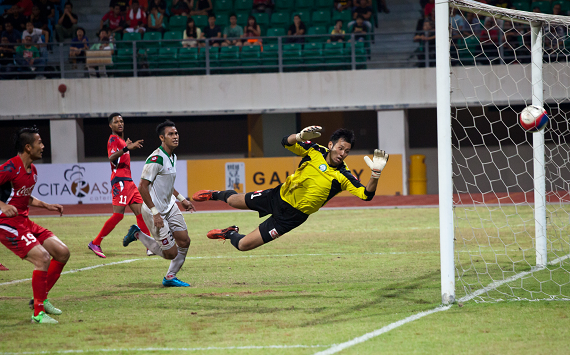 Coach Lee should continue with his brand of high-tempo possession football against an Eagles side his team have beaten in both league meetings this season, but their opponents will always be a threat on the counter-attack with the dangerous Jozef Kaplan leading the line.
The Slovakian has been an inspirational skipper this season with nine goals in the league and three in this competition, and will be welcomed back after sitting out their last league defeat against Brunei DPMM due to suspension.
Coach Vedhamuthu Kanan's men did superbly to limit the Bruneians to a narrow 1-0 loss despite the absence of Kaplan and several other key players, and will have nothing to fear against a rather inconsistent Protectors side.
The hosts will adopt their usual soak-and-strike tactics here against the uniformed giants with winger Yasir Hanapi another flying threat, while Norihiro Kawakami be counted on at the heart of defence alongside compatriot and goalkeeper Takuma Ito.
Home are clearly the favorites on paper, but there is no reason why a spirited Geylang side cannot buck the trend here.
Global FC vs Brunei DPMM (July 24, Wednesday, 8 p.m, Jalan Besar Stadium)
Although Brunei DPMM steamrolled past Lao Police with ease in the preliminary round, Global FC will present much tougher opposition for them.
The United Football League (UFL) side boast several Azkals in their squad, including the ever-reliable Jason De Jong, Misagh Bahadoran and Carli De Murga.
Captain Yu Hoshide is surprisingly not included in their squad while new signing Rufino Sanchez will be making the trip to Singapore.
Sanchez is on a one-month loan from fellow UFL side Stallion FC and was the league top scorer for the recently concluded season with 18 goals.
While confidence appears to be high in the Philippines outfit, the Bruneians are sweating on the fitness of several of their key players as they aim to progress to the semi-final.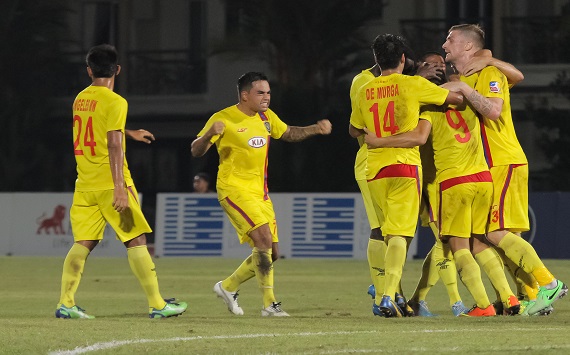 Central defender Tales dos Santos is still on the treatment table after pulling a muscle in their clash against Tanjong Pagar United in the S.League, while striker Shahrazen Said is also out injured.
The Wasps will be banking on 40-year-old Sallehuddin Damit to hold the fort at the back while misfiring forward Joao Moreira will be eager to prove his critics wrong.
With coach Vjeran Simunic claiming that ex-Lithuanian international Arturas Rimkevicious is yet to be accustomed with the artificial turf at the Jalan Besar stadium, it may spell yet another barren spell for the 30-year-old.
But DPMM have another potent weapon up their sleeves in 21-year-old Azwan Ali, who was impressive in their previous league match against Geylang United.
The young striker showed flair and confidence with his nifty footwork and he might just prove to be the answer to DPMM's quest for victory.
Tanjong Pagar United vs Loyola Meralco Sparks (July 25, Thursday, 8 p.m, Queenstown Stadium)
Philippines side Loyola Meralco Sparks have been hit with a big blow ahead of their crucial tie against Tanjong Pagar in the Singapore Cup quarter-finals.
Philippines international and Under-23 captain Mark Hartmann has been offload to fellow United Football League rival Global FC and will no longer be part of Loyola's adventure in the most prestigious cup competition in Singapore.
The preliminary round saw the Sparks snatch a 3-0 victory over Harimau Muda, while the Jaguars saw off Boeung Ket FC of Cambodia.
Although Loyola will be without Hartmann, they can still bank on the Younghusband brothers, who are the darlings of Philippines football.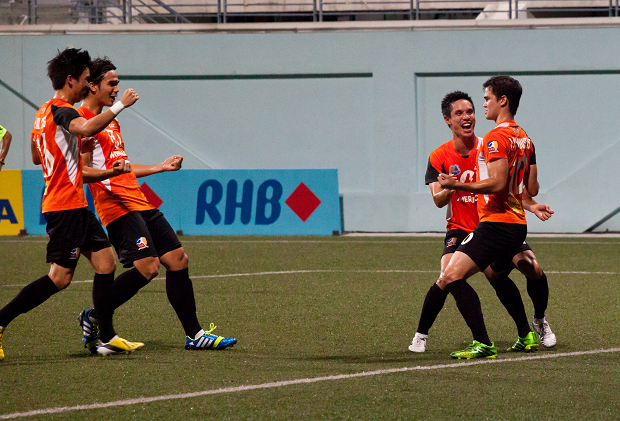 Captain James and brother Philip are no doubt the focus of the team with their build up play centered on the duo as they supply the ammunition to forwards Jang Jo Woong and Jeong Byeong Yeol.
But Tanjong Pagar is a different proposition and the visitors will have to be on their toes for the entire 90 minutes as any lapse of concentration could prove to be costly.
Patrick Vallee's side boast one of the most lethal foreign legions in the S.League in the form of ex-Morroco international Monsef Zerka and freekick specialist Kamel Ramdani.
The Jaguars are known to be tactically disciplined at the back while patiently building up their attack via the flanks, with Hafiz Nor having his best season so far.
The Philippines side might just snatch a result from the clash if they approach this match with extreme caution, not leave any gaps in midfield and hit their opponents swiftly on the break.