The young Singapore star, who secured a two-year contract at French side FC Metz earlier this year, hopes that more young local footballers can ply their trade overseas
Singapore teen star Adam Swandi believes local football will benefit if more young players go overseas to train as it will help to raise standards back here.
The 17-year-old, already capped at full international level earlier last month, signed a two-year training and study attachment at French side FC Metz in February to complete a dream move to Europe.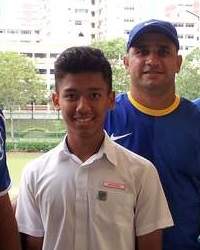 Not long after that, compatriot Mahathir Azeman (right) moved to Brazilian side Boavista SC for a
five-month
training stint
with their Under-17 side. The midfielder has since done so well that the club has offered him a one-year youth contract for next season with their Juniors side, which is a rung below their professional squad.
Swandi, who was back in town earlier this month and received his Singapore Olympic Foundation-Peter Lim Scholarship award, believes Mahathir and himself have blazed the trail for other young local players.
"I think Mahathir and myself [heading overseas] is a really good start for Singapore football; in the future, in five to 10 years' time, hopefully more boys will be able to get here," he told Goal Singapore after the event.
"South America is a good continent for football, especially in Brazil where Mahathir is in and they just won the [Confederations] Cup, and I think it's a really good thing for youngsters in Singapore to go all over, even to Japan and Korea.
"It doesn't matter where you go as long as your aim is to do well and be amongst the top players and hopefully they can come back to Singapore and help us raise our rankings."
Swandi has grand ambitions: he hopes future Lions will come from different parts of the globe when they converge for national team duty.
"I really hope that one day we get called up for the national team and all the players are coming from Europe, from South America, from Japan etc and then we get back together and play together, then we go back to our professional clubs," he said.
"I think it's a really big dream for myself and I guess the young footallers in Singapore, but I am sure it can be achieved."
His time in France has opened his eyes to how clubs overseas train, and the soft-spoken but confident youngster has aspirations that Singapore football can eventually progress to that level.
"It's not [just] about going overseas to play football; it's just about being a true professional footballer and in Singapore, it's really hard with the education system," Swandi pointed out.
"Once you're in Europe playing professionally, you'll just focus on football and only football, so youll be training, eating and sleeping football.
"We are surely not there yet but I think we have a very high potential. Over there, their grassroots are really strong; at 12, all of them are technically ready for action [while] over here we are slow because of education and all.
"But I think in maybe five or 10 years' time, hopefully we'll be as good as them."