The young Singapore star believes his compatriots' training stint in France will be beneficial and also talks about his time so far at the French club, where he now plies his trade
Singapore starlet Adam Swandi believes that the recent trip to France by the National Football Academy Under-17 (NFA U17) squad will prove beneficial to their development, as well as open their eyes to a different footballing world overseas.
The Football Association of Singapore (FAS) sent the NFA U17s to FC Metz for a training stint late last month, which is where 17-year-old Swandi currently plies his trade having signed a two-year contract earlier this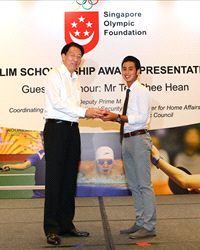 February.
"I think it's actually helpful for them because from there, they can see what the level is like in Europe [in order] for you to be able to succeed," Swandi told Goal Singapore as he chatted after receiving his Singapore Olympic Foundation-Peter Lim Scholarship award (right) two weeks ago.
"To be honest, it's really a bit different from what's in Singapore because I think the players are more motivated over there [in France] and they can make a living out of football, unlike in Singapore [where] it's not such a big thing to be in football.
"I'm sure they know that some of the players from FC Metz are 17, 18 and they are [already] playing with the professionals. If they [the U17s] are there and they perform well, they know they have the ability and the chance to go over to Europe like me to pursue their dreams, and I really hope more players from Singapore from the Under-16s onwards can come by."
The U17s sparred with five different opponents during their two-week stint, including the Metz U15s and Metz International Football Academy, before ending their trip with a sightseeing jaunt around Paris, including a visit to the Stade de France stadium.
Swandi, who will be flying back to France near the end of July when pre-season training starts, also spoke about his time at Metz, where he is doing a French baccalaureate program in addition to training.
"I think the challenges [I faced initially] are pretty normal for a new player who is joining any club," he pointed out.
"Like [when] you're not used to the [other] players, and especially [as] I can't speak French at first [so] it was really hard to communicate with them. But slowly, as time goes by, you get to know the language, you get to know the players.
"And in football, you don't really have to talk so much; it's [just a] few words [and that will suffice]... I think it has been a really good [experience for me so far]."