The Woodlands Wellington coach hailed his team's efforts after their triumph over Albirex Niigata, whose coach Koichi Sugiyama insisted that they did everything possible to win
Woodlands Wellington put to rest any doubts of their coach Salim Moin's target for a top-three finish this season following back-to-back wins over two of the big teams in the S.League.
The Rams followed up their 5-2 win over Brunei DPMM a week ago with a 1-0 victory over Albirex Niigata (S) at the Jurong East Stadium on Wednesday, as they continued their impressive form.
Moon Soon Ho scored the only goal of the match in the 84th minute to lift the Rams to fifth in the league standings on 26 points, seven points behind the White Swans who remain in second spot following the loss.
Salim was in no mood to hide his joy as he spoke to the media during the post-match interview, breaking out in smiles as he answered queries.
"The secret to our success is that everybody works together; that is very important to my players," he proclaimed.
The former Singapore international was also pleased with his charges as they played to his instructions and eventually got the winning goal towards the end of the match.
"They followed [the instructions] according to my game plan, which is to stop their [Albirex's] midfield and you can see there were times in the first half when we pressed them very high," Salim explained.
"But in the second half, I told my boys to stay put whenever Albirex have the ball and not to put much pressure and when we win the ball, we [would] try to play [on the] counter-attack, and we did well.
"Gum [Theerawekin Seehawong] wanted to play even though he had an injury and it was a good move from him that resulted in the goal from Moon."
While Salim had targeted a top-three finish earlier in the season, he feels that they will be satisfied now with a top-six place.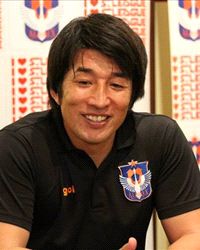 "I [will] try to go for [the] top three but I feel that we have already achieved our goal, and we [will] wait and see whether we will be able to stay in the top six," he said.
"If the team manage to go beyond that [top six], I [will] congratulate them as I am only a motivator."
Albirex coach Koichi Sugiyama (right) was not about to bring the sword out on his players and instead felt that they had a decent match despite the loss.
"I feel that my players had a good performance and there was not any problem; Woodlands is a very good team and Moon's goal is a good one," he sanguinely said.
"The league has not finished yet and we are still second in the table and we have to practice and practice.
"What we can do now is to raise the possibility of a win in the next match and I think we did as many things possible to win the game."