One could be forgiven for thinking that visiting Balestier Khalsa coach Darren Stewart would have been disappointed that his team had only captured a point at Choa Chu Kang Stadium on Wednesday night against a Warriors team that looked all at sea for much of the first-half.
His Tigers managed only a 1-1 draw when enough chances were created to add to their third-minute goal three or four times, but the Australian expressed himself more than satisfied with the evening's work.
"What a gutsy effort!" Stewart enthused as he began to list the reasons for his delight at the result.
"The boys are definitely tired and it was an absolutely super performance, absolutely tremendous."
Stewart then praised his team for the endeavours that have seen them go nine games unbeaten after a poor start to the campaign. He himself was absent for a couple of weeks during the ongoing League Cup series, which will be completed in August.
"Everyone did extra work while I was away and the team spirit here is unbelievable," he praised.
"There are three players out there we have to manage due to injuries: Paul Cunningham has hardly trained, and Jaslee Hatta and Qiu Li are both carrying injuries which we have to manage very carefully.
"You can see by the way all of our bench players, even those who don't come on, play their part in every game, even though it's difficult for me to give them much time out there with the team doing so well right now.
"There's still some improvement in them, I know, but anyone who claims we only play the long ball has not been watching us much.
"The way we played football tonight showed that it's not us who play the direct football. I think tonight it was them [Warriors].
"I have to say though that the Warriors played well at times tonight, but they were the ones playing the long balls, not us."
Warriors coach Alex Weaver (right), who oversaw a 1-0 defeat against competition leaders Tampines Rovers in his first game, was pleased to see his new team pick up their first point under his guidance.
"Our start tonight was awful, no two ways about it," he said.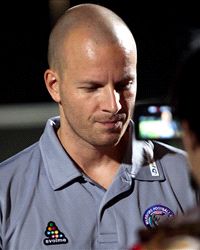 "The goal they scored, I'm sure Ah Lau [Hyrulnizam Juma'at] won't be happy with that at all, but he did well tonight after that, though sometimes he wanted to play the ball out with his feet and had us a little concerned once or twice.
"He spilled that early shot and then our defender slipped trying to clear, which happens sometimes.
"We got our composure back eventually and we created some wonderful chances, but we need to be more clinical.
"They [Balestier] had a go and so did we, so I think both sides deserved a point tonight.
"They did play some good football, though once they got near to goal they still relied on their crosses. They had a lot of speed out wide and certainly gave us plenty to think about."
As for the chance that went begging at the 67th-minute mark, Weaver said he expected seasoned strikers such as Mislav Karoglan to want to score and take the more selfish options near to goal.
"That's their job and I'm not going to stop them taking shots ahead of other players, not a foreign player like Kari, as he knows best I'm sure," the Englishman said.
"I though Kari led the line really well tonight and I think [Tatsuro] Inui had a very good game supporting the other two, Sufian [Anuar] and Karoglan.
"We had only two days training before this match and as we'd worked on defence before the Tampines game, this time we worked mostly on our attacking.
"Next time we'll probably be spending more time sorting out some of the defensive issues, I expect."