Footballer Adam Swandi was one of the biggest names amongst the 320 recipients at the 2013 Singapore Olympic Foundation (SOF)-Peter Lim Scholarship award ceremony on Monday afternoon at the Singapore Expo.
Held at the Garnet Ballroom of the Max Atria, the Singapore international received $10,000 in the High Performance category amongst notable athletes like swimmers Mylene Ong and Amanda Lim, bowler Shayna Ng and sailor Colin Cheng.
The 17-year-old attacking midfielder, who made his Lions debut against Myanmar in a friendly last month, elaborated on how the award would help in his pursuing his dreams in France at FC Metz.
"It means so much to me because I don't come from a well-off family," Swandi said after the event.
"My mum is a housewife and my dad is the sole breadwinner for the family and living in France, in Europe is really costly, and compared to Singapore it's just too expensive [so] I think this scholarship will really help me."
Swandi also expressed his wish for his compatriots to follow in his footsteps.
"I really hope they get inspired but I'm not like a big star," he humbly said.
"I hope they just see me as a senior they can look up to and work towards, and try to be better than me because I know I'm not the best. There are so many potential players coming up from the Under-15s and 16s and I really hope they will do very well."
Set up in 2010 to help promising athletes with financial constraints, as well as to provide financial support for elite athletes in order for them to focus on achieving sporting excellence, the 2013 scholarship received 857 applications and saw an increase on the 271 eventual awards in 2012.
A total of $936,000 was presented to recipients from 94 schools across 34 different sports in the primary, secondary and tertiary levels, in addition to the High Performance category this year.
Fellow footballers like Courts Young Lions quartet Ignatius Ang, Farhan Rahmat, Tajeli Selamat and Iqbal Hussein, LionsXII's Faris Azienuddin and Home United's Haziq Azman were tertiary recipients.
Delivering the opening address for SOF chairman Ng Ser Miang, board of directors member Chris Chan praised the "increased number of commendable applications" received. He also revealed that events involving La Liga side Atletico Madrid and Manchester United trio Gary Neville, Ryan Giggs and Nicky Butt earlier this year had helped raise $850,000 for the SOF.
Deputy Prime Minister Teo Chee Hean, who was the guest-of-honour, hailed the impact of the scholarship, which has seen about $2.14million given out in 780 awards so far.
"Thanks to the financial support from the SOF-Peter Lim Scholarship, recipients have surpassed personal bests, set new national records and made important achievements in the international sporting scene," the Singapore National Olympic Council president said.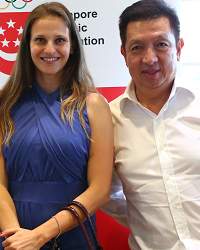 "For those scholarship recipients today, I hope you will continue to train hard and inspire your community through your efforts and perseverance. Seize the opportunity and lessons you encounter in sport and apply them in life. Strive to go faster, higher and be stronger in all your endeavours."
Slovakian skeet shooter and 2012 Olympic bronze medallist Danka Bartekova (right, with Peter Lim) graced the event and shared some advice on how to cope with the pressure and stress of top-level sport.
"It takes a lot of mental training and I think the most important thing is to know what you are there for," the 28-year-old said in response to a question from an audience member.
"You are there to perform, you are there to achieve your goal and that's the focus you have to keep in mind."