Defending champions Brunei DPMM stomped their way into the StarHub League Cup semi-finals after crushing Tanjong Pagar United 5-2 at the Queenstown Stadium on Sunday.
Despite going two goals down in the first half thanks to goals from Hafiz Nor and Monsef Zerka, an Artura Rimkevicius brace coupled with Joao Moreira's hat-trick stunned the Jaguars to arguably their worst defeat this season.
Wasps boss Vjeran Simunic was beaming with happiness after the game and was proud that his players put up an excellent performance.
"Tanjong Pagar United are one of the best teams in the league and I am proud of how DPMM played tonight," the Croat declared.
"We learned from previous losses and didn't want to make the same mistakes again.
"I told the players at half time that 2-0 is nothing, as long as they don't concede the third goal, it will be fine."
Simunic continued to highlight the challenges that he would face in winning the League Cup despite having already won it twice before.
"It is difficult to replicate cup victories and we will take it a game at a time," he said.
"The most important thing to do is to never underestimate the opponent – I take every team to be Barcelona!"
The Croatian conceded that he was disappointed that the cracking 5-2 game was not televised and was further upset at the poor turnout at the stadium.
Patrick Vallee (right) on the other hand, was unsurprisingly discontented at the result as he felt that his side could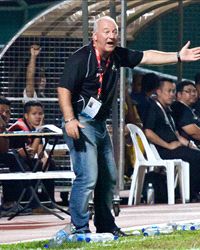 have walked away winners.
"I am disappointed obviously, more so when only the winner of the match qualifies for the next round," the Jaguars coach said.
"We missed so many chances and I feel that we didn't deserve to lose."
The Frenchman, however, was pleased with Tanjong Pagar's first half performance, which saw them take a two-goal lead.
"We gave them chances to score because of our defensive mistakes; I don't like to lose but what can I do? This is football," he said.
Moving forward, Vallee admitted defeat and says the team will continue to work on successes in the RHB Singapore Cup as well as the S.League itself.
"We were unlucky but we cannot give up," he encouraged.