Loyola Meralco Sparks FC vs Harimau Muda 'B' (May 26, Sunday, 7.30 p.m, Jalan Besar Stadium)
Two foreign teams will kick off the RHB Singapore Cup this year when Loyola and Harimau Muda face off at the Jalan Besar Stadium on a Sunday night. Loyola are currently third in the Philippines' United Football League (UFL), while Harimau are fifth in the S.League.
Loyola's rich vein of form has taken a dip in their past two matches where they lost and drew a match each. Prior to that however, they were on a winning streak which included a 10-1 win against the Philippines Army. Park Min-Ho will be the man to watch for the Philippines side, as the Korean midfielder has been a consistent player in the Loyola setup this season. The Younghusband brothers will pose a threat to the Harimau Muda's defence as well. The former Chelsea trainees have a kind of telepathic understanding between each other and will link up well in attack.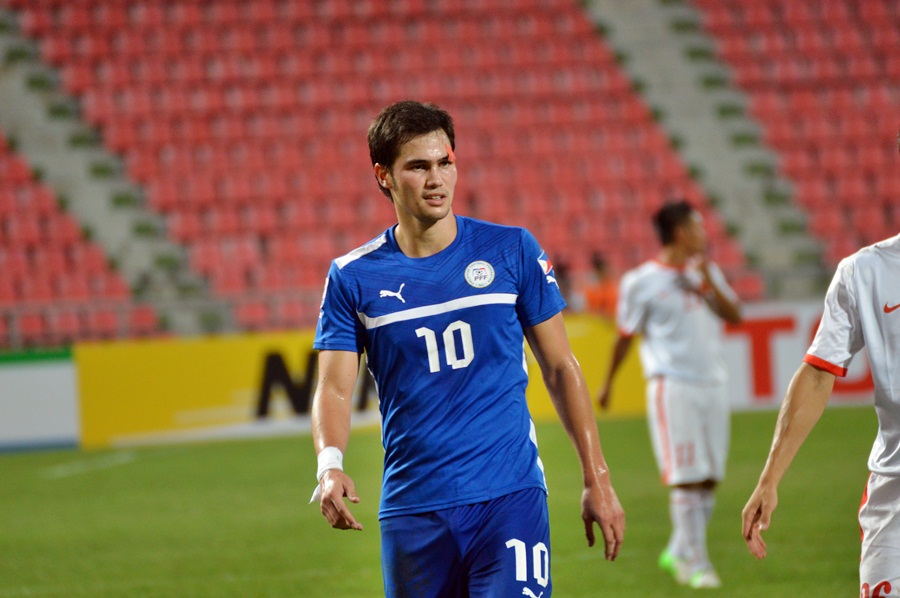 The Malaysian Tigers have won their last two games but both have been in Pasir Gudang. Will they be able to replicate their form elsewhere?
The tenacity and enthusiasm of the youngsters are complemented by the philosophy of the team, which emphasizes on retaining possession and pressuring the opposition. The speed and agility of Maxsius Musa could be crucial in the hosts' chances of breaching the Jaguars defence. His trademark surging runs are a delight to watch but a hassle to defend against, while Iskandar Hanapiah has been a great feature for the Tigers in their past two games with his deliveries from the left flank.
Albirex Niigata (S) vs Home United (May 28, Tuesday, 7.30 p.m, Jurong East Stadium)
Jurong East Stadium will host the match between Albirex Niigata and Home United on a Tuesday evening. Both teams have already met twice this season, and have each taken a win.
Home are now looking more dangerous as a team with former Korean international Lee Kwan-Woo leading the attack. The Bishan outfit do not lack any attacking options but they have been playing their season largely with only three natural defenders, sometimes two. Despite that, the experience of Noh Rahman has proven to be a good compensation for the lack of defenders. Upfront, Lee is supported by Jordan Webb and Hafiz Rahim on the flanks, with their pace proving to be a valuable asset.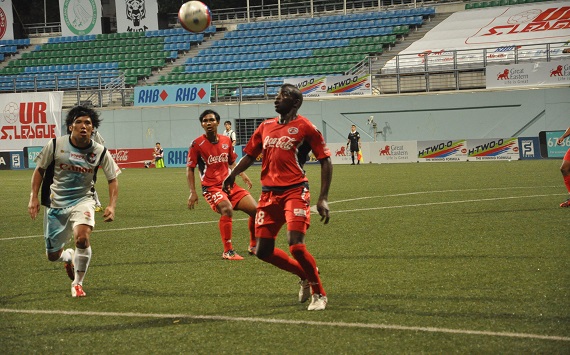 Albirex will be motivated after their loss against the Protectors last week. The Japanese side were edged out by a single goal in that encounter. Shingo Suzuki will need to regain his position as emperor in the centre of the park, organizing things and dictating the tempo of the game. Bruno Casteinheira will look to harrass the Home defence in the usual fashion that he does.
Expect an entertaining match with both teams trying to stamp their authority.

Woodlands Wellington vs Geylang International (May 29, Wednesday, 7.30p.m, Woodlands Stadium)
Two teams right beside each other on the S.League table will once again meet in the first round of RHB Singapore Cup competition. The only time the two teams met this season ended off in a goalless draw at the same venue.
Khalid Hamdaoui, who was the bright spark for Woodlands in the first month, has seen a Jekyll-and-Hyde in his form, similar to Woodland Wellington's as well. While the Rams were hovering in the top half of the table earlier on, a dip in form has seen them slide down into the bottom half. Chang Jo-Yoon and Moon Soonho are the most potent attackers for Woodlands. The Koreans have a good understanding between each other and their neat interchange of passes in the box always get defenders' hearts rushing.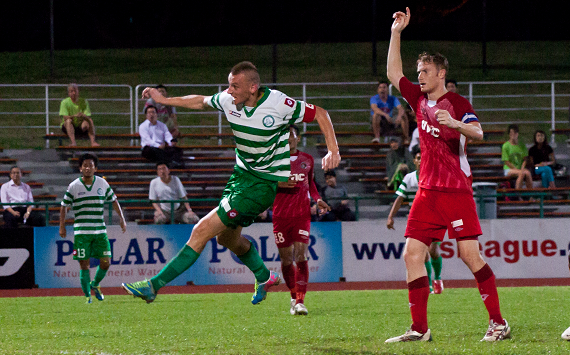 Geylang will welcome back skipper Jozef Kaplan, who played against Atletico Madrid with the Singapore Selection squad last week. Kaplan has been the team's carry for many games. Being one of the more experienced players in a young team, the Slovakian, is responsible for motivating his team and proving to be a good model for the young ones to follow. He has done a good job of doing so, evident by his never-say-die attitude even when Geylang were on a losing streak in the opening stages of the season.
This game will be one of the closest ties in this round of the Cup competition.
Hougang United vs Tampines Rovers (May 29, Wednesday, 7.30 p.m, Hougang Stadium)
Tampines Rovers will travel northeast to Hougang Stadium to face the in-form hosts. Hougang United's last five matches have seen them celebrate three victories, with one of those defeats falling into the hands of the very same opposition they will face on Wednesday night. The scoreline was 3-0 at Clementi Stadium when they last met. Hougang, however, have won all four of their last home matches.
Tom Beattie has been in sensational form for Hougang since coming back from his bout with lung infection. He has scored crucial goals for the Cheetahs and has been a key player in the centre of the park. Blessed with height and strong physical presence, Beattie has the ability to break up and harass enemy's offense and start a counter-attack for his team. His understanding with fellow Briton, Liam Shotton can be an asset on the pitch.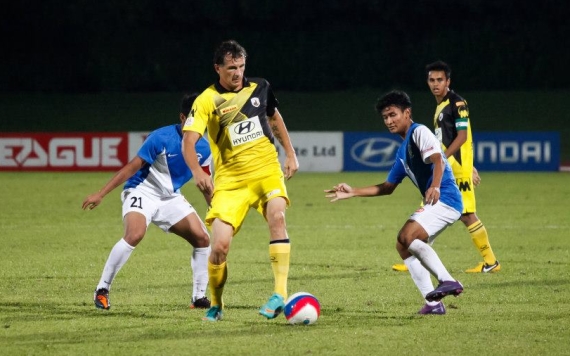 Tampines are on course to defend their S.League title, although it may seem to early to declare such things. If they are looking to win the double or treble this year, then Mustafic Fahrudin will have to step up and lead the team. The defensive player has been pushed back to defence with the absence of Japanese centreback pairing of Kunihiro Yamashita and Seiji Kaneko but has shown to be more than capable in that position.
One asset that Tampines have is the availability of fitness coach-cum-player, Aleksandar Duric on the bench. The veteran striker has the ability to inspire his team as he did against Hougang the last time round. Both teams were tied in the second half before Duric came on to score a brace in two minutes, which ultimately led to victory for the Rovers.
Although Hougang may prove to be a test at home, Tampines should win this encounter.
Lao Police FC vs Brunei DPMM FC (May 30, Thursday, 7.30 p.m, Jalan Besar Stadium)
Reigning Lao Premier League champions Lao Police FC face off with Brunei DPMM at Jalan Besar in the first round of the RHB Singapore Cup competition.
The Laotian club are now in mid-table of this year's HAGL Lao Premier League where they sit fourth out of a total of eight teams. Visay Phaphouvanin will have to be keenly marked by the DPMM defence. The dimunitive striker has shown that he is capable of performing at any stage, with an impressive international scoring record partly due to his nimble feet and quick pace. In midfield, there is Khonseavanh Sihavong, who has cemented his first-team position in both club and country despite being only 18.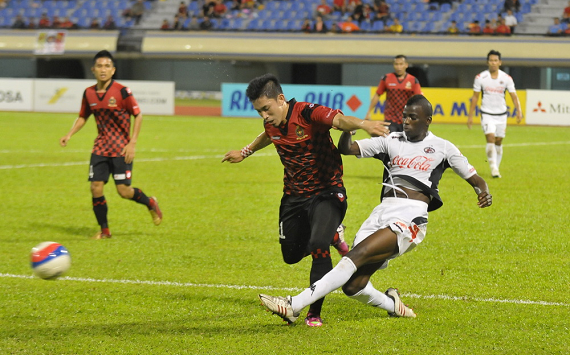 With the departure of Dino Drpic, Tales dos Santos will have to work well with the defence against a strong and fast front-line of Hougang. Joao Moreira, who has six goals to his name, will be the main attacking threat, together with Bruneian international Shahrazen Said. Rosmin Kamis has been ever-present in the DPMM lineup this season and will look to inspire his team to victory against the Laotian club.
Tanjong Pagar United vs Boeung Ket (May 31, Friday, 7.30 p.m, Jalan Besar Stadium)
Cambodian club Boeung Ket, who sit on top of the Metfone C-League table, will be hosted by Tajong Pagar at the Jalan Besar Stadium on Friday evening.
The C-League defending champions sit comfortably at the top of their domestic table with 10 wins in 10 games. Their current form definitely gives the team that added boost of confidence but they may find themselves overwhelmed against a high-flying Tanjong Pagar side.
Youngster Chan Vathanaka is the club's top scorer and is a regular fixture in his team. The Cambodian international has proven himself to be a key player for his team even at such a young age and should be highlighted as their key dangerman for this match.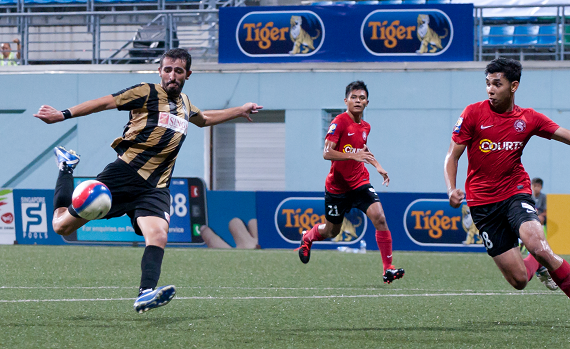 Key to Tanjong Pagar's position at the top of the S.League table has been the attacking triumvirat of Monsef Zerka, Kamel Ramdani and Ismael Benahmed. The French-speaking trio are responsible for a large portion of Tanjong Pagar's goals this season and have formed the league's most potent attacking force this season. Apart from them, Walid Lounis, who skippers the side, has been an influential figure at the back, marshalling his defence against the best of offences.
Warriors FC vs Global (June 1, Saturday, 7.30 pm, Choa Chu Kang Stadium)
Global FC head down to Singapore, or more specifically, Choa Chu Kang Stadium, where they will be met by Warriors FC. Global are second in the UFL first division while Warriors FC are also second but from the bottom of the S.League table.
Warriors will of course be relying upon Sufian Anuar up front in attack. The tenacious attacker has seen more of an impact sub role this season. His energy and tenacity in the latter stages of the game wears the opposing defenders out. Daniel Bennett will need to marshall his defence well against a potent Global side.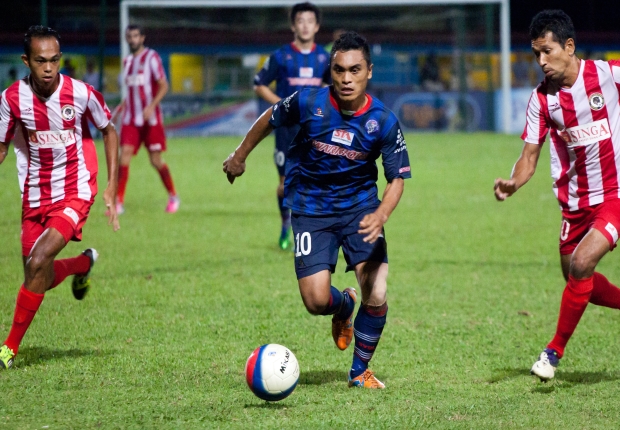 Izzeldin El Habib will be the man to watch for Global. The Sundanese striker is Global's stop scorer in the UFL with 10 goals to his name in 14 matches. He can take advantage of a shambolic Warriors defence to help his side advance to the next round. Skipper, Yu Hoshide, is also an influential figure within the team and will be relied upon to serve the ammunition for El Habib to bang in the goals.
Courts Young Lions vs Balestier Khalsa (June 1, Saturday, 7.30 p.m, Jalan Besar Stadium)
The S.League wooden-spoonists this year will face off with one of the league's many inconsistent teams as they host Balestier Khalsa at Jalan Besar Stadium on a Saturday evening.
Courts Young Lions are on a winless streak in their domestic league and have only scored two goals all season. That however, is no testament of their play on the field. The young squad are very organized and disciplined on the pitch. They move together as a unit and may sometimes prove to be a hard side to break.
As they are a squad of young players, it is no surprise if they have a tendency to lose a bit of concentration at certain times which has been one of the reasons for their losing streak. They also lack the final pass in the attacking third which explains their lack of goals.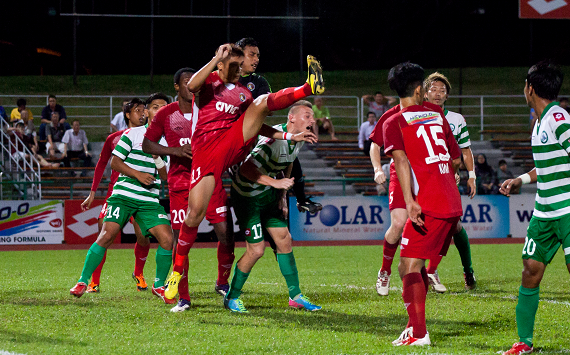 Balestier Khalsa have had highs and lows this season. At times, their attacking tandem of Kim Minho, Qiu Li and Jung Hee Bong seem unstoppable, complemented by Park Kang Jin in midfield. On certain days, when luck is not on their side, their staunch defence can get torn apart with a gust of wind.
That said, they now have Paul Cunningham back after missing the early half of the season due to an injury layoff. Aerially, Balestier has a strong advantage with Obadin Aikhena, Jung, Qiu and Cunningham all boasting a good leap and good header of the ball. With a set-piece speacialist in the form of Park, Balestier can look to utilize every set-piece opportunity to win the game.