After arriving from the Spanish capital of Madrid early Monday morning, newly-crowned Copa del Rey winners Atletico Madrid kicked off the second day of their whirlwind visit to Singapore with a training session bright and early at the Jalan Besar Stadium.
As they entered the stadium, the Kings of Spain received a boisterous welcome from the 2000-strong crowd, which was made up of young budding football enthusiasts from secondary schools across the island. And of course, the loudest applause came in for the much-anticipated Radamel Falcao.
To officially kick off the event,
Los Rojiblancos
president Mr. Enrique Cerezo presented the Guest-of-Honour, Minister for Education Heng Swee Keat, with a special Atletico jersey.
Also in attendance at the event were Mr. Peter Lim, Director of the Singapore Olympic Foundation (SOF) and principal donor of the SOF-Peter Lim Scholarship, Mr. Miguel Angel Gil Marin, CEO of Atletico, Chris Chan, Director of SOF and Football Association of Singapore president Zainudin Nordin.
The spectators then took part in a series of fringe activities, which ranged from pop quizzes on Spain's rich history and culture, and winners received signed Atletico Madrid memorabilia and other attractive prizes.
Later in the afternoon, the players were actively involved in "Hola Singapore", an event jointly organized by Epson and the SOF – Peter Lim Charity Cup. The event saw 128 young budding footballers between the ages of nine and 12 receive coaching from the Spanish superstars.
The highlight of the afternoon was the mass game between the first-team players against the young boys.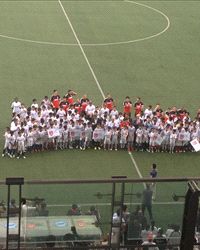 Refereed by former Singapore skipper Aide Iskandar, the 12
Rojiblancos
were clearly outnumbered in a comic display against 128 energetic boys, who were all roaring to score a goal.
A group of Woodlands Ring Primary School students who played in the match earlier could not contain their excitement over meeting the players, especially Falcao, and exclaimed that it was "interesting to meet and play against the players who are the Kings of Spain".
Following that, aspiring footballers from 2012's Top 4 'B' Division National Football Championship teams were given the chance to partake in a tournament that allowed them to team up with guest players from Atletico. The boys from Serangoon Secondary School emerged as the eventual victors.
Speaking to
Goal.com Singapore
, Atletico CEO Gil Marin said that while it wasn't his first time in Singapore, he was more than happy to show Singapore to his fellow compatriots.
"Singapore has been great," he enthused. "This is my fifth time here, and now I get the chance to show the players the country.
"Together, we can work with the Peter Lim Foundation and help the less fortunate and also develop aspiring footballers here."
Likewise, Epson Singapore's Managing Director Mr. Endo Koichi also shared similar sentiments.
"It is important that companies give back to society, as it is because of them that we are able to generate profits in our business," he said.
"If younger generations support Singapore sports and football, it is a boost to our sporting dreams and that is why Epson Singapore decided to support such event.
"Many of the kids do not have the chance to be involved in such activity, so it is important for us to be part of this so that the kids are able to enjoy themselves here today."