It is probably rare to see Singapore legend V. Sundramoorthy being star-struck, but the LionsXII coach was certainly just that when he met Atletico Madrid coach Diego Simeone on Wednesday afternoon at the Conrad Centennial Singapore Hotel.
Sundram will head the Singapore Selection side to play the La Liga team in the Singapore Olympic Foundation (SOF) – Peter Lim Charity Cup, and his face lit up when he talked about his counterpart at the pre-match press conference.
"I used to watch you in the Argentinian team you know, and you look so fit!" he said as he faced Simeone, to chuckles from the assembled press in the room.
"I think he can easily play in my team as a guest player!"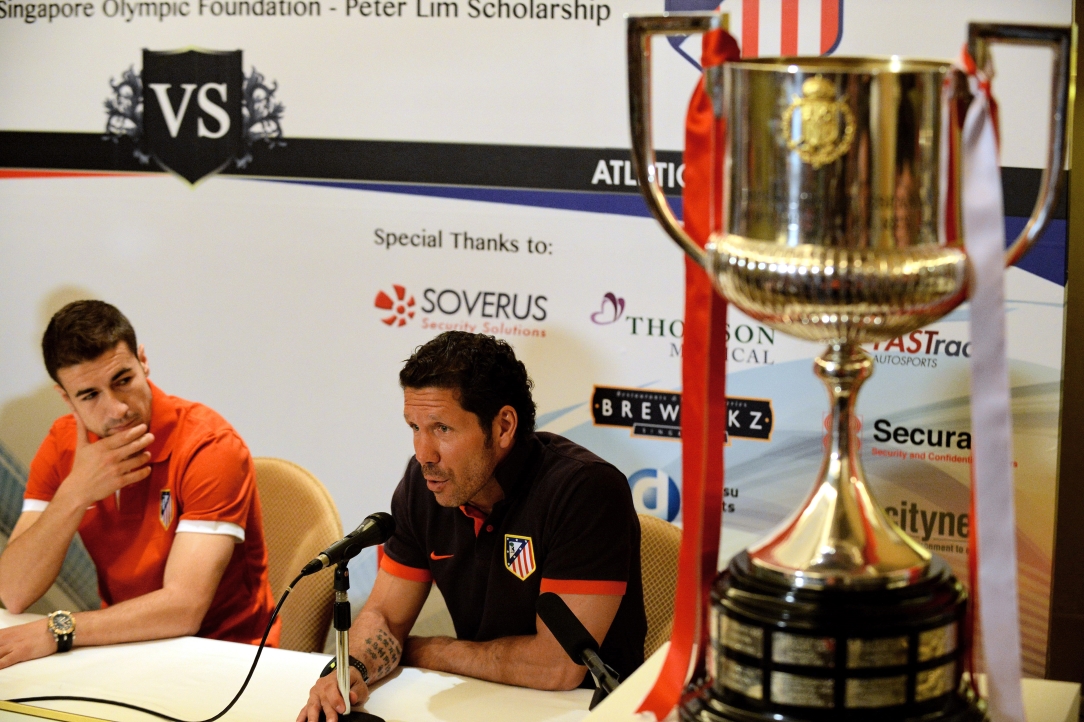 Sundram also described it as a "great honour" to be able to play against Atletico, who were crowned Copa del Rey champions on Saturday after beating rivals Real Madrid 2-1 in extra time.
"For my boys it will be good exposure; we have a selection team of league players and LionsXII and we are looking forward to playing against the Cup champions," he said.
"I've been watching them in La Liga every week, and I'm very impressed with the way they pass the ball - it's great.
"Spanish players, they have a great gift; when you watch Barcelona, Real Madrid and Atletico, you know, they are a genius with the ball."
Simeone was equally happy to be in Singapore to play the match, even if they still had two remaining league games to play when they return to Spain.
"It's a pleasure to be here [and] we are looking to participate as much as we can in the Foundation… and we hope people can come and enjoy the game," the Argentine said.
"It's a very good feeling to be here two days after [our Cup win] in Singapore to play [and] this week will be used as a training [session for our remaining matches]."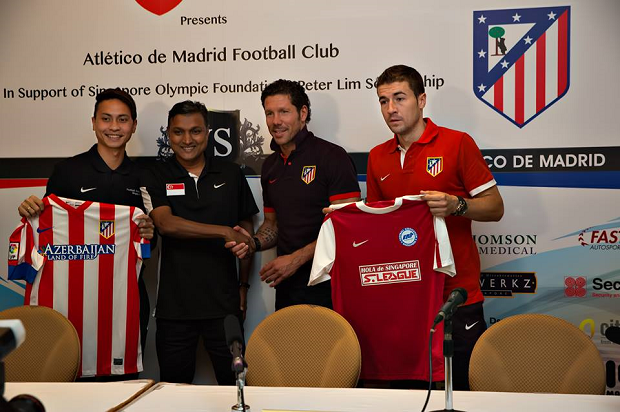 Los Rojiblancos
captain Gabi Fernandez echoed his coach's sentiments, and hoped to use the trip to find out more about the level of support his side enjoys in the Asian region.
Sundram claimed his team were eagerly anticipating playing in front of a packed venue, and hoped for a great evening on game-day at the Jalan Besar Stadium.
"I was talking to some of the boys who were selected for this Selection team and they said they are looking forward to a sold-out crowd, and for footballers, you always bring out your best when the stadium is filled," he said.
"I think it will be a great atmosphere at Jalan Besar and the boys will definitely enjoy themselves."
The internationally-televised match between the Singapore Selection and Atletico Madrid will take place on Wednesday, May 22 at the Jalan Besar Stadium, with kick-off at 8p.m. President Tony Tan will grace the occasion as a guest-of-honour.
Doors will open at 5.30p.m, with the curtain-raiser between ex-Singapore internationals and a Celebrities Team kicking off at 6.20p.m. Fans will get a chance to win match tickets to catch a La Liga game between Atletico and Barcelona next season, and all sales proceeds from tickets sales will go towards the SOF.
Singapore Selection

Goalkeepers
Izwan Mahbud, Hassany Sunny.
Defenders
Shakir Hamzah, Baihakki Khaizan, Daniel Bennett, Safuwan Baharudin, Afiq Yunos, Noh Rahman, Rosman Sulaiman, Sirina Camara.
Midfielders
Shahril Ishak (C), Hafiz Sujad, Faris Ramli, Mustafic Fahrudin, Isa Halim, Hariss Harun, Ahmad Latiff, Jozef Kaplan.
Forwards
Fazrul Nawaz, Indra Sahdan, Aleksandar Duric, Monsef Zerka.
Atletico Madrid

Goalkeepers
Thibaut Courtois, Sergio Asenjo.
Defenders
Filipe Luis, Joao Miranda, Diego Godin, Jorge Pulido, Cata Diaz, Juanfran Torres, Emiliano Insua, Domingo Cisma.
Midfielders
Oliver Torres, Gabi Fernandez (C), Mario Suarez, Arda Turan, Raul Garcia, Koke, Cristian Rodriguez, Tiago Mendes.
Forwards
Radamel Falcao, Diego Costa, Adrian Lopez.