The Singapore Cricket Club (SCC) Soccer Sixes is back for its fifth edition this year, and spectators can look forward to two days of high quality football in Asia's premier six-a-side tournament.
That was the promise made during the press conference on Friday afternoon at the Stumps bar at SCC, where tournament ambassador and former Arsenal defender Nigel Winterburn was in attendance alongside Newcastle Jets manager Gary van Egmond, Yokohama CAC captain Joe Takeda and Hong Kong Football Club's coach/player Amro Abbas.
Col (Retd) Gurcharan Singh, president of the SCC, was honored to welcome the return of the tournament, as he looked forward to an "exciting and unforgettable soccer spectacle".
"This year, we welcome some good new teams - one of them the Newcastle Jets, an Australian A-League team, Chonburi of Thailand and our Courts Young Lions, whom we witnessed last year [and I believe they] will be able to provide you with the quality and competition at this year's Sixes, which I think all of us will definitely enjoy," he declared.
Tournament chairman Owen Monaghan, who turned up in crutches, echoed similar sentiments as he stated his delight at the "high caliber" and "diversity" of the participating teams.
"I am happy for the teams to be here and it's going to be a great weekend of football - very high performance football, very quick and exciting… and we are looking forward to the football on show," he said.
The Jets, who are in the midst of pre-season preparations, came here with an "open mind".
"They [the players we brought] are quite a young group, and we want to give them the international exposure and to experience… a different format of football and to also experience a different culture here in Singapore," Van Egmond remarked.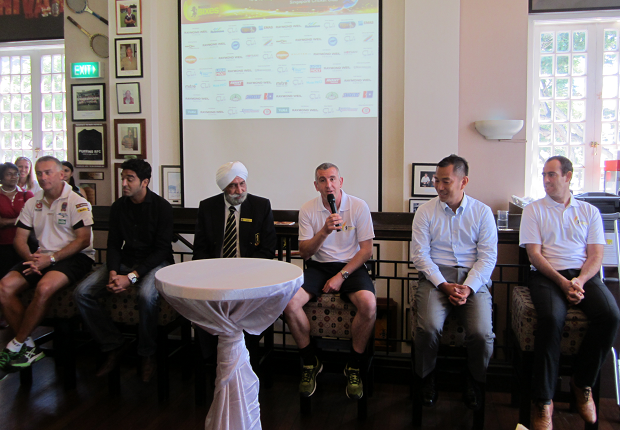 Gunners legend Winterburn, who will follow in the footsteps of former teammate and last year's ambassador Ray Parlour in playing for the CLA All Stars in the Masters category, jokingly told the audience that he was already feeling the pressure.
"I am looking at some of the quality of the teams around and I think I'm in for an early night tonight to get ready!" the former England international quipped.
"The pressure has been put in me already to perform to get past the semi-final stages that Ray Parlour was involved in last year, so that's my aim. I'm a few years older than him but I'll try my best and hopefully I can represent this tournament to the best of my ability."
The Sixes will run from May 18 to 19, with the historic Padang providing the backdrop. Spectators will enjoy free entry to a family-friendly carnival atmosphere with competitions to be played for and prizes to be won.
Schedule
Saturday, 18 May 2013 Sunday, 19 May 2013
• Youth Category – 9:00am to 10:45am • Knockout Stages for all Categories – 12:00pm to 6:30pm
• Open Category – 11:00am to 1:45pm
• Masters Category – 2:00pm to 4:45pm
Team list