From his classy, elegant performances in the Home United midfield this season in the 2013 S.League, one could not have guessed that former South Korean international Lee Kwan Woo has only just returned to football from a two-year injury lay-off that threatened to end his professional footballing career.
Signed by Protectors coach Lee Lim Saeng, who himself is a Korean World Cupper, the midfielder has emerged as the backbone of the Bishan-based outfit. Making the game look effortless at times as he pulls the strings in the engine room, it is no wonder that Lee's consistent performances has led to him being named the Goal.com-Singa S.League Player of the Month for April.
Prior to this interview with Goal.com Singapore, the man nicknamed "Sirius" - the brightest star in the sky - and dubbed "Kwanquelme" by his fans after Argentine playmaker maestro Juan Roman Riquelme, Lee had scored a spectacular opener in Home's 3-0 win over Woodlands Wellington with a first-time volley from an acute angle.
That was his fifth goal of the season, making him the club's top-scorer and the league's third most prolific player. And Lee believes there is more to come from him as he finds his feet in his first season here.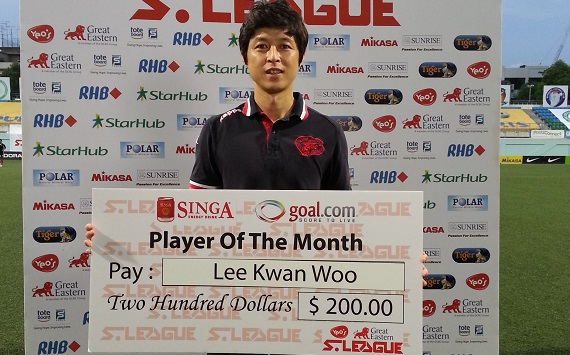 "I am not 100% fit but I always try to show good performances in every game that I play, and I am thankful for this award and the recognition," he humbly said.
"I enjoy the game and as a senior player, I [try to] show commitment to the rest [of my team] and sacrifice for the team so that we are able to be champions this season.
"I will definitely put on better performances when I am fully ready."
The 35-year-old's mentor, Coach Lee, was also pleased that his playmaker had picked up the award.
"I not only respect Lee Kwan Woo, but also all the players in my team and I am happy that he has received this award," he said, before reiterating his desire to lead the Protectors to league glory this season.
"Unfortunately we did not become champions last season and that is why I want to focus for every match and hopefully [we are able] to win the league this year."