Woodlands Wellington vs Home United (May 6, Monday, 7.30 p.m, Woodlands Stadium)
The last time these two sides met, Woodlands walked away as clear winners in a 2-0 win, which saw Rosman Sulaiman scoring against his former club. Since then, Home has done well to pick up points and are ahead of their opponents by a single point on the S.League table.
Home striker Indra Sahdan has turned the clocks back this season, playing consistently well and making it almost impossible to tell that he is above 30. Even in the match against the Courts Young Lions, Indra was seen outpacing his younger oppositions on the pitch. If the Protectors are to walk away with any points from Woodlands, Indra will no doubt play an instrumental role.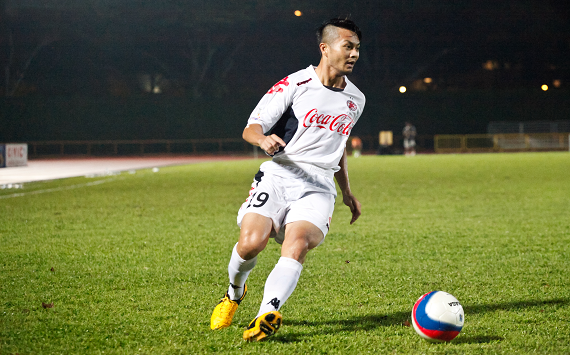 Chang Jo Yoon put up an inspired performance last week against his former club Balestier Khalsa, setting up a goal and getting on the scoresheet himself. He has formed a potent attacking force with compatriot Moon Soonho and the duo have accounted for seven goals out of the 15 that Woodlands have scored this season. The Rams also have a very mentally strong and disciplined group of players, evident by their tendencey to score in the last 15 minutes of the match.
This should prove to be an entertaining match to start the 12th round of S.League action.
Albirex Niigata (S) vs Harimau Muda 'B' (May 7, Tuesday, 7.30 p.m, Jurong East Stadium)
Albirex will host Harimau Muda at the Jurong East stadium in one of the two matches taking place on Tuesday.
This match will be full of energy given how these two sides are known to play, with the White Swans famous for their fluid and fast attacking movements, while Harimau Muda base their game on constant pressure and pressing.
Bruno Casteinheira and Kento Nagasaki have been the consistent performers for the White Swans this season. They have clocked in a full 900 minutes, which shows how important they are to the team. Kazuki Sakamoto completes the trio and they share a combined total of 10 goals.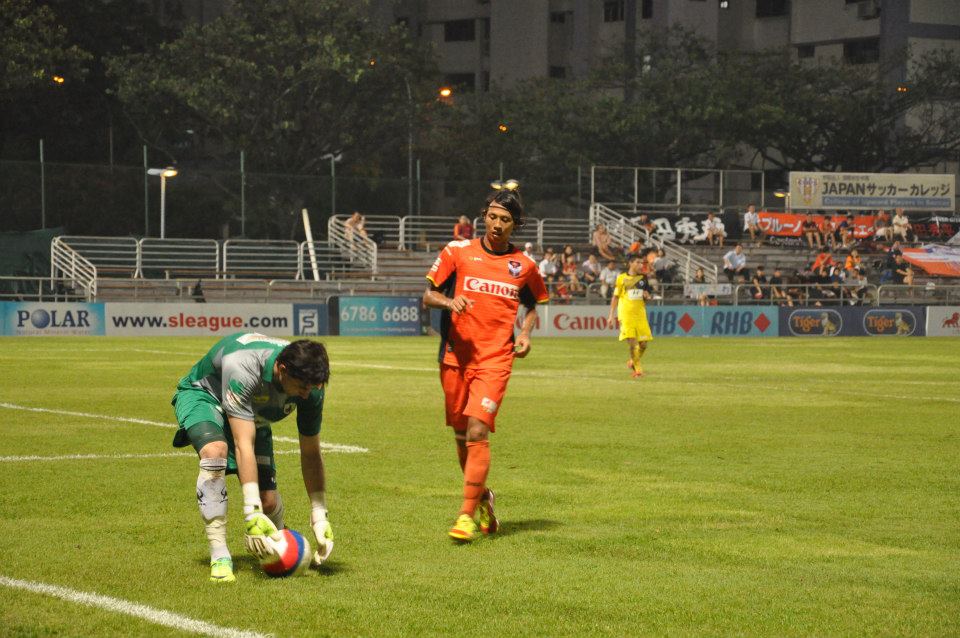 Harimau Muda have only kept one clean sheet in 11 matches and that should be a cause for concern, particularly against a side like Albirex. Maxsius Musa has been the headliner for the Harimau Muda side and is always a delight to watch with his trademark darting runs and driblling. The youngster grabbed a goal in his last match against Brunei DPMM and hopefully that signals the start of his scoring run.
Albirex should win this one, but expect a tough fight from the Malaysians.
Hougang United vs Courts Young Lions (May 7, Tuesday, 7.30 p.m, Hougang Stadium)
The bottom two teams will battle it out at Hougang Stadium on Tuesday night when the Cheetahs welcome the Young Lions into their den. They are, however, separated by a margin of 11 points on the table, with the visitors yet to secure any points for the season.
Hougang are still experimenting with their players after the switch in coaches. This is evident in the fact that 18 different players have started for Hougang already this season, a signal that they have yet to settle on their lineups. However, Johana Johari's side has picked up a maximum six points in the past two games and given the Young Lions' form, they might just extend it to three.
Courts Young Lions have the worst defensive record as well as the worst scoring record, having leaked 28 and only scoring two so far this season. Defensive lynchpin Emmeric Ong is still out with a knee injury but the availability of Afiq Yunos has shored the defence up, given he has more experience than the others. The attack will have to work on their understanding in the final third as that is when the Young Lions usually falter.
Balestier Khalsa vs Tanjong Pagar United (May 8, Wednesday, 7.30 p.m, Toa Payoh Stadium)
Balestier will be hoping to avoid a fourth straight defeat when they take on Tanjong Pagar on Wednesday night. This, however, will be no easy feat for the Tigers as Tanjong Pagar are doing well this season.
Tanjong Pagar is the only club, alongside Tampines Rovers, to reach the 20-goal mark at this stage of the season and this is largely due to the telepathic understanding between the attacking triumvirate of Monsef Zerka, Kamel Ramdani and Ismael Benahmed. The terrorising trio have scored 18 goals amongst them and it does not seem that they might stop anytime soon.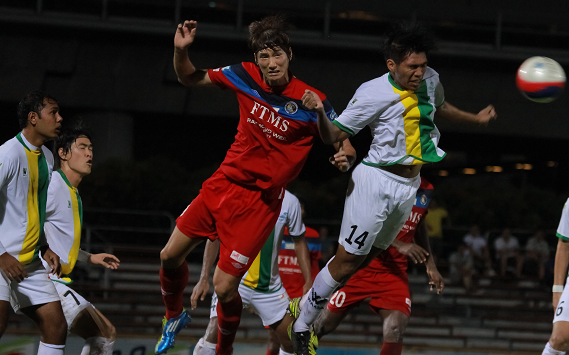 Balestier Khalsa will be depending on Qiu Li and Park Kang Jin in attack as they have done for a large part of the current season. Park's industry in the centre of the pitch is very commendable and the same goes for Qiu Li who tends to drop back to help his midfield. Tanjong Pagar will have to be wise not to concede too many set pieces given the height advantage that Balestier has, as well as the accuracy of their set-piece deliveries.
Tampines Rovers vs Geylang International (May 9, Thursday 7.30 p.m, Clementi Stadium)
Traditionally, this match is called the 'Eastern Derby', despite the fact that Tampines have moved to Clementi. The last time they met - which was the season's opener - the Stags ripped open the Eagles and put five goals past them.
Geylang have enjoyed a good run of form, having collected eight points in the last four games and remaining undefeated for the same amount of games. This however, might come to halt against a Tampines side that has recently ended their AFC Cup campaign.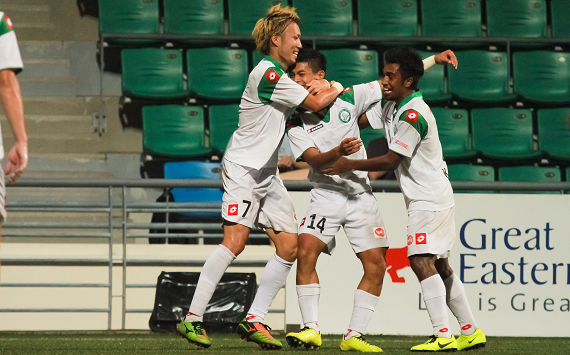 Wahyudi Wahid has been a revelation this season and he deservedly got a goal against Young Lions last week. His presence would surely lift the goal-scoring burden off the shoulders of Jozef Kaplan to some extent. The Slovakian midfielder has been the team's important figure this season, being one of the few experienced players in the team.
Tampines will be depending on Mustafic Fahrudin to boss the midfield while Shahdan Sulaiman orchestrates the attacks. The injuries to Japanese centrebacks Kunihiro Yamashita and Seiji Kaneko will be key as the combination of the duo is one factor for the Stags having the best defensive record in the league. Tampines will be looking to bounce back from their narrow defeat against Tanjong Pagar and Geylang seems like a good start to do so.

Tampines should prove too strong for Geylang here, and keep up their unbeaten start to the season.
Warriors FC vs Albirex Niigata (S) (May 10, Friday, 7.30 p.m, Jalan Besar Stadium)
Warriors and Albirex will travel to Jalan Besar for the Friday night 'Live' game for the week. Statistically, Warriors FC have the upper hand in terms of their head-to-head record, having won 17 of the 29 matches that they have played.
However, the form that Warriors are in has been worrying for the fans and the club. After being dumped out of the AFC Cup, they can now focus on their domestic campaign, and striker Mislav Karoglan will have to be firing all guns to make sure they have a chance of bringing home the points against a fluid and organized Albirex side.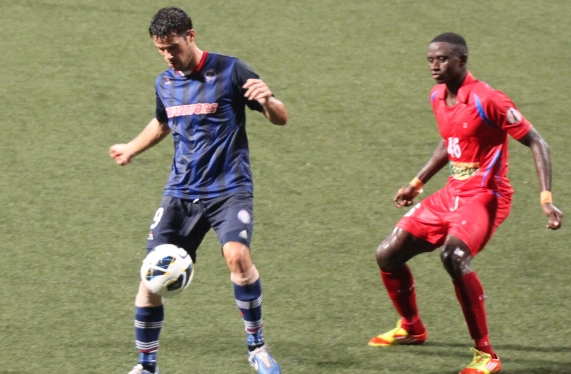 Albirex will have to consider fatigue as a factor for this match as it will only be three days after their match with Harimau Muda. Indeed, the fixture list may in fact have a say on the title race this season. Albirex though, are a very disciplined side and will still prove to be a tough opposition even on days like these. Bruno Casteinheira will no doubt be a threat to Daniel Bennett and his defenders.
Brunei DPMM FC vs Home United (May 10, Friday 7.30 p.m, Bandar Sri Bengawan)
Brunei DPMM will welcome Home United on Friday as well, and the Bruneians will look to use their physical advantage over a Home side that are more reliant on speed and passing.
Jordan Webb will be the man to watch for Home with his trademark cross-field runs. The Canadian also has a bag of tricks that earns him space on the field and that is one of his biggest strengths for the team. The pace of Firdaus Idros would also be an asset to the team, and Indra Sahdan will be dangerous going forward although he will be towered over by the DPMM defence.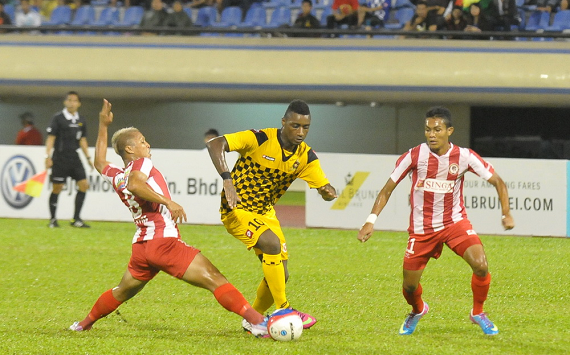 Joao Moreira will be the man for the to Protectors to be aware of. The experienced striker is fast and strong and his physical presence is bothering enough to most defences in the S.League. Dino Drpic is a solid wall at the back and Home will have to get through him before they can even think about testing Wardun Yusoff in goal.
Tampines Rovers vs Hougang United (May 12, Sunday, 7.30 p.m, Clementi Stadium)
Tampines play their second match in three days when they welcome Hougang United to Clementi Stadium.
The Stags have no doubt, the strongest team of the season, with their options on the bench giving them a good way of changing the game. They have the services of Khairul Amri and Aleksander Duric, both from the national setup, while Shahdan Sulaiman and Mustafic Fahrudin's partnership in midfield has also been tried and tested in the national team and this benefits the defending S.League champions.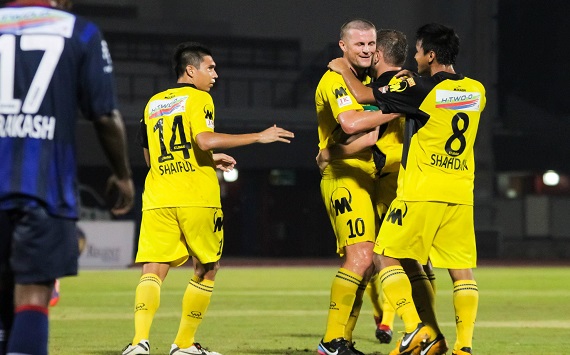 Hougang will face a tough test against the reigning champions and will look to English duo Liam Shotton and Thomas Beattie to deliver the goods. Shotton is the club's top-scorer, while Beattie has the ability to dominate the midfield with his height and strength.
The Cheetahs will have to give their all to collect any points fromt this game, and will bank on the fatigue afflicting their opponents to aid them in their quest.