Woodlands Wellington leapt into fifth place with their first win in a month after inflicting on Balestier Khalsa their third consecutive defeat during an entertaining match at Woodlands Stadium, which ended 3-1.
Chang Jo Yoon haunted his old club by having a hand - or in this case, a foot - in two of the three goals, first with a cutback for Moon Soon Ho to open the scoring, before getting onto the scoresheet himself with 15 minutes left to play.
Woodlands coach Salim Moin seemed delighted with the victory as he hailed a team effort.
"It is definitely a satisfying win I would say," he declared. "The boys did well and played with determination and enthusiasm. Overall, it was an encouraging display.
"Everyone in the team played their part tonight and we took the chances that were presented to us."
Salim also had words of praise for Chang, as well as defenders Cho Sunghwan and Shahril Alias, who were playing despite not being fully fit.
"[Chang] Jo Yoon definitely played well today, assisting and scoring one," he pointed out.
"I have always had faith in his abilities and he has his own style and confidence. I always tell him to be more expressive on the pitch and he did it today.
"I would also like to commend the good attitude by our centreback Cho Sunghwan. He was carrying an injury previously and I had sent him for tests and treatment. At the stadium he informed me that he feels good and wants to play, so I let him. Shahril Alias was also playing with a fever.
"This is something I like about the players: their attitude and honesty."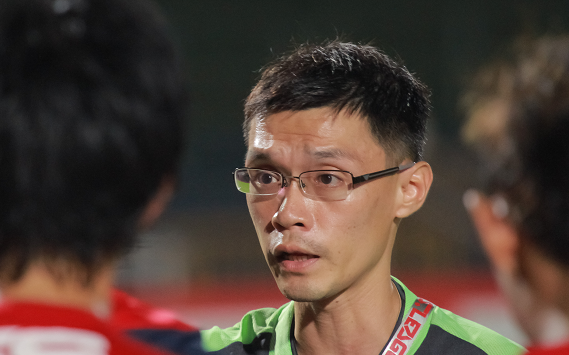 In the absence of coach Darren Stewart, who had important matters to attend to, Balestier team manager Kevin Wee (
pictured right
) spoke to the media and admitted that Woodlands were superior on the night.
"I would not say that it went terribly wrong for us tonight but it was more of Woodlands Wellington taking their chances," he opined.
"Full credit goes to them for scoring. I believe we created more chances than them but that was the difference between us tonight: they were able to score [while we couldn't]."
Wee also felt that luck was not a huge factor in their recent losses.
"We have been unlucky in the past few games but ultimately you have to work hard to make your luck work for you," he insisted.
"In any case, Although luck plays a factor, I would not blame our loss today on luck as it is not a total factor.
"For now, we have to move along and come back stronger - something I am confident the boys will be [able to do]."
Woodlands will next host the Protectors, while Balestier will take on Tanjong Pagar United at the Toa Payoh Stadium.