Geylang International vs Tanjong Pagar (April 23, Tuesday, 7.30 p.m, Bedok Stadium)
Geylang International will host Tanjong Pagar United in the week's first game at Bedok Stadium. Tanjong Pagar have continued their impressive run of form, with Courts Young Lions being their latest victim, as the young Singapore squad were mauled 4-0 by the Jaguars. Geylang have started picking points up, but Tanjong Pagar might prove to be too much of a force to deal with.
It is almost impossible to exclude the French-speaking attacking triumvirate of Tanjong Pagar week in and week out, given their consistent performance. Them aside, the team also boasts local players who can make a difference in matches. Ahmad Latiff, attacker turned right-back, showed that he will contribute his best whatever his position maybe. The Singaporean provided two assists out of the four goals scored by his team against the Young Lions. Also at the back, Walid Lounis is a defensive wall who would prove to be a tough test for any opposition.
For Geylang, Jozef Kaplan is no doubt a player that is heavily relied upon. Apart from his goal-scoring duties, Kaplan is tasked with marshaling a team of youngsters against much older opposition. Delwinder Singh is also another name that has been much mentioned in Bedok this season. The former Tanjong Pagar captain will face his former team but no love shall be lost as Delwinder will be all out to stop the attacking trio of the Jaguars.
Tanjong Pagar should win this comfortably unless Geylang pull off another surprise like they did against Albirex.
Balestier Khalsa vs Albirex Niigata (S) (April 23, Tuesday, 7.30 p.m, Toa Payoh Stadium)
Both Balestier and Albirex are reeling from defeats in the last round and will be eager to put the defeats behind them as they meet at Toa Payoh Stadium.
Balestier will be looking upon the inspiring performances of Qiu Li and Park Kang Jin in the attacking half to bring them goals, the duo having been the best performers of the team so far. Jung Hee Bong has seen a steady increase in the quality of his performances, showing effort and industry to try and win all the balls in the air, whether in attack or at the back. The attacking trio will have to use their physicality against the White Swans as an advantage.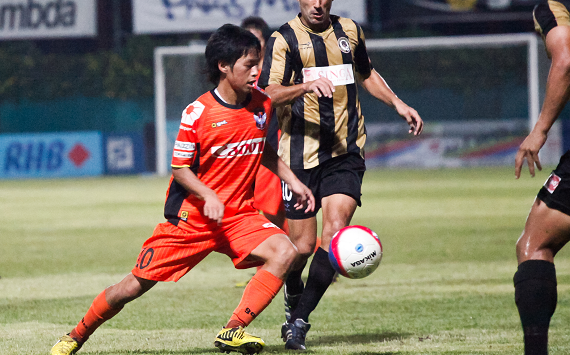 Bruno Casteinheira has proven to be a important member of the first team week in week out with his dazzling performances, capping his last game with a stunning goal against league leaders Tampines Rovers. Kazuki Sakamoto will be another one to watch, given the striker's industry, which usually presents himself with glorious opportunities for a goal or two.
Albirex cannot afford a slip up here if they are to continue the chase with Tampines for the title.
Courts Young Lions vs Home United (April 25, Thursday, 7.30 p.m, Jalan Besar Stadium)
Still at the bottom of the table, Aide's boys will welcome Home United to the Jalan Besar Stadium. Home just came off a narrow victory against Harimau Muda, while Young Lions are fresh off a 4-0 mauling by Balestier Khalsa.
Two foreigners, Lee Kwan Woo and Masato Fukui, were both forced out midway through the Harimau Muda game due to injuries and there is still no news (yet) on the status of their fitness. Veteran defender Nor Azli Yusoff is also out due to suspension. Sirina Camara was highly impressive against Harimau Muda in the last game, using his speed and physical presence to bully the opposition strikers around. Evergreen striker, Indra Sahdan, seems to have turned back the clock at Bishan, where he is showing touches of class and superiority.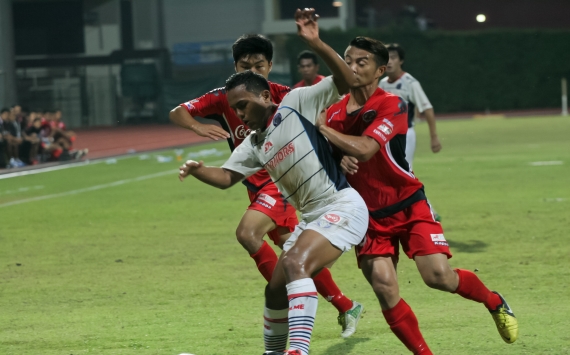 Emmeric Ong has been sidelined with a knee ligament problem and so the Young Lions will welcome the return of Al-Qaasimy Rahman, who was sent off against Harimau Muda 'B' two games ago. Sherif El-Masri will no doubt be the focal point of attack for the young side.
Home should have this in the bag if they can convert their dominance and possession into goals.
Hougang United vs Harimau Muda 'B' (April 26, Friday, 7.30 p.m, Jalan Besar Stadium)
Hougang United will play their third 'home' game at Jalan Besar on a Friday night, where they entertain Harimau Muda from across the causeway.
Hougang are facing a tumultuous start to their campaign. The North-eastern side faltered against fellow strugglers, Warriors FC, which brings their tally to four losses and a draw in the last five games. They are now rooted to second from the bottom with only five points. With uncertainty over who's coaching and who's not, the players can only be baffled especially after having acclimatised to Alex Weaver's style and then having to quickly adapt to the methods of Johana Johari, who is serving as caretaker coach.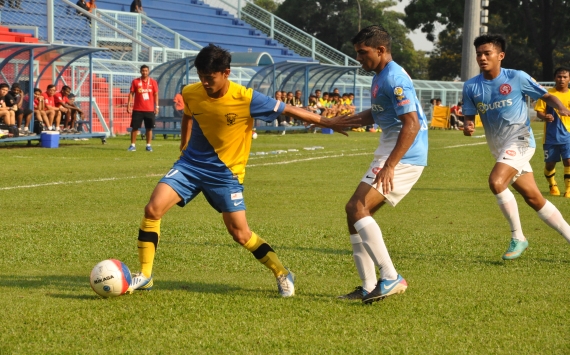 Harimau Muda B were unfortunate to lose to Home United last weekend. Maxsius Musa was a delight to watch with his darting trademark runs and surprising aerial ability. There was very little doubt that the little man was the best player for the Malaysians in their last match and they will be depending on him to penetrate the defence of Hougang.
Harimau Muda's tenacity should give them the edge over an uncertain Hougang side.
Tampines Rovers vs Woodlands Wellington (April 27, Saturday, 7.30 p.m, Clementi Stadium)
Unbeaten in eight games and dropping only two points so far, Tampines Rovers will play Woodlands Wellington at Clementi Stadium on the weekend. Tampines continue their amazing run of form and are looking seemingly unstoppable. Woodlands, on the other hand, have been consistently inconsistent in their performances every week.
Tampines will be without their defensive Japanese duo. Kunihiro Yamashita is out after a surgery for his shoulder and looks to be out for about two months while Seiji Kaneko picked up an injury in the previous match. Attack-wise, the Stags can depend on Khairul Amri and Sead Hadzibulic, who both scored in their 2-1 win against Albirex.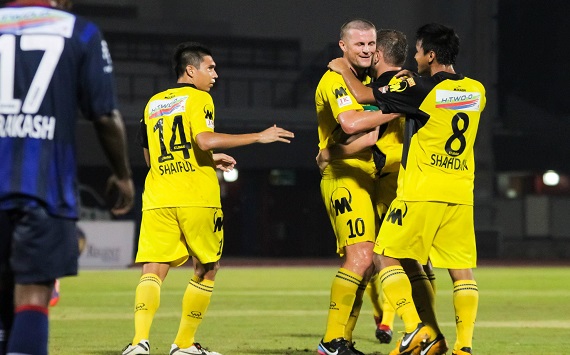 Khalid Hamdaoui has seen a drop in his performances after being awarded the Player of the Month accolade. Coach Salim Moin has even declared that he won't hesitate to drop Hamdaoui if he fails to perform. If that were to be true then Woodlands would have to rely upon the likes of Chang Jo Yoon and Moon Soon Ho to lift up the team.
Hougang United vs Home United (April 29, Monday, 7.30 p.m, Hougang Stadium)
Three days after their match against Harimau Muda, Hougang will open the doors of their home ground to welcome Home United in the week's last match. Based on form, Home should take this one, well, home.
The pplayers to watch for in this game would have to be Jordan Webb who would be facing his former club. The Canadian is famous for his trademark runs that tend to draw out defenders, leaving holes and gaps to be exploited. Indra Sahdan has been a delight to watch this season and he shows no sign of being above 30-years-old at the rate he is playing.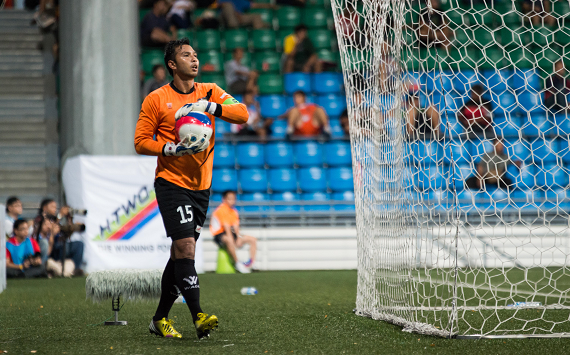 Fadhil Salim will have to command his backline well against a pacy frontline of Home attackers. He has done well this season but unfortunately most of the goals that he has conceded are the ones he cannot do anything about.
Home to take this game but not without a challenge from Hougang.