The match between top two Tampines Rovers and Albirex Niigata will be the one to look forward to this week.
Tampines Rovers vs DPMM FC (April 16, Tuesday, 7.30 p.m, Clementi Stadium)
Reigning champions, Tampines Rovers will host the Wasps of Brunei DPMM FC in the first match of the week. The Stags have been impressive this season, having collected maximum points from their six games played.
Brunei on the other hand, have scraped through collecting three wins out of their seven matches, to find themselves in seventh place. Joao Moreira will be the man to watch for the Bruneians. The Portugese has scored three goals in their last three matches and would prove to be a threat to the league leaders.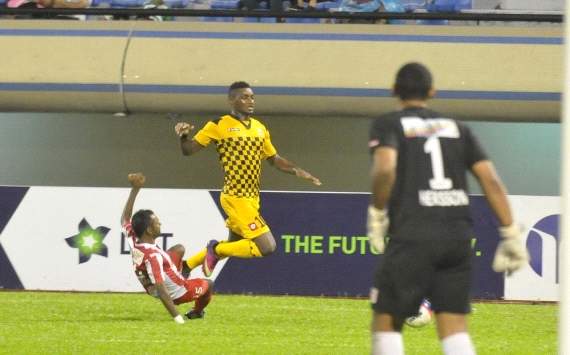 Tampines will be dependent on the midfield duo of Mustafic Fahrudin and Shahdan Sulaiman, both working well in tandem to break up opponent's attacks and start one of their own. Sead Hadzibulic has not been in scoring form and would definitely have to do a lot to prove his worth to the team.
Tampines should edge this thriller, given DPMM's inconsistency.
Young Lions vs Tanjong Pagar (April 17, Wednesday, 7.30 p.m, Jalan Besar Stadium)
Cellar dwellers, Young Lions will host Tanjong Pagar this Wednesday at Jalan Besar. Although the league standings show that they are pointless at the bottom with only two goals, Aide's team is actually hard to break down given their organisation and chemistry. However, their lack of experience usually shows in the later part of games, as highlighted against Woodlands. Emmeric Ong has sustained an injury and might not be able to feature this week. Young Lions will also be without skipper, Al-Qaasimy, who was shown a straight red card against Harimau Muda last week.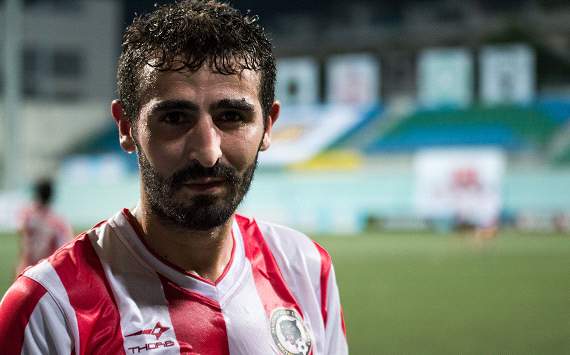 Tanjong Pagar will once again be depending on the triumvirate of French-speaking players; Kamel Ramdani, Ismael Benahmed and Monsef Zerka. They are the key reason that Tanjong Pagar are sitting third in the S.League table after eight games. Defensively, Tanjong Pagar are solid but they have been plagued by a series of inconsistent performances. They will need to work on their defensive understanding to continue to sit where they are.
Tanjong Pagar should win this comfortably.
Woodlands Wellington vs Geylang International (April 18, Thursday, 7.30 p.m, Woodlands Stadium)
Geylang International will travel North to Woodlands to enter the Ram's home ground.
Geylang must have been disappointed at conceding such a late equaliser against Albirex, after having scored a dead in the game themselves. Perhaps it is telling of their lack of experience, which coach Kanan has highlighted a lot this season. Delwinder Singh can be the defensive stalwart for the Eagles despite being only 20. His courage and determination are just a few of his positive attributes but it is his vocal presence on the pitch that makes him outstanding.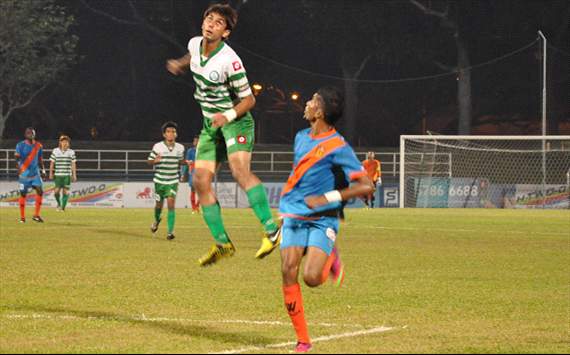 Woodlands are doing particularly well this season, after having been labelled 'wooden spoonists' for the past two seasons. Khalid Hamdaoui has been a central figure in their attacks since the season started but Chang Jo Yoon has stepped up his game to show his worth to the team as well. He has scored one and assisted one (own goal) in the past two matches.
Woodlands might just nick this encounter given their experience.
Balestier Khalsa vs DPMM FC (April 19, Friday, 7.30 p.m, Jalan Besar Stadium)
DPMM will once again travel to Singapore this week as they will play at Jalan Besar against Balestier Khalsa on a Friday night 'Live' match.
Balestier had an impressive outing as they ventured into the Cheetah's den to walk away with all three points. All three of their goals in that match came from set-pieces; one freekick, one goalkick and one cornerkick. It is perhaps a sign of how they are using their advantage in the height department to maximise their potential. Apart form that, Park Kang Jin has been a consistent performer for the Tigers. He has the ability to score and set up goals, which is a much-needed inspiration in times of difficulty. Jung Hee Bong and Obadin Aikhena will be the target of such set pieces given their height and heading ability.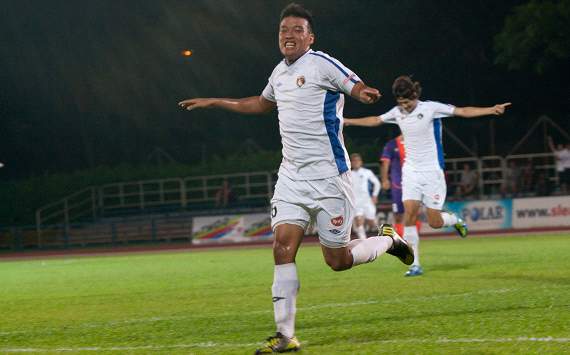 DPMM FC will of course be looking to Joao Morreira who has scored three goals in their last three games. The Bruneians might be fatigued given the fact they play league leaders, Tampines, on Tuesday. This would perhaps be a slight disadvantage to them as they face a fully fresh Balestier side. Skipper, Rosmin Khamis, will have his work cut out for him in midfield where he will face Park Kang Jin and Qiu Li.
This match is an open one for both teams and the one who commits less mistakes will take home three points.
Albirex Niigata vs Tampines Rovers (April 19, 7.30 p.m, Jurong East Stadium)
A fiery encounter is expected when the Stags travels to Jurong East to take on the White Swans of Albirex. This top-of-the-table encounter will be one of the key battles throughout the season in determining who remains on top.
Albirex suffered a shocking draw against Geylang International last week. With that aside, Nagasaki will be the man to watch for Albirex. His distribution will be key in supplying Bruno Casteinheira and Kazuki Sakamoto with ammunition. The former who has returned to the S.League is always a lively one to watch down the flanks with his pace and trickery.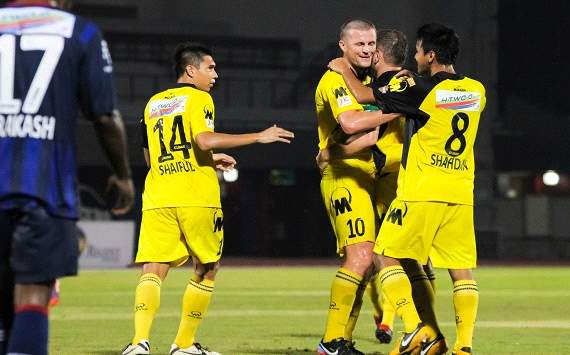 Sead Hadzibulic's poor scoring record this season has not been a major highlight given his team's ability to score goals from elsewhere. However, the Croatian should prove his ability to perform in big games such as this. Tampines have speedy wingers in the form of Imran Sahib and Ismadi Mukhtar and that will be an outlet of attack for the Stags who are also solid in the centre of the park. However, Tampines Rovers will be missing one half of their Japanese centre-back pairing. Kunihiro Yamashita is out with a shoulder injury.
This match will no doubt be the week's highlight and should not be missed.
Harimau Muda 'B' vs Home United (April 20, Saturday, 7.30 p.m, Pasir Gudang)
Harimau Muda will welcome the Protectors to their den on Saturday. The young tigers of Malaysia enter the match coming off of a 2-1 win against Young Lions while the Protectors are off from a draw with Warriors FC.
The Malaysians have shown their ability against more experienced sides like Woodlands. Iskandar Hanapiah would be a key man for the host. It was his shot that was palmed away by the goalkeeper in the last match, eventually resulting in a goal for his team. Akhir Bahari is also a danger in the penalty box, he has the ability to anticipate his opponent's mistake, and capitalising on them.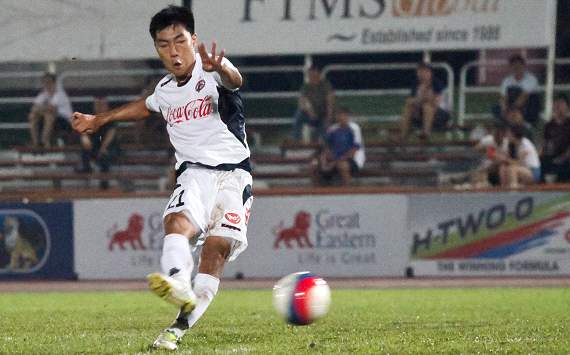 Home United do not have problems creating chances or passing the ball. Their problem seems to stem from their inability to score those chances. With that said, Song Ui-Young has been impressive in the games he has featured in. Able to score and create, the young Korean will be instrumental in Home United's plans. Jordan Webb also poses a danger with his mazy trademark runs. Home United will want to bounce back after the last draw.
Warriors FC vs Hougang United (April 21, Sunday 7.30 p.m, Choa Chu Kang Stadium)
Hougang United will travel to Choa Chu Kang to take on the Warriors in the week's last matchday.
Both teams are in shambolic form for their domestic league with Hougang coming off of a 3-1 defeat while Warriors were recently held to a 1-1 draw. They have both amassed four defeats already this season and are sitting in the bottom half.
Hougang United will need to start Liam Shotton if they expect to get anything from this match. The Briton was overlooked in the match against Balestier, and was only brought on in the last 15 minutes or so and in that duration, he scored a consolation goal. His physical presence, height, pace and intelligence should trouble the Warriors FC defenders and in fact any other teams' defenders in the S.League.
Warriors FC's victory in their AFC Cup campaign came as a result of a Ruzaini Zainal cross which was deflected into the net by one of the opposition players. His goal was also the one that earned Warriors a point against Home United. Ruzaini was out injured in the earlier part of the season and the match against Churchill Brothers was the first time, in a long while, that the Singaporean has played on the right wing, having been pushed to right back.
His pace will be one to watch, apart from his blonde hair, but he is not the only man in the sptlight. Shi Jiayi gave a stellar performance in the AFC Cup match as well. The defence will need to work extra hard if Liam Shotton were to play.