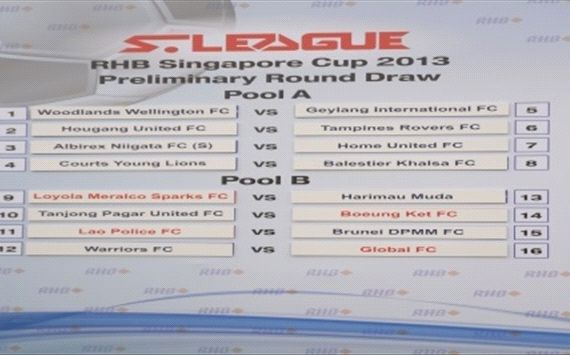 The draw for the 2013 RHB Singapore Cup was held in conjunction with the RHB Charity Football 2013 tournament on Sunday, April 14 at the iconic The Float @ Marina Bay.
Four foreign teams from outside of the S.League, Global FC and Loyola Meralco Sparks, both from the Philippines, Boeung Ket FC of Cambodia and Lao Police FC from Laos have been invited to play in this year's tournament, joining the rest of the S.League teams for the most coveted cup competition in Singapore.
In what will probably be the most anticipated clash of the preliminary round matches will be the tie between defending champions Warriors FC and United Football League Division 1 2012 champions, Global FC who feature several Philippines international players including Denis Wolf, Patrick Reichelt and Jason de Jong.
Undeterred by their current performance in the S.League, Warriors general manager Chong Wei Chiang has sounded the war drums, signaling their intention to defend the title even though they faced a tough opener in the competition.
"I am looking forward to the match and it's good to meet Global FC, a team with a number of Philippines internationals in the first round, and I feel it will be an exciting match," said Chong
"We hope to go all the way in this competition and retain the title so that we will be able to represent Singapore in the AFC Cup next year."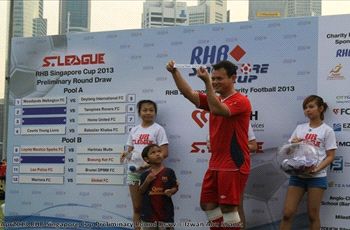 Their title defense has been aided with the backing of a Member of Parliament from Choa Chu Kang GRC Zaqy Mohamad (pictured right) who was present to participate in the charity match prior to the draw.
"It is a meaningful weekend as we are not only having the draw for Singapore Cup but also a part for football community to do something for those in need in Singapore and it is important to show that sports is able to contribute to the society as well," said Zaqy.
"I am from Choa Chu Kang GRC, so I hope Warriors FC will do well and locally I have supported them in the S.League. Although they have not started well in the league this season, but the Cup is a totally different mater altogether and they have a good chance of winning it."
Zaqy had been spending a lot of time serving the constituency and had also collaborated with the Warriors in various projects in the past, thus it is no surprise that the Member of Parliament is is lending his support to the defending champions.
The Singapore Cup preliminary round will take place on May 26 to June 2 with the quarter-finals scheduled for July 22 to July 29.