Woodlands Wellington vs Albirex Niigata (S) (Tuesday, March 26, 7.30 p.m, Woodlands Stadium)
Woodlands Wellington will return from their promotional tour in Macau to host the high-flying swans of Albirex who are second in the S.League table.
Despite a display of his silky skills, keyman Khalid Hamdaoui was unable to inspire the Rams to victory in the previous match. It was also the first match that Hamdaoui failed to score in. Against Albirex, Woodlands will need to be careful of a highly organised side capable of shifting tempos and dictating play at will.
The Japanese side have recorded single goal wins in all their five matches so far this season. This is perhaps a testament of their concentration and mental toughness, to hold on to slender leads and to come back from losing positions.
Shuhei Hotta will be the keyman for Albirex in the centre of the park where he sits comfortably shielding his defence as well as dictating the tempo of the game. His combination with Kento Nagasaki will be overwhelming for the Rams' midfield.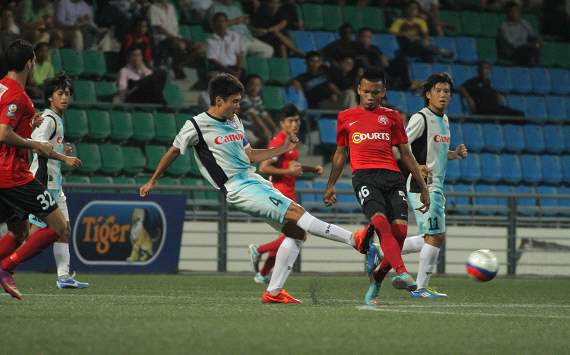 Given the form that Albirex is in, it is hard to see Woodlands stopping the Japanese side from gathering their sixth win of the season.
Geylang International FC vs Hougang United (Wednesday, March 27, 7.30 p.m, Bedok Stadium)


Geylang's woeful start to the season continues after they were defeated 3-1 at their own home by the Protectors. Hougang United are also coming off a 3-2 loss against Tanjong Pagar having taken the lead twice during that match. Hougang will need to improve their concentration as they have needlessly conceded goals at the back this season.
Geylang United will be depending on Jozef Kaplan, who is the skipper to lead the attack. Yasir Hanapi will be helping out in attack, evidenced by his cracking goal against Home United. Delwinder Singh will be having a busy time at the back against Hougang's attack, mainly consisting of their foreign contingent.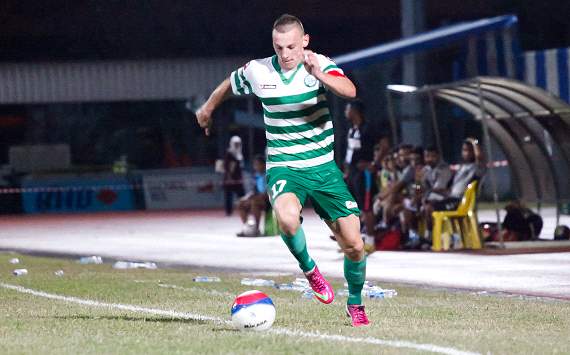 Liam Shotton, Robert Eziakor and Jerome Baker are powerful players with supreme strength as well as blistering pace. Their physical presence will give them an advantage against a young Geylang side. They would have to combine well to put anything past Joey Sim who was in marvelous form against the Protectors, barring the goals in which he conceded- and in those cases there was nothing he could do.
This match should be easily won by Alex Weaver and his boys, unless Kaplan can inspire his team like he did in their 4-1 drubbing of Harimau Muda 'B'.
Warriors FC vs Courts Young Lions (Thursday, March 28, 7.30 p.m, Choa Chu Kang Stadium)
Warriors FC would be looking to bounce back from their loss to Balestier Khalsa in which they put on a dismal performance. The Young Lions are the only team that have yet to register a single point in the league.
V.Selvaraj and his boys should look to capitalise on the home advantage to collect all three points. This would not be an easy task, given that Aide's charges are compact and well-organised, making it hard to roll past them.
Mislav Karoglan will have to work his magic in this game if the Warriors are to come away with a win. The Croat has a very keen eye for goal, evident by his strike against Geylang in the previous week. If the supply can reach him, then the Young Lions defence will have something to worry about.
Sherif El-Masri has been the livewire for Young Lions so far this season. It was also no surprise that he scored Courts Young Lions' first and second goal of the season, which were unfortunately chalked off as the results of the matches were overturned. His electrifying pace will be a cause of concern especially against an ageing Daniel Bennett. Abdil Qaiyyim, who was in collosal form against Geylang, will have to work well with his fellow Singaporean to stop the Canadian.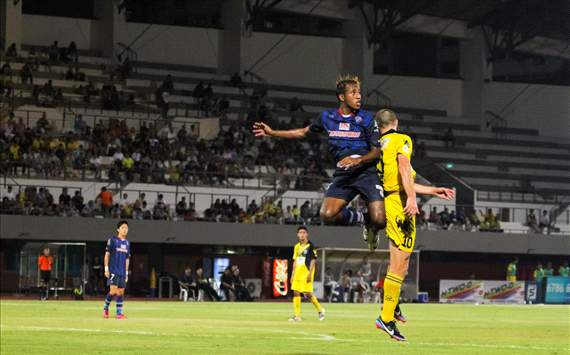 A close match, this will be, but experience will help the Warriors prevail.
Harimau Muda 'B' vs Balestier Khalsa (Thursday, March 28, 4.45 p.m, Pasir Gudang)
The Tigers of Balestier will make their way 52 kilometres up North to the den of their Malaysian opponents.
Balestier Khalsa will be without the service of Qiu Li in this match. The Singapore international was stretchered off in the first half with a serious leg injury. Balestier fans though, should not worry if Park Kang Jin is able to step up as he did against Warriors FC last weekend. The Korean was in inspiring form, pushing up in attacks and was a delight to watch as he dribbled past players.
Another Korean, Jung Hee Bong, has yet to show his true potential in Balestier colours. At his best, he would be a burden to be dealt with. With Qiu Li absent, Jung will have to step up and shoulder the attack up front on his own. There is no better time for the Korean to shine.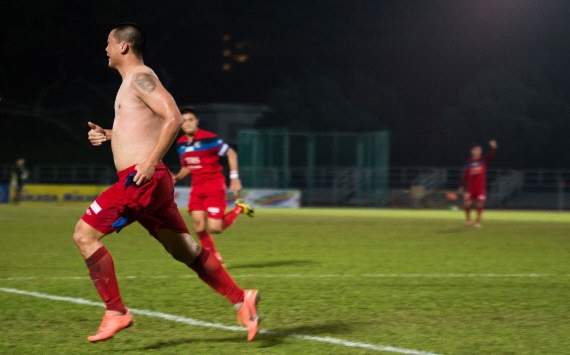 Shreen Thambi will be important in the Malaysian side's gameplay as they will be depending on his pin-point distribution in the centre of the park to link up well with the clever runs of Maxius Musa.
The clash of the tigers would be a fierce match. Unless Balestier's defence can plug the gaps, the Malaysian tigers look set to be the ones picking up three points.
Home United vs Tampines Rovers (Friday, March 29, 7.30 p.m, Jalan Besar Stadium)
Home United will be buoyed following two consecutive wins against Tanjong Pagar and Geylang United to get back on track after a wretched start to the season. They face table-toppers Tampines Rovers who are on an impressive winning streak.
Indra Sahdan and Masako Fukui will be available for selection after the duo served their two-game suspensions to give Home United more attacking options.
Seiji Kaneko and co. will have to be watchful of Home United's Song Ui Young who was lively in his team's victorious march against Geylang United, which ended 3-1. Song scored a goal in which his composure was at fine display. The 19-year-old then showed his playmaking abilities by creating another goal. The Tampines attackers would have to be at their sharp-shooting best if they were to get anything into the net, given the form Shahril Jantan is in at the moment. Another cause of concern for Tampines is the industrious Firdaus Idros whose marauding down the flanks will be a constant threat that needs to be dealt with.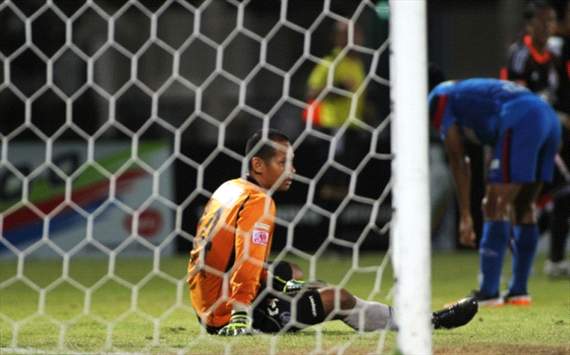 Tampines will be relying on skipper Mustafic Fahrudin to boss the centre of the field where Shahdan Sulaiman will use his attacking instincts to start off attacking moves. Shahdan has scored two decisive goals in his last two games, which earned his side six points in total. He will be instrumental in Tampines Rovers' attacking plays. Kunihiro Yamashita has also been in fine form of late. The attacking minded-defender loves a venture or two forward to assist in attack but is also imperious when called upon his defensive duties.
This exciting match-up would serve a great night of football on a Friday night.
Brunei DPMM vs Woodlands Wellington (Sunday, March 31, 7.30 p.m, Hasanal Bolkiah National Stadium)
A 2-hour flight over almost 800 miles will await Woodlands Wellington as they travel to Bandar Sri Bengawan to take on DPMM FC.
Fatigue will be an issue for Salim Moin's side having played a game against high-flying Albirex 5 days before while on the other hand, DPMM's last competitive match was 20 days ago, leaving them with more than sufficient recovery and rest period.
Azwan Saleh's industry will be a threat to the Ram's defence. The tireless left-sided player is known for his forward forays as well as dangerous crosses, which needs to be dealt with. He has been a menace on the wings, marauding at defenders yet tracking back to help in defence when needed.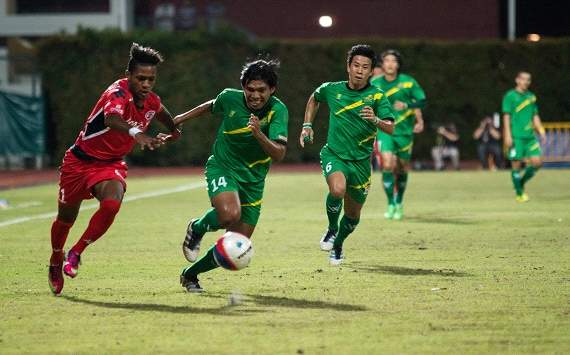 Shariff Samat will need to marshal his defence well against a DPMM side known for their sheer physical style of play. The former Hougang United defender has been a great addition to the Northern team. His experience will eventually prove to be vital for Salim Moin's side.
This match will be too close to call and the side that is able to minimise errors will prevail.