Moving into its third year, the H-TWO-O Ultimate Dream Team project, which is guided by Fandi Ahmad, will place more emphasis on developing player's character by allowing them to learn first-hand the importance of giving back to the community. The players, along Fandi, will offer coaching clinics to underpriviliged children every Sunday, after their regular training.
30 children from Beyond Social Services will be selected in each quarter, based on discipline, conduct and academic performance amongst other stringent criteria to partake in the 3-month program. At the end of the year, the players will get a chance to put into practice what they have learnt through friendly matches amongst the four teams. Every participant will receive a complimentary football start-up kit containing a sports bag, t-shirt, towel and H-TWO-O Isotonic Drink.
Speaking at the launch event of the Community Outreach Program at ITE College Central, Ms May Ngiam, Vice-President of YEO'S Marketing said, "We want underprivileged children to be awarded the same opportunity to have an avenue to maximise their full potential".
"We have started the program for two years, the foundation is there and now we have moved on to community outreach. When this is settled, we will look towards how we can explore possible opportunities with womens team," she claimed.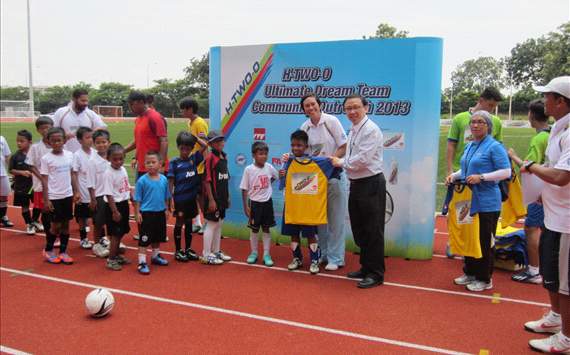 H-TWO-O Ultimate Dream Team 2 player, Sebastian Jon Lafour was happy to be part of the community outreach.
"It's definitely good to be able to give back, working with the children and seeing them play," said the 18-year-old.
"It also shapes ourselves both inside and outside football. It helps in our discipline and we get to interact with people."
Fandi will invite exceptional players from Beyond Social Services to either join the H-TWO-O Ultimate Dream Team or be fully-sponsored to train in the Fandi Ahmad Academy (FAA) should the players be too young to join the Dream Team.