Chelsea Football Club and starCom Management Pte Ltd announced the launch of the Chelsea FC Soccer School Singapore (CFCSS SG) at Premier Pitch at Turf City on Saturday. Six coaches who have been evaluated by the Chelsea FC Foundation will be attached to the academy. There will only be room for 72 students in the first intake, a move that is aimed at ensuring that coach-player interaction quality is at best.
This will be the ninth such school in the region. Chelsea had been waiting for a while to venture into Singapore as they were waiting for good facilities to be built up. The other challenge that they faced was finding a capable and trustworthy partner.
The launch of Chelsea FC Soccer School Singapore is also in line with Chelsea FC's mission in aiding the development of Asian Football. Local coaches have been working closely with Ian Woodroffe, International Development Manager of Chelsea, and his team over the past few months. The local coaches have been trained, assessed and taught the philosophies and values of the programmes offered by the school.
"We understand that the coaches play a very important role in every player's career; they work closely with the players and would be natural role models for the young boys," said Woodroffe.
"It is also important that a coach understands his responsibility will also lie beyond the pitch.
"Apart from football, the school also looks towards giving back to the community. An example would be the community outreach programme that we are having right now, where we invite the children from the SDSC (Singapore Disability Sports Council) to have a run-out session with our coaches.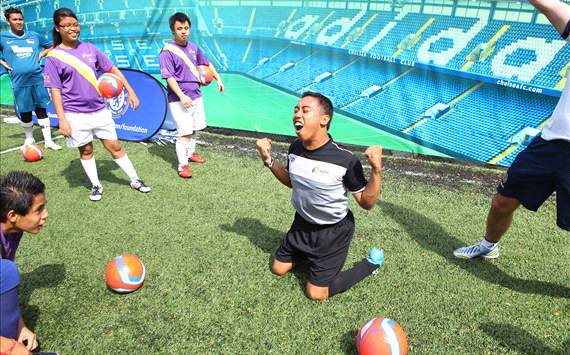 "On the coaches level, we will definitely have them exchange experiences with schools from other regions and countries, not only a UK-Singapore partnership but globally as a whole. Of course we would also like to expand the development of our coaches as much as we can."
The school will begin its first term on April 6 till June 30 with classes held every Saturday for two age groups, 6 – 9 year olds and 10 – 12 year olds. The CFCSSS will look to set up another site in addition to the existing site at Turf City in the second half of the year.
Classes will also be available for youths aged 13 – 17 in the future. Rates for the school start from S$140 per month or S$400 per term. There is a one-time joining fee of S$60 and all participants will receive a full CFCSS SG kit. Please email enquiries@chelseafcsssg.com or call 6440 5503 for more information.