Harimau Muda vs Geylang International
(Sunday, March 10, 4.45 p.m, Pasir Gudang)
The first match of the week will see last-placed Geylang International travel the Causeway to Pasir Gudang where they will face off with the youthful Harimau Muda.
On paper, this would be an easy match for Razip Ismail's boys against a Geylang side that has already conceded six without any reply.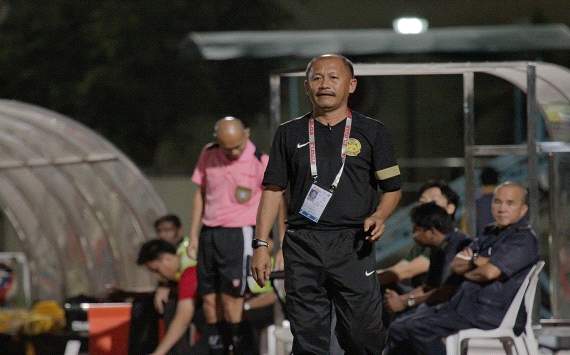 Geylang have had an extended break having not played a match the previous week. This extended break could have been beneficial for Coach Kanan to figure and tinker with his team.
Delwinder Singh will have to be wary of the speed at which the attacking Tigers will come at his defence. Maxius Musa, in particular, will have to be watched. The young Malaysian has pace, trickery and confidence that would prove to be harrassing even to the best defenders in the S.league.
The Eagles, despite the signing of new local and foreign players have not been able to get their ryhthm together and another heartbreak is on the cards against Razip's boy.
Harimau Muda's high-pressing and high-tempo style of play will be too much for the clipped Eagles to handle and one can expect the determined and passionate Tigers of Malaysia will bag all three points, with the sweltering sun beating down on the two teams in a mid-afternoon kick-off.
Albirex Niigata vs Brunei DPMM
FC
(Monday, March 11, 7.30 p.m, Jurong East Stadium)
Having registered their first win of the season, Vjeran Simunic's Brunei DPMM FC will travel to Jurong East to rattle the nest of the White Swans.
Both teams are a delight to watch when they are at their attacking best. This match will be electrifying to watch as Albirex would look to preserve their 100% record while DPMM FC will be buoyed by their win over Courts Young Lions.
Shahrazen Saad is once again looking sharp having scored in the past two matches. The Brunei star striker will look to trouble the disciplined defence of the Japanese side.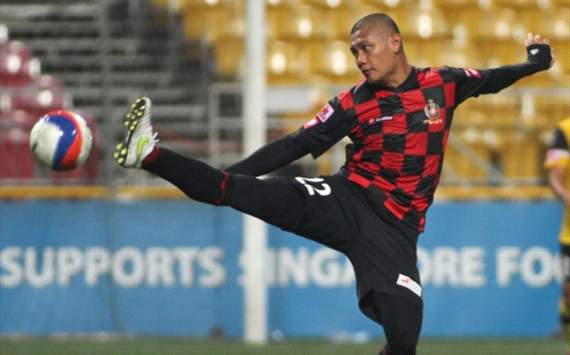 DPMM also need to make full use of the chances that they are gifted with, as evident by the massive 3-3 draw with Hougang United, which saw the Bruneian side squander two penalty chances. They were also given a few late scares as they hung on to emerge victorius against the Courts Young Lions 2-1.
Former Urawa Red Diamond player Shingo Suzuki will look to dominate the proceedings in the centre of the park. Shingo wasted no time in doing so when he came on as a substitute against Home United. He will look to use his experience to give his side an extra edge in midfield.
The White Swans have a terrible ordeal awaiting them, especially if they want to retain their 100% record.

Balestier Khalsa vs Courts Young Lions
(Wednesday, March 13, 7.30 p.m, Toa Payoh Stadium)
Toa Payoh stadium will be the visiting ground for Courts Young Lions as they take on Balestier Khalsa in midweek.
The young boys have shown that they have the ability to give teams like Tampines, Hougang and DPMM a run for their money. However, their lack of creativity and decisiveness upfront has cost the Young Lions dearly.
Al- Qaasimy and his defence line will have a tough time containing Singapore National Sriker, Qiu Li. The former Home United man, who has featured twice in our S.League Team of the Week, seems rejuvenated this season at Toa Payoh and that should be a worry for Aide's boys.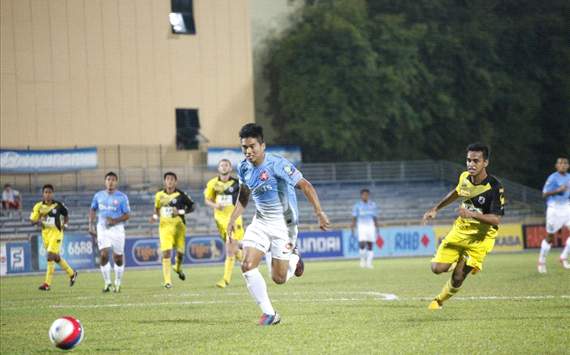 It is also no surprise that Courts Young Lions have scored their first goal courtesy of Sherif El- Masri. The 23-year-old Canadian was lively in their home game against DPMM FC. El-Masri is set to flourish as Young Lions' main striker this season. His performance will be instrumental in this match.
But while the Young Lions have suffered defeats in all their previous matches, their team is very disciplined and compact, moving up and down the field as a unit and tough to break down at times.
With the Tigers only able to eke out a 1-0 win over the Eagles in the previous round, expect a very evenly contested match and Aide Iskandar might just enjoy his first win of the season.
Tanjong Pagar United vs Home United
(Thursday, March 14, 7.30 p.m, Queenstown Stadium)
Tanjong Pagar United were given a reality check after they were held to a draw by Harimau Muda B. This marred their 100% record start to the season, which included a 6-1 mauling of Warriors FC.
Home United have only collected a solitary point in their three opening matches thus far. Against a stubborn Woodlands side, the Protectors dominated proceedings only to be undone by their profligacy in front of goal.
Coach Lee Lim Saeng has admitted that his side needs to improve their play in the attacking third after their loss in the previous round. This would be no easy task for the Protectors as they will be without Indra Sahdan and Masaro Fukui, who were both sent off against Woodlands Wellington.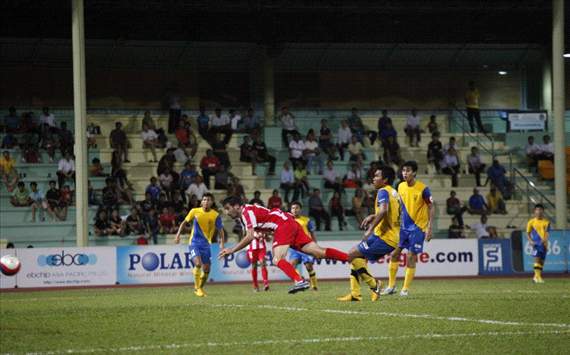 The fluid movement and telepathic understanding between the French-based players of Tanjong Pagar's attack should be a handful for Noh Rahman and gang at the back to handle.
The trio of Kamel Ramdani, Monzef Zerka and Ismael Benhamed has already scored 8 goals and this would prove to be a real problem if the Protector's Korean goalkeeper, Jang Hong Won does not step up his game. The 23-year-old was substituted by Shahril Jantan midway through the second half after a shaky performance against Woodlands, which saw him concede a howler.
With confidence at its highest in the Jaguars' den, and the mood in the Protectors dressing room not as what coach Paul Lee had expected it to be, a third consecutive defeat is on the card for the visitors at the Queenstown stadium.
Woodlands Wellington vs Hougang United
(Friday, March 15, 7.30 p.m, Jalan Besar Stadium)
Buoyed by their first win, Woodlands Wellington will welcome Hougang United, hoping to extend their good form.
Without any doubt, Man-of-the-Moment, Khalid Hamdaoui will be a central figure in the Woodland's set-up. The Dutch-Morrocan playmaker has scored in each of the game that he has started so far. He has shown that he can create magic even when afforded only a few extra seconds and yards on the ball, as evident in his absolute beauty of a goal against Home United last week.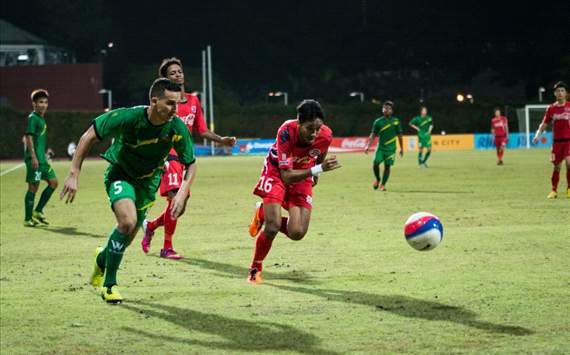 This match will also see Shariff Samat play against his former employers. The defender was in fine form against Home United last week, marking his return to competitive football with a goal-line clearance, on top of a collosal performance against the Protectors.
Woodlands will have to keep an eye out on Syaqir Sulaiman. The centre-half has a knack of ghosting into dangerous areas during set-pieces and scoring from such opportunities. Jerome Baker and Robert Eziakor will also be a threat to the Rams defence with their physical style of play and direct running.
Brace up for an exciting display of attacking football for the Friday Night "Live" match.
Geylang International vs Warriors FC
(Saturday, March 16, 7.30 p.m, Bedok Stadium)
Warriors FC will travel to Bedok to get their S.League campaign on track after a disappointing performance in Indonesia against Semen Padang during an AFC Cup match.
This will be a keen contest as both teams are rooted to the bottom three of the S.league table and would want to rise up as soon as possible.
Warriors FC's last S.League match saw them getting mauled by the Jaguars 6-1 and that should be motivation for V.Selvaraj's boys to go all out for a win to redeem themselves.
Having leaked 6 goals already, Geylang also face uncertainties in their backline. They have yet to find the net, and it is hard to see them doing so, even against a shambolic Warrior's side.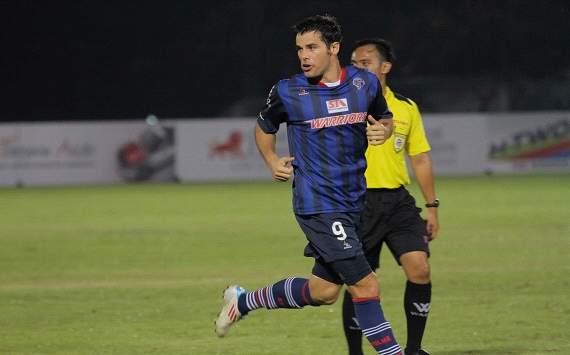 Sufian Anuar has carried on his goal-scoring form from the Malaysian Super League over to the S.League, notching 2 goals in 2 games. There is no reason for him not to increase his tally in this match. In addition, Mislav Karoglan is back to fitness after missing out on the Warriors' first two S.league matches. The Croat is known to create goals out of nothing and his return could also inspire the Warriors to get back on winning ways.
Amy Recha is the man to watch for Geylang International. Although it has not been an ideal debut season in the S.league, the young Singaporean was one of the few bright sparks on show in the Eagles' last match. His pace and trickery down the left flank will definitely be an issue for Warriors' right-back, Abdil Qaiyyim.
Tampines Rovers vs Balestier Khalsa
(Sunday, March 17, 7.30 p.m, Clementi Stadium)
Tampines Rovers host Balestier Khalsa in the last match of the week.
Similar to Warriors FC, the Stags are looking to get their S.League season back on track losing to Sai Gon in the AFC Cup.
Tampines Rovers are one of the remaining two teams to still have a 100% record entering this game week. The only thing that would stop the Stags from bagging all three points would be fatigue from travelling and playing in Selangor midweek. Besides that, this is a clear-cut win for them.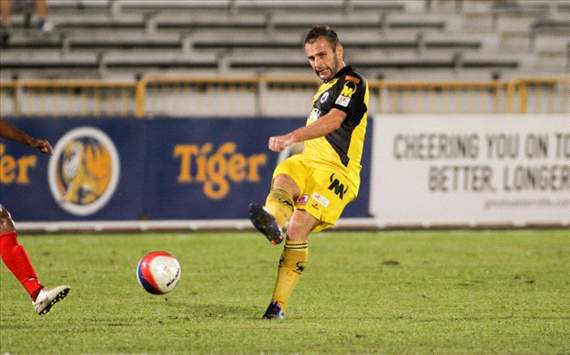 Mustafic Fahrudin will be a central figure in his team's play. The skipper will most likely be deployed as a destroyer, breaking up opponent's attacks and then starting one of his own through the middle. He has done well in the Stag's first two games, even scoring one against the Courts Young Lions.
Daniel Ong will have a busy evening against the Stags as the man in between the posts would be facing the likes of Sead Hadžibulić, Shahdan Sulaiman, Khairul Amri and possibly Aleksander Duric. The custodian will have to be at the top of his game in order to ensure that his team would stand a chance against the reigning champions.