Geylang International FC and NTUC Club signed a Memorandum of Understanding (MOU) for a duration of three years on Sunday evening and pledged to work together in organising football related events for community engagement and talent development.
Geylang chairman Leong Kok Fann and Yeo Khee Leng, chief executive officer of NTUC Club, represented their respective organisations at the MOU signing and both agreed to share their resources and facilities to achieve this community bonding aim.
"The roots of Geylang International Football Club have always been in the community since our founding in 1974, so this collaboration with NTUC Club to engage the community and promote local football is at the very heart of GIFC's DNA," said Leong.
"Football has always been popular among our union members, and this win-win partnership with GIFC will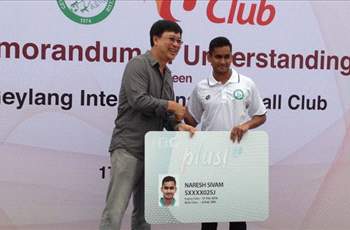 boost the quality of our engagement with them; we can provide more opportunities for them to pursue their passion in football and lead a healthy lifestyle and improve their fitness," added Yeo.
Among the intended activities are, a joint workshop, clinics and courses to provide NTUC members and supporters of Geylang with a platform for learning and the development of skills, In turn, NTUC will allow the club to tap into its network.
"Sports is more than just about the players, the support of fans is important too, so we want to engage them and build up our fan community together," added Khee Leng
"At the end of the day we want as many people as possible to benefit from our expertise in football, from our facilities and contacts, as well as enjoy a healthy lifestyle as we demonstrate our common passion for the beautiful game of football," added Leong.
Geylang will open their S.League campaign by hosting defending champions Tampines Rovers on February 20 at the Bedok stadium. The match will kick-off at 745pm.