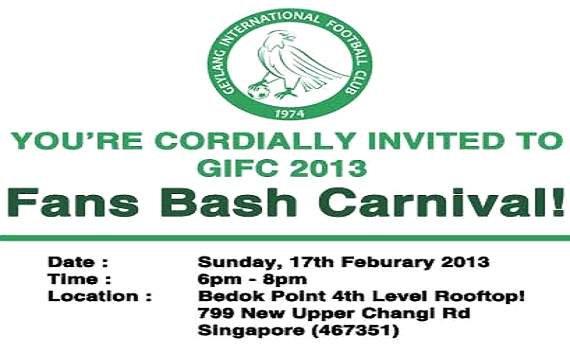 Geylang International is set to kick-start their season by organising a treat for their fans in the form of a Fans Bash Carnival at Bedok Point on Sunday, February 17.
Fans can look forward to a day of fun and strengthening the camaraderie between them and the players, as the club has lined up a variety of games and mini-competitions for them to participate in.
Club chairman Leong Kok Fann will also be present as the Eagles look to welcome their loyal supporters during the event and introduce the players to them.
2013 is a year which has seen the club embark on many initiatives, including reverting to their original name from Geylang United and pioneering a mentorship programme with Singapore Management University.
The mentorship programme saw thirty-six students from Bedok View Secondary School selected and mentored by members from the SMU male and female football teams, with the Eagles acting as the main facilitators for the program.
The club has also rolled out a scholarship fund where three selected players, either from the S.League or Prime League, who have been accepted into any of the three local universities, will receive $2,500 annually to aid with their education fees.
For fans who are keen to be part of the carnival, they can head down to Bedok Point on February 17 and soak in the atmosphere from 6 to 8pm.