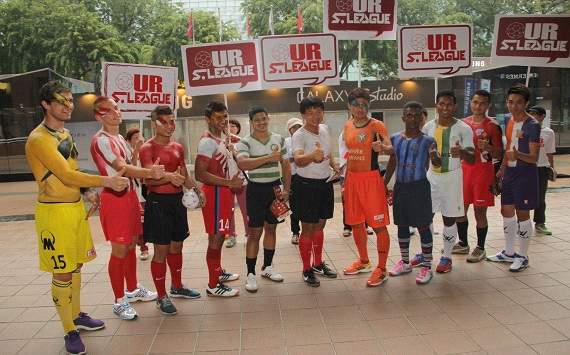 It was unlike your normal weekend at Orchard Road as the public were treated to an appearance by S.League players and the newly-formed SuperBabes, who they strutted their stuff to promote the upcoming Charity Shield match on February 15.
But their introduction was with an added twist as the representatives from each club, together with S.League CEO Lim Chin, walked down the street in unique body paint in place of their team's jersey.
Starting from ION Orchard shopping mall, then making their way down the stretch to Ngee Ann City Shopping Centre and finally Paragon Shopping Centre, their journey was met with curious stares from onlookers but it soon turned into a photo-snapping parade as passers-by and fans alike took the opportunity to grab a memento from the event.
Marcus Tan who was with his wife and son, was impressed with the event and found out his son's love for football as a result of their encounter with the S.League entourage.
"It was a very creative initiative by them" said Tan.
"I was unsure of what it's all about at first until my 12-year-old son told me about it.
"I used to watch the S.League back in the early days but after marriage, my schedule did not allow me to attend the matches. Although I did not bring my son to S.League matches, he had been following the scene on the internet. "I will definitely bring him to watch the Charity Shield match at Jalan Besar."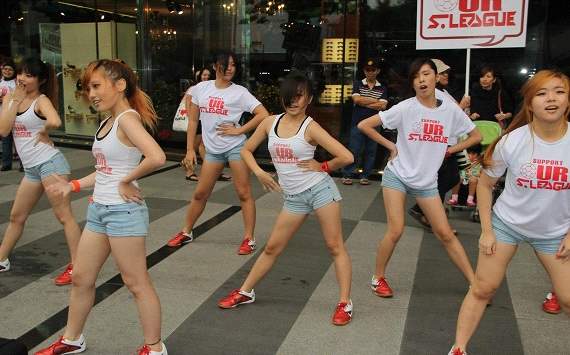 Also part of the entourage was the SuperBabes who grabbed the attention with their hypnotic and sexy moves.
The SuperBabes was formed after an intense audition held few weeks ago at the Jalan Besar Stadium. Girls from the ages of 15 to 24 came dressed to the nines and well-prepared with dance routines to impress the judges and convince them that they could entertain and engage the spectators at games.
They were selected by chief operation officer of entertainment firm AzVox Group, Andre Anchak, and S.League Director of Operations Kok Wai Leong. Fans can look forward to their appearance at S.League matches in the upcoming season.