The striker, who spent 11 years of his childhood at the home, took time out from football to spend the day with 15 kids at the iconic Singapore landmark.
On Tuesday, striker Sufian Anuar spent the last day of his holiday with 15 kids from the Jamiyah Children's Home at the Singapore Flyer, where he gave out early holiday presents.
The children from Darul Ma'Wa (Jamiyah Children's Home) were very happy to see their big brother, whom they fondly call 'Abang Sufian'.
Nur Farhanah binte Raman, an Education Officer at the home, expressed their appreciation at the gesture from the Flyer.
"The kids are very happy and I can see that they have enjoyed the day, especially for those first-timers at the Flyer," she said.
"We are very grateful to Singapore Flyer for giving this opportunity to the kids, for inviting them down and making them feel special and loved. Jamiyah Children's Home is looking forward to more meaningful collaborations with them."
The kids also participated in other fun activities, like being thrown 8-meters into midair by MegaBounce, the first-ever bungee-assisted trampoline in the city. They also visited the Christmas Village in the Tropics.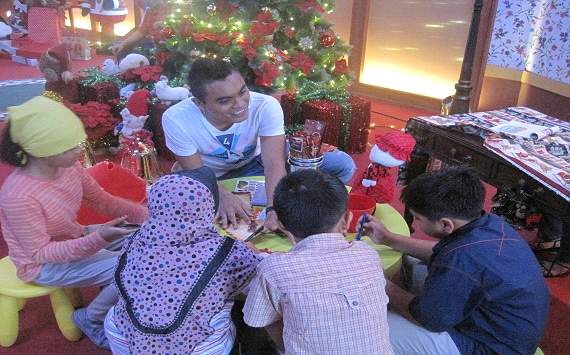 Sufian was full of smiles after the event, and remarked that he enjoyed spending his day with the children.
"I'm very happy to be invited by Singapore Flyer. This is my first time to ride the wheel and spending it with the kids from Darul Ma'wa made it more special," he said.
"It's also the last day of my holiday before the pre-season training and I'm very glad that I got to spend it with people who are very close to my heart."
Sufian is no stranger to Jamyah Children's Home having spent his childhood at the home after his parents divorced and gave him up to the home when he was six years old.
He remained there until he was 17, and even after leaving the home, he returns regularly to help out during charity events and to chat with the children.