A national athlete, a Navy regular and a businessman – those are the varied identities which Kanan Vedhamuthu has taken on at various parts of his life.
However, Kanan, as he more fondly known, has always had football as a big part in his life, which was what led to him jumping at the opportunity to get involved in his favourite sport back in 1999.
Since then, he has gritted his teeth in less glamorous coaching roles, before finally arriving at his latest destination – an S.League head coach.
In part one of our three-part profile, the current head coach of Geylang United talks about his life prior to football, and how he got a chance at his beloved game.
Life before football
Unlike many other coaches, Kanan has never played football at a professional level. When he was young, his energies were focused on another sport – and he excelled in it too.
"At my age group, football was very competitive and there were too many stars - Fandi was two years my senior, and Sundram was also three years senior!" Kanan recalled.
"That was why I decided to take on athletics. Maybe for sprints, you need some in-born talent but for longer distances, you can make it to the top if you work hard."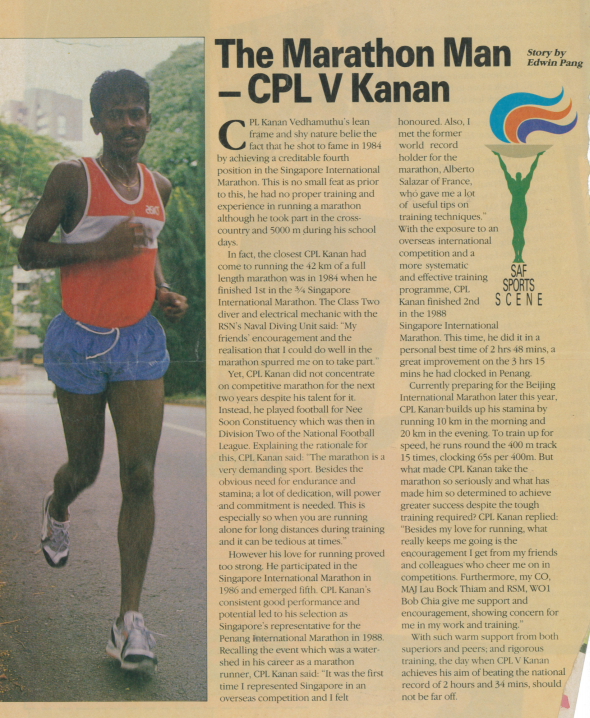 The desire to keep fit for National Service, coupled with the then-vibrant athletics scene, started to shape Kanan into a solid long-distance runner.
Describing how it all began, he said: "I was in the Navy for eight years as a regular. When I enlisted at the age of 18, I started to train with the bunch of national athletes at that time to keep myself fit.
"Then I started to participate in competitions which I did well [in], and eventually got selected to represent SAF Sports Association [SAFSA]. At that time, representing SAFSA was a big thing. Also, there was a lot of events then like the inter-club competitions and national meets where clubs like Lightswift, Flash and SAFSA would compete.
"Now, all this craze has died down."
Indeed, he found his niche area in full marathons as he went on to represent the nation in that category.
"When I turned 21, I tried a three-quarter marathon in which I came in first - that was when I wanted to try a full one," Kanan explained.
At the age of 24, he entered the trials for the 1989 SEA Games which was held at the Singapore Marathon, where the top two finishers would earn the right to represent the nation.
Kanan finished second, securing a place in the regional games, but his dream of winning a medal for Singapore was cruelly dashed when he sustained an injury at the competition.
"I went to the Games in Malaysia a year later, but I did not run in the end because I got injured there," he lamented.
He did recover eventually to compete in another regional meet in Penang, but unfortunately never got close to something as big as the SEA Games again.
Eventually, Kanan decided to retire from the sport for good at the age of 27 due to the heavy toll it took on his body.
"Actually for marathoners, they peak at the age of 29 to 30 but I decided to retire earlier because it was too tiring for me," he elaborated.
"To train for a marathon was no joke as you have to train twice a day [and] that was especially the case when I was still serving the nation.
"I started work at 7.30 am everyday at Pulau Brani Camp but I had to wake up two hours earlier to do my morning run. I finished work around 3 p.m, and then I went to train again."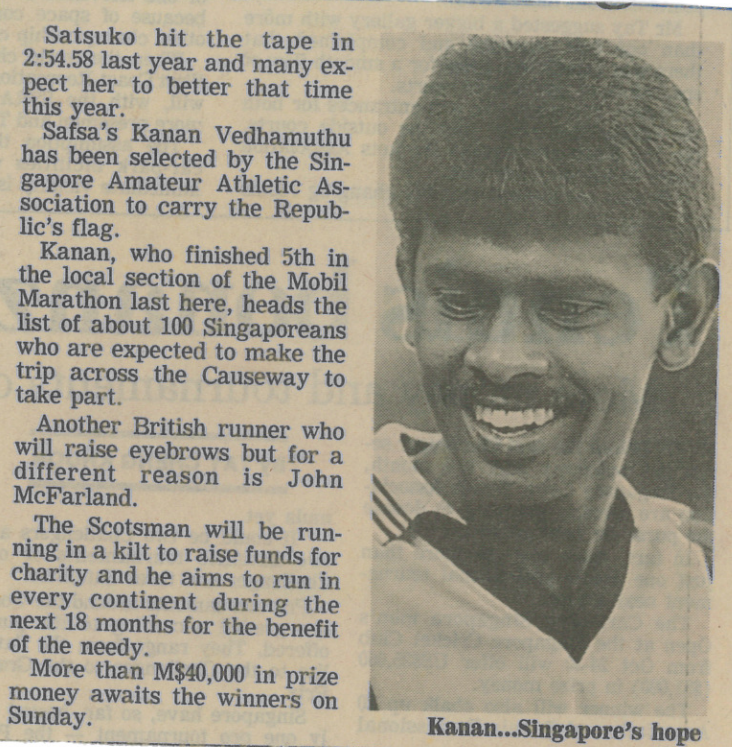 Kanan as featured in The Straits Times. Photo provided by Kanan
He still holds vivid memories about his athletics career, and revealed that he has newspaper cuttings of his achievements.
"My personal-best timing for a full marathon stands at around 2 hours 42 minutes; I think the current Singapore record* is around 2 hours 30 minutes or something," he said with pride.
Going into football
After eight years of serving the country, the then 26-year-old Kanan went into another path - the electrical business.
However, football continued to hold a special place in his heart and he mustered up the courage to try and carve out a ball-playing career when the S.League started in 1996.
"I have always liked football. I remember
when I was in Secondary Three, I would go and watch every Malaysia Cup game, every game in which Singapore was playing and every game at the [old] Jalan Besar Stadium," he recalled fondly.
"When the S.League started, I went for trials at Woodlands Wellington but the players then were too good, especially Sundram, so I did not manage to get in.
"Thus I went to Wellington FC, who were playing in the first division of the National Football League. At that time, playing in the NFL was already considered good enough as that was where the S.League started from."
Kanan spent two years at the club before moving to Tampines Rovers the season after. That was the last stop of his footballing career, as he was forced to retire after failing to recover from a persistent shoulder injury.
A year without any competitive action saw Kanan, then only 33, return to his electrical business trade before a coaching opportunity at Woodlands came along.
"I enjoyed doing business but the opportunity came when Venga called me." he recounted.
Part 2 of the feature will be published tomorrow
*The current Singapore national record for the marathon is 2:24:22, held by Murugiah Rameshon.