From their humble beginnings in 2005, Arion Women's Football Club was started by a group of 5 football enthusiasts who wanted to develop their skills and promote the sport amongst ladies. At present, Arion WFC has 26 players in their competitive team, with another 8-10 players who play recreationally.
Having just ended their club retreat over the weekend, Goal.com Singapore paid a visit to Pierce Secondary School where Arion WFC was having a recreational match between current and past members.
The name Arion was derived from a character in Greek mythology according to Yeong Sheau Shyan, founder of Arion WFC.
"This character was the real Hercules's stallion," said the former Singapore international.
"Even though on Disney we see Pegasus – a white, beautiful stallion – but in the real story, it was a dark stallion. He saved Hercules from a war that killed everyone else."
The name Arion actually means 'Better, Stronger and Braver' - a motto the club lives by.
"At the time when we started this club, we felt very much like the underdogs," added the current Arion football coach.
"And this was a character that we wanted to associate ourselves with."
She jokingly added: "Also, the letter 'A' appears first in the results when you search the Internet!"
The young team tasted success for the first time when they lifted the 2009 Football Association of Singapore's Women's Challenge Cup, the flagship women's title.
Kicking off the team with just five ladies, it was initially challenging to find a location for an all-ladies team to train.
"Girls came from friends and anyone who wanted to play football," added Yeong.
"We've never turned anyone away, regardless of whether you're a beginner or foreigner.
"We eventually had 18-19 players, all with very basic football skills. We trained at Ang Mo Kio Secondary School's field, courtesy of a teacher, Mr. Lim Beng Huat.
Later on, there was Mr. Tan Kah Chua, who is currently the manager for Tangjong Pagar's women's team. He sponsored us with some money every year to keep us going, so we've had help along the way."
Despite this, Arion WFC is also an independent self-sustaining team, engaging in fundraising activities to run the team.
"Every season we print a t-shirt with a different design and every player is required to sell 20 pieces," she told Goal.com Singapore.
"All the money goes back to the club and we will use it to book pitches, buy match kits and pay referees."
Having been through many tough times, what makes Arion WFC special to Yeong's players is the sense of solidarity and familiarity within the club.
Raneiri Koh, vice-chairman of the club, said: "Arion feels like family. This strong sense of kinship is what makes me want to be a part of the team."
Speaking about the development of women's football in Singapore, both ladies agreed that it is challenging trying to promote women's football in our country.
"Arion WFC is not just another team that plays football. We are also working very hard to promote the sport among women in Singapore." said their captain.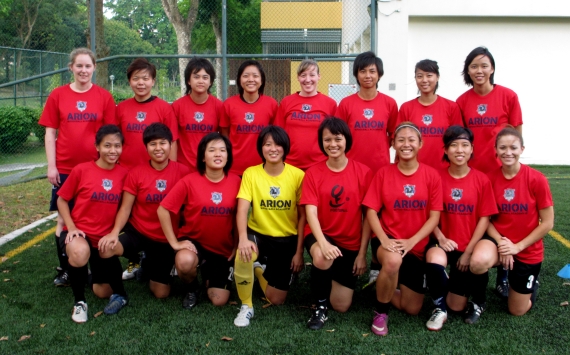 Arion WFC also entered a competition called 'One Dream Contest' which would grant winners $5,000 to do the one thing they wanted.
Raneiri recalled: "We entered this competition and we said that we wanted to develop women's football in Singapore. We did win the money but it has to be chanelled to women's football here. The person who was liaising with us was very enthusiastic and kept trying to engage us with the relevant authorities."
"However, it was a very tedious process that amounted to very little at the end."
She added: " I think we've identified that one of the core problems is that women's football, much as it is growing, is not very seen in Singapore. So it's not promoted through all the media channels, and this makes it difficult for sustainability."
"Also, for us, we are training and playing purely out of passion. But sometimes with practical limitations, it becomes a deterrent for a lot of ladies who have the interest but they don't have the means to play it."
"If not supported, the fear is that women's football may eventually become a dying trade, especially if it takes too long to come up to the forefront."