The 20-year-old was one of two South East Asian players to make the cut along with Thailand's Napapon Sripritheep
On his 20th birthday, Singaporean winger Faris Ramli's name was announced at the Nike 'The Chance' Global Finals dinner with Brazil defender David Luiz amongst the crowd.
With the top 100 finalists giving their all over the past four days of training sessions, Faris stood out from the group as a winger with vision, style and plenty of pace to burn.
Along with Thailand's Napapon Sripritheep, the two South-east Asian finalists will now continue their challenge for a place in the top 26.
The 52 players will be divided into four teams of 13 players with each team playing later today (24 Aug) before the group gets narrowed down to a list of 26 at dinner.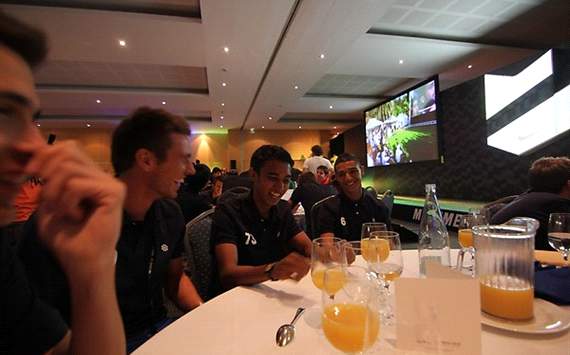 Faris' birthday was made even sweeter when the players headed to Camp Nou for the Super Cup game between FC Barcelona and Real Madrid which ended in a 3-2 victory for the hosts.
Speaking about his place in the Top 52, Faris said: "I am so excited and happy that my hard work paid off. I came to Barcelona with the mindset to deliver my best performance in front of the coaches and to go as far as I can. Now I will focus my energy on doing well in the match to seal my spot in the round of 26."

"The Barca vs Madrid match was magical. The atmosphere inside the stadium is unbelievable and this will be another wonderful chapter in my Nike The Chance journey. Time to rest up and prepare for my game tomorrow. I hope my family and friends back in Singapore are proud of what I have achieved and I promise to push myself all the way!"
The list of 52 are as follows in the following order
(Name) (jersey #)

Team 1
Raoul Lombardo (40)
Petar Golubovic (72)
Vladyslav Kolisnyk (93)
Dario Van Den Buijs (7)
Dimitris Komnos (32)
Jose Figura (92)
Emilio Rodea (51)
Kamil Piotrowski (64)
Brian Iloski (100)
Andrea Cribilli (38)
Piero Malerba (11)
Karlos Batista (57)
Kevin David Salazar (16)
Team 2
Darryl Bobson (52)
Avishay Cohen (37)
Marco Di Lauro (39)
Fernando Canales (61)
Josip Guskovic (18)
Joel Bravo (24)
Napapon Sripratheep (84)
Maurizio Costa (60)
Tomas Jose Gellona (10)
Bismark Kwarteng (31)
Alexis Khazzaka (47)
Martin Kostal (74)
Jorge Vallejos (3)
Team 3
Ritchie Steinmann (54)
Gonzalo Balbi (79)
Yuki Yamanouchi (43)
Jameson Neves (9)
Young Jae Seo (46)
Asleigh Artwell (90)
Kiril Laptev (68)
Jose Manuel Barba (81)
Jose Miguel Barreto (95)
David Fernandes (27)
Sang Jun Lee (44)
Teboho Charlie Tsotetsi (76)
Bryan Windsor (97)
Team 4
Xavier Delgado (25)
Tomas Arrachea (2)
Matthieu Pironnet (28)
Nuno Costa (65)
Wallace Camilo (8)
Melusi Zulu (77)
Ismail H'Maidat (6)
Saifeddine Alami Bazza (78)
Bubakary Sonko (83)
Ryosuke Kinoshita (41)
Faris Bin Abdul Ramli (73)
Santiago Cabezudo (96)
David Jakab (34)