Dietmar Hamaan teamed up with LionsXII coach V Sundramoorthy as they took on the likes of Duric and Mustafic in a friendly game of futsal
Saturday morning and the weather was just right for a kick-about at Stadio@Canberra. Local football stars, some media personalities and a handful of fans gathered for a morning of Didi Man in action.
The players were split into three teams - V.Sundramoorthy with Dietmar Hamann in orange, Alexander Duric in blue and Mustafic Fahrudin in yellow.
Seeing the legendary Didi Hamann in action; it looked as if he had never left the pitch. He still has game. Didi controlled the ball along the flanks, delivering effortlessly to his men waiting in the box.
One cannot help but wonder if Didi would be more comfortable in a full pitch instead of a 32m by 16 m pitch, against six men. Chatting with the ex-Liverpool player after the first match, he mentions casually that Liverpool does have a smaller pitch of artificial turf to be able to train through the frost.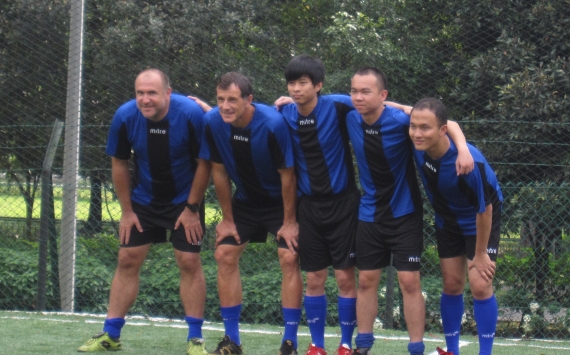 Nonetheless, Didi seemed to be enjoying the sun as he lounged on a chair during breaks while the locals were seen scurrying into the comforts of the shade.
Sundram rolled back the years as he took to the pitch alongside the lanky German. The veteran, dubbed one of Singapore's most talented footballers, was treated with utmost respect by the other players. Sundram did not disappoint the crowd and drove the ball into the top left corner after a swift run down the right wing.
Meeting Sundram face to face still seemed to be very much a dream. One cannot help but feel a little hesitant to approach The Dazzler. However, Sundram turned out to be very down-to-earth and obliged fans freely with handshakes and photos.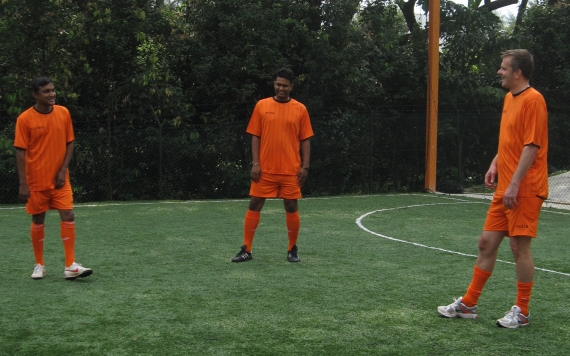 Having a number of our national footballers spar in a casual pick-up game gave everyone insight to a different side of our boys. Duric could be heard giving out encouraging shout-outs and a few good-natured taunts at the referee. Mustafic sported a rather cheeky smile as he dribbled past our media friends, who played a decent game. Duric's shots were lethal and Mustafic's dribbling was truly a joy to watch.
On the whole, the day felt like a usual game amongst old friends. Just that some of these friends happened to be rather famous. It was particularly heartwarming to see that the children were not excluded with a pair of little ones spotted kicking about with the big boys.
Didi and Coach Sundram also paid a visit to the neighboring pitch where the boys from Singapore Disability Sports Council (SDSC) were to interact with the youngsters and pose for photos.
If there was one thing that came through all this was that football for the true fan is more than just a sport, it is a passion; a fellowship. Chicken soup on a nice Saturday morning indeed.