The arrests were made following unruly behaviour from a number of travelling supporters who were reportedly not allowed entry into the stadium
According to the Singapore Police Force, five individuals were arrested for disorderly behaviour outside the Jalan Besar Stadium during the
Malaysian Super League
match between
LionsXII
and Johor Darul Takzim (JDT).
The five, four men and a woman, were brought into custody for acting unruly after being denied entry into the stadium.
No mention of the arrested individuals' nationalities has been made, although going by eyewitness accounts on social media from football fans who atteneded the match, a number of visiting supporters were not allowed into the stadium despite having tickets.
In several postings on the official JDT Facebook page, fans posted photos of Grandstand tickets purchased for the match that appeared legitimate and had been bought from official ticket retailers Ticketbooth.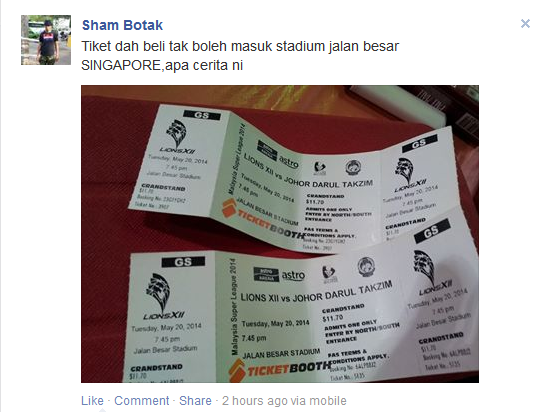 The Football Association of Singapore (FAS) have customarily assigned the farthest end of the Gallery section for away fans and visiting supporters are often turned away from the Grandstand area.
The LionsXII and JDT encounter on Tuesday night had sold out on May 14, a week before the match.
In a post on the official LionsXII Facebook page, fans were advised to bring along identification to be allowed entry into the stadium along with a warning that away supporters bearing tickets meant for local fans will be turned away.
"FAS would like to remind all fans to bring their NRIC or Photo ID cards for verification purposes," read the statement posted on May 14. "Do turn up early to avoid delays as there will be enhanced security checks in place during match-day. Please note that all tickets are non-transferable, and fans with unauthorised tickets will not be permitted into the stadium."

"Fans of Johor Darul Takzim are advised to purchase their match tickets from the club directly. Please note that visiting team fans holding to Local tickets will be refused entry."

LionsXII lost the encounter 3-2 and will next face ATM FA on Saturday May 24.

UPDATE May 21, 1755: FAS have confirmed that JDT fans were turned away for holding the wrong tickets.