As
LionsXII
coach
Fandi Ahmad
walked into the room for the post-match press conference, the sense of relief emanating from him was almost palpable.
His team had earlier snapped a two-game losing streak by
running out 2-1 victors
over
PKNS FC
at the Jalan Besar Stadium, as they rallied to come back after going behind on the half hour. It was exactly the result they needed after consecutive
defeats to Kelantan FA
and
Sarawak FA
and Fandi was pleased with the triumph against a team that "gave us a run for our money".
"I thought PKNS was a better team than the last few seasons, they have strengthened with good foreign players as well," he pointed out.
"But we were confident of getting these points from the training sessions we had [before the game]. The boys responded very well; we talked to them [and said] that they are not playing for themselves, but especially for the fans. It's very important what we did today, for everybody."
Fandi acknowledged that they struggled to create chances in the first half despite having more possession but was pleased with how they played after the break, singling out substitute
Sufian Anuar
for his part in
Faris Ramli
's winner.
"Through the experience we had in the last few matches, we are having problems because there are no runners behind their defenders," he explained.
"In the second half, we started playing at the back [behind the opponents], then we gave them a hard time. That's why we brought in Sufian to do the dirty job; because of his eagerness and determination, he got the ball, he stole it from the defender."
Fandi also praised lone striker
Khairul Amri
for his hard work upfront, as well as the midfield trio of
Zulfahmi Arifin
,
Raihan Rahman
and
Firdaus Kasman
. While admitting that they conceded due to a lapse of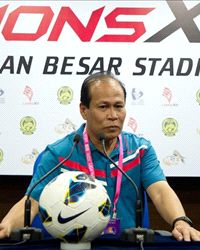 concentration, Fandi was happy with the improved defensive showing after letting in five goals in the previous two losses.
"Today they did very well, even though some clearances weren't that good," he stated. "I thought especially on the corners,
Safuwan
[Baharudin] did well on the high balls and
Izwan
[Mahbud] did superbly during the last part [when he came out] for corners."
PKNS coach Wan Jamak bin Wan Hassan (right) rued his team's inability to break down the LionsXII defence, while admitting that they "lost to the better team".
"We had chances to score goals but unfortunately the wall is too thick for us to break through," he said. "I told the players we had to get away from the centre line (area) and get the cross in, wetried, but the Singapore players were very solid."
The LionsXII's next assignment is on Tuesday, when they travel to face Perak FA.