Three weeks ago, the
LionsXII
scored a last-minute winner at Selayang Stadium to beat ATM FA 2-1.
On Saturday evening, the reigning
Malaysia Super League
champions got a taste of their own medicine as ten-man
Kelantan FA
inflicted the
same misery on them
at the Jalan Besar Stadium.
Despite Khairul Amri giving his side the lead midway through the first half, two lapses of concentration in defense in the second period cost the LionsXII all three points. Fakri Saarani pounced on hesitant defending to draw Kelantan level, before Francis Forkey Doe scored the winning goal in added time when he exploited some shambolic defending from the home side.
"We are all very disappointed," LionsXII coach Fandi Ahmad declared at the post-match press conference.
"We had a good turnout today and we disappointed the fans and ourselves. I hope this will be the last one. We're looking forward to the next game. If we have to play tomorrow, we will.
"It's really a disappointment for all of us. The players gave 200% effort, they gave their best."
Fandi was also at a loss as he rued the shocking defensive lapses that cost his side dearly.
"Due respect to Kelantan, they took their chances well," he said.
"Whether it was a fluke pass [by Kelantan that led to the first goal], I thought we made silly mistakes at the back, but they deserved it. We didn't play to the whistle [for the second goal], that is the most important thing in football.
"They punished us because they're experienced. Besides that they are just normal, keeping the ball, trying to slow down the pace, [but] they deserved to get the three points.
"I thought a point was not too bad, but the mission now is to recover and get three points in Sarawak."
Kelantan coach Steve Darby (right), on the other hand, was pleased with his side's efforts but admitted they were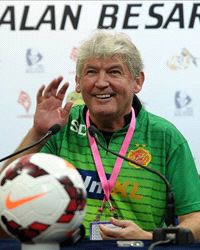 fortunate to get away with all three points.
"We were lucky, make no qualms about it," the Englishman said.
"I'd have been very happy with a draw. What won us [the game] was character and effort, which sometimes you can't coach, you can just encourage it. And I've got some great professionals out there. I don't just meant the foreigners, I mean everybody."
Still, Darby praised the LionsXII for their performance, whom he thought played well despite their costly mistakes.
"The LionsXII were defending very well," he said.
"[In the second half] we almost went 4-3-3. If we hadn't had scored the equaliser, we were going to go for a 3-5-2 and gamble.
"I don't have anything against them, they did very well. They defended very well and we couldn't get the ball forward."
After going through the whole season undefeated last season, the LionsXII have now dropped five points in their last three home games. While Fandi doesn't fault his team for a lack of effort, he is demanding that his players show more fighting spirit in the next game to start racking up the points.
"We will only bring fighters who will die for the team, who will die for the man next to them," Fandi said.
"I want to see fighters, not shirkers, not jokers. Anywhere we play, we must attack. If we sit [back], the opponent will eat you up. We got to go there [Sarawak] and have a positive mind. "
The LionsXII will next face Sarawak on Saturday, March 15.