The Singapore defender will work with under-privileged children as part of the school's Corporate Social Responsibility programme in 2014
Baihakki Khaizan has been unveiled as the community ambassador for Chelsea FC Soccer School Singapore (CFCSSSG), who are launching a new Corporate Social Responsibility (CSR) initiative.
Operated by StarCom Sports Management, CFCSSSG are marking their first year of operations here by working with local schools to provide after-school care to pupils most in need by tutoring them for an hour. This will be followed by a training session with the school's coaches, who are certified by the English Premier League giants themselves.
Singapore international Baihakki, who was
recently named the Best Defender for the 2013 Malaysian Super League
season after a stellar title-winning campaign with the LionsXII, will work with under-privileged children on and off the pitch.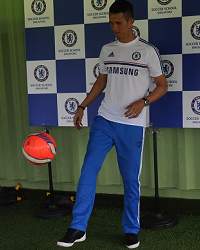 The 29-year-old, who has since moved to Johor Darul Takzim, is delighted to have the chance to contribute to the community.
"This has been an incredible year for me and I am blessed to have the support of the community," he said at the unveiling at Rainforest Sports Hub.
"Football has given me a wonderful career and life, and I hope I can do my bit to give something back and help these children."
StarCom executive director Ryz Martein Yacob was delighted with Baihakki's involvement and also called for help to develop the programme in order to extend it to more children.
"'Baihakki is a local hero and we are very grateful to his commitment to our programme," he said.
"Through our work with the community, we have noticed there
are many children who need a helping hand and we hope this additional support from CFCSSSG will help make a difference to their lives
"We want to help even more children and we seek for more corporations to join us in this initiative."
The programme will commence in January 2014 at CFCSSSG's east campus at Bedok South Secondary School. Corporations and schools who wish to get involved can contact Konnie Koh at 6440 5503 or email community@chelseafcsssg.com.