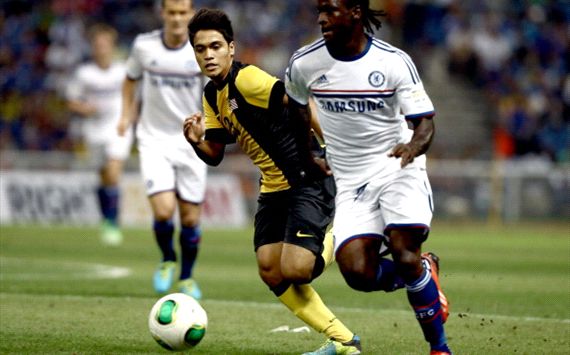 The score line is visibly frustrating but lets try to look beyond it. Amri Yahya continued to show why he still deserves a spot in the national team with a sublime performance. Aidil Zafuan was at his robust best in defence, going up against the physically superior Romelu Lukaku. Nazmi Faiz came on as a substitute and changed the dimension of the game by closing down the Chelsea players at every opportunity. Even Nazrin Nawi came one and showed why he is one of the hottest prospects in Malaysian football as of now, with his pace and trickery. Not forgetting Junior Eldstal, who impressed against Chonburi and did his best against Chelsea as well. The ultimate conclusion is simple; we have the necessary resources to build upon. Question is, how do we ensure consistent performance from these names?
THE LACK OF CUTTING EDGE UP FRONT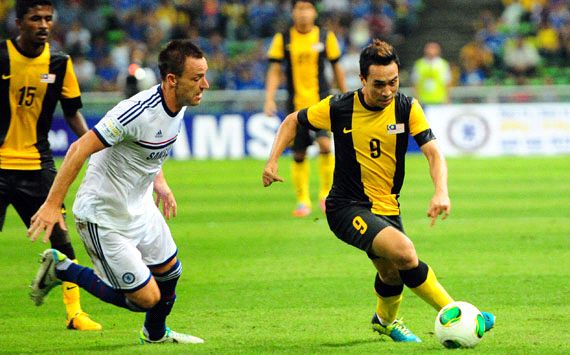 Understandably, we were up against a quality opposition on Sunday. Per contra, the match shedded light on one of the biggest weakness in our current Harimau Muda squad; the lack of cutting edge upfront. It's probably also safe to point out that we have only scored four goals in our last six 'official' games against other national teams. Safee Sali is no longer the player he once used to be, while Norshahrul Idlan has a tendency to be inconsistent and eccentric. And he does better as a support striker, rather than a traditional center forward. King Raja employed a conservative 4-5-1 formation against Chelsea the other day and Norshahrul looked a lonely figure upfront. In such a formation, having a physically superior striker would give us advantage upfront and one possible candidate for this is Selangor's Afiq Azmi. However, the ex-KL striker still needs to prove his mettle before being afforded a national call-up.
CONSISTENCY REMAINS A NIGGLING ISSUE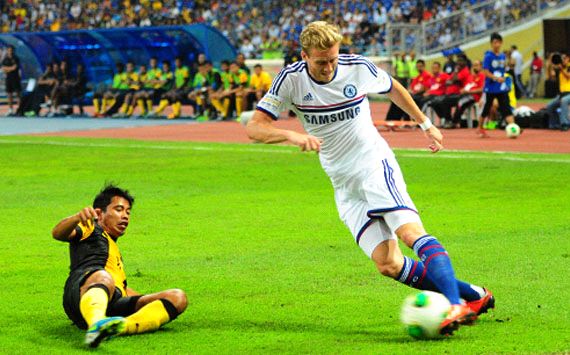 Just a while ago, Shakir Shaari was being lauded as one of Malaysia's prized assets, but the Kelantan midfielder was frustrating to watch against Chelsea. He gave the ball away too easily, and struggled to close them down effectively, which was done on a better scale by Nazmi Faiz when he came on. Shakir was similarly inconsistent for Kelantan in the Super League as well. Consistency has always been a problem for Malaysian players, and it was demonstrated again on Sunday. Gurusamy was another who never looked comfortable in the middle of the park. We can train and identify talents as much as we can but if players fail to consistently perform, then it becomes a niggling issue.
THE NEED TO BE MORE COMPOSED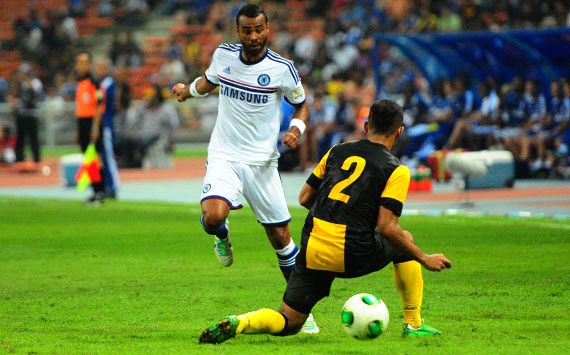 When Ong Kim Swee's men triumphed in the SEA Games back in 2011, many were not only impressed by the feat, but also by the fact that the Young Tigers remain composed in such a hostile atmosphere at the Gelora Bung Karno stadium in Jakarta. However, we didn't see that against Chelsea. King Raja's men rushed too many attacks and struggled to comfortably maintain possession at times. Perhaps the level of opposition was daunting but it's safe to say that the Malayan Tigers need to be more composed if they seek to scale bigger heights. Ball retention is one of the most crucial aspects of modern day football and King Raja should be looking to improve on that in the near future.
WE NEED TO LET KING RAJA DO HIS JOB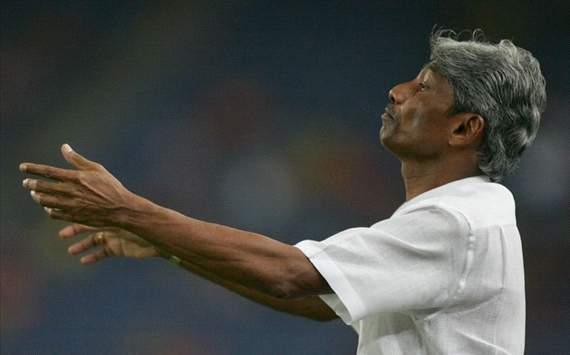 One doesn't need much explanation to understand why Datuk K. Rajagopal is constantly criticised these days but perhaps there should be a limit to it. He after all, was central to the revival of football in this nation, and probably has quite some ideas for the national team. The AFF Suzuki Cup last year was disappointing for every Malaysian but King Raja and his men have moved on from it, with the boss promising qualification into the 2015 Asia Cup. The match against Bahrain in October remains their biggest aspiration and it's about time we cut him some slack and let him to the job until then. His contract ultimately expires at the end of this year, and should he fail to deliver his promises, then probably the Football Association of Malaysia (FAM) will be making a very important decision come December.