I can still remember what it was like when ATM snapped up the likes of Aidil Zafuan and Zaquan Adha last year. Just when you thought that the Super League was ready to tempt players from all around the world, local players began the journey into the lower league.
ATM spent big. Alongside the twins, they also brought in Hairuddin Omar from Negeri Sembilan. Former Kedah hitman Marlon Alex James was also drafted into the squad, which struck fear into the hearts of other Premier League teams.
Malaysian football had never quite seen such a revolution before. It's understandable that it's a common sight to see local sides revamping their squad almost every season, which is due in no small part to the short contracts that they usually offer to players. However, when a Premier League side spends such an amount to attract these names, you know that the pressure will be on them.
But ATM silenced their critics. They were crowned Premier League champions, and progressed all the way into the Malaysia Cup final before faltering against eventual winners Kelantan. Promotion into the Super League was secured and coach B. Sathianathan was a happy man. Per contra, things could have been much different had they failed to prove a point.
Similarly, that will be the puzzle for Johor Darul Takzim in 2013. Under the new leadership of The Royal Crown Prince of Johor Tunku Ismail, the Southern Tigers secured the signature of Euro 2008 winner, the Spanish star Dani Guiza, as well as ex Lazio midfielder Simone Del Nero. Not only that, local big names in the form of Safee Sali, Norshahrul Idlan Talaha, Aidil Zafuan, Muslim Ahmad and Safiq Rahim were also brought in to further substantiate the squad's depth.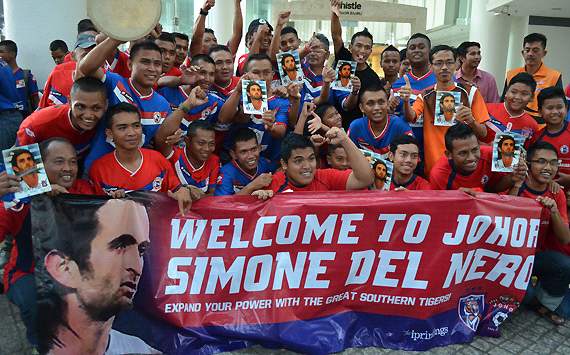 When Manchester City were taken over by Sheikh Mansour in 2008, they pumped millions into the club which led to the purchase of Robinho and subsequently Emmanuel Adebayor as well as several other big names the following seasons. However, there was a price to pay for the head coach as well. Mark Hughes wasn't only supplied with the freedom to spend, but also with the task to bring success. He essentially failed to bring the required success, and was immediately replaced with Roberto Mancini.
But before he can think about bringing success, head coach Fandi Ahmad will have one major headache. "I have the team that coaches dream of having," he enthused earlier this week. In a team that is filled with big names and personalities, how do you find the right mix.
Right now, Fandi has four strikers at his disposal. Dani Guiza will certainly be pushing for a starting berth in most games, which leaves Safee Sali, Norshahrul and Zaquan to fight for the remaining one. Of course he can opt for a 4-3-3 formation with three forwards but how often can you do this in our extremely radical Malaysian Super League?
And these players are names that consistently fight for national team spots, meaning that not featuring often could do damage to their national team chances as well. It will definitely not bode well with them.
"Buying success" is certainly not a very popular phrase among sporting fans, but there is no denying the fact that money can certainly contribute greatly towards being successful. We've seen it with Real Madrid in Spain and we've also seen it with Manchester City and Chelsea in England. And we've certainly seen it with ATM last year.
But spending money is not the ONLY factor to be considered in gaining success. The faster JDTFC figure and sort this out, the better it will be for them in 2013. Because nothing short of success will be expected of them next year.