The Football Association of Malaysia (FAM) are set to hold their annual National Football Awards ceremony in Shah Alam tomorrow.
Despite an excellent maiden season, with the LionsXII finishing runners-up in the League and narrowly losing the Malaysia Cup semi-finals to ATM in a penalty-shootout, no player from the Singapore side was nominated in any of the eight categories.
LionsXII captain Shahril Ishak, who finished among one of the top scorers in the League was one of the glaring omissions, with Hariss Harun, who was heavily mentioned in the run up in the local press being the other.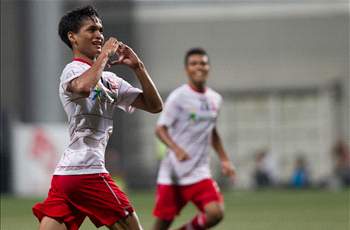 V.Sundramoorthy who was reportedly offered coaching roles by Malaysian Super League sides at the end of the season was also surprisingly left out.
This year's shortlist of nominees is dominated by footballers from the treble winning Kelantan team with players selected in every category.
Bojan Hodak, captain Badri Radzi and national custodian Khairul Fahmi Che Mat lead a group of ten individuals to be nominated from the east coast side.
ATM, the beaten finalist of the Malaysia Cup, have the second most nominations with no less than six names on the shortlist.
Apart from the main categories, there will also be awards for the Best Football Association, Best Club and Best Fan Club, with LionsXII and the Singapore Football Association in the running for the former two awards.
THE NOMINEES
Best Goalkeeper
- Farizal Marlias (Negeri Sembilan), Khairul Fahmi Che Mat (Kelantan), Norazlan Razali (Selangor)
Best Defender
- S. Subramaniam (Kelantan), Aidil Zafuan Abdul Radzak (ATM), Amirizwan Taj Tajudin (ATM)
Best Midfielder
- Safiq Rahim (Selangor), Badri Radzi (Kelantan), Rizal Zamberi Yahya (ATM)
Best Striker
- Norfarhan Mohamad (Kelantan), Norshahrul Idlan Talaha (Kelantan), Amri Yahyah (Selangor)
Most Promising Player
- Rozaimi Abdul Rahman (Sabah), Nik Mohd Shahrul Azim (Kelantan), Ashri Chu Chu (Sarawak)
Best Coach
- Bojan Hodak (Kelantan), B. Sathiananthan (ATM), Irfan Bakti Abu Salim (Selangor)
Most Valuable Player
- Badri Radzi (Kelantan), Hairuddin Omar (ATM), Norshahrul Idlan Talaha (Kelantan)
Best Foreign Player
- Marlon Alex James (ATM), Muhammad Ghadar (Kelantan), Jean Effa Owana (Negeri Sembilan)