How big of a football fan are you, James?

Massive! I've been playing and following football since I was a small boy and still get to two to three Premier League games a year even from Singapore – the atmosphere is incredible and it's always the highlight of every trip home to England.
I also collect football memorabilia – match worn shirts and boots – and I think I can claim to have one of the largest personal collections in Singapore, with over 50 match worn shirts in my collection.
What about local football?
I've been to a few S-League Games and while the standard and atmosphere is not quite at the same level as the Premier League, there's still a lot of passion, which to me is what the game is all about.
So which club do you support then?
I've been a Tottenham fan since 1984, through thick and thin – mostly thin! The first football match I ever saw, just before my seventh birthday, was the UEFA Cup Final vs Anderlecht and I was hooked. After that the years of Hoddle, Waddle, Ardiles and Gascoigne showed me how beautiful (and heartbreaking) football can be! Now I have a lot of friends at the Club through charity projects I have supported for their Foundation and I was honored to be Daniel Levy's personal guest at a Premier League game in December – dining with him before the game and getting the chance to talk tactics with Francesco Baldini, Tim Sherwood and others; truly an incredible experience.
Tottenham had a difficult season, especially after the sale of Gareth Bale, any thoughts on that?
Where to start? At the start of the season with the seven new additions to replace Bale, people were talking about 'Selling Elvis and buying The Beatles' and with new managers at Man City, Chelsea and Man Utd and Arsenal not spending (until the Ozil trolley dash!) it looked like the title was there for the taking – as indeed, Liverpool seem to be proving it is.
But I feared at the time that many of these were players that strengthened the squad but would not replace Bale's spark – unfortunately that has proved to be the case, with only Eriksen really living up to his billing so far. Chiriches, Paulinho, Chadli have all shown flashes of potential but the jury is still out.
So was it a bad season for at White Hart Lane?
Ironically though, for all the negative talk, Spurs came close to matching their highest ever Premier League points tally in spite of all the upheaval. In fact, if it was not for the heavy beatings suffered at the hands of City, Chelsea and Liverpool (and three defeats to West Ham), we may be talking about this as a good season.
What about for the future? How do you think they'll fare in the long run?
Much will depend on two things: the upcoming decision on next year's manager and whether they can convince their few world-class players to stay on another season. An appointment like de Boer or Allegri (or the return of Jurgen Klinsmann) could help attract some big-name players, get the team playing 'the Spurs way' (and winning too!) and hopefully help us keep hold of Lloris, Eriksen and Vertonghen who undoubtedly will be on wish lists of many big teams.
I think many Spurs fans are wary of 'up and coming' managers like Pochettino after the AVB experience and the thought of Moyes at the Lane is not getting anyone I know excited. Beyond that, the next focus on the horizon is the new stadium – hopefully we can balance the need to fund that and still keep the team competitive through astute purchases and blooding of youth, as Arsenal did with the Emirates.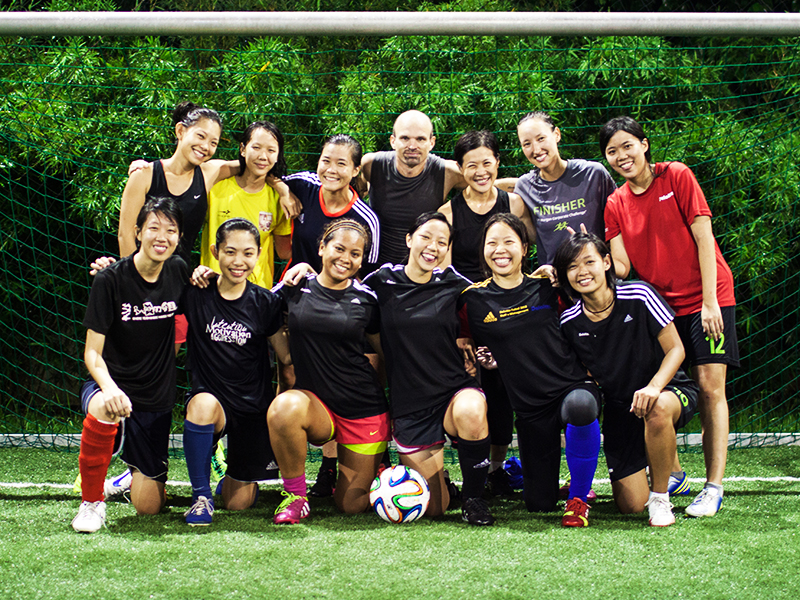 Alright, so who is your favourite player and why?
My all-time favourite Spurs player is Chris Waddle. Just watch a video of the incredible goal-scoring spell he went through in 1988/89 to understand why! I loved the way he could look so languid and then suddenly breeze by a defender as if they were not there. In later years, Anderton and Ginola have been favourites too – the astute amongst you will have noticed that they are all wingers, which probably stems back to the fact that that was my playing position growing up. Spurs fans have too many footballing geniuses to choose from – Hoddle, Gascoigne, Klinsmann, van der Vaart, Ardiles, Bale, Berbatov, Villa, Greaves and more – the problem is that too often they were individual stars in a team of otherwise average players!
Any local player that has caught your eye?
Locally, I recently had the pleasure of playing in a charity tournament with Fandi Ahmad. I had heard my friends talk of him and seen some old videos of his glory days, and I can categorically confirm - he has not lost his touch!
Do you still play football?
I'm approaching my 37th birthday in July, but I still play at least twice a week. I am a marathon runner and strong sprinter, so even when I am the older player on the pitch, I am usually the fittest and the fastest!
I play in the Singapore BPL Fan League for the Spurs Supporters Club and I play for Deloitte's Men's team who are currently the ISCA Games champions – the competition for accountancy firms in Singapore. At the moment we are training to take part in Deloitte's annual Prague Cup tournament in Prague, Czech Republic, on May 17th, the first time that an Asian team has entered this tournament for Deloitte offices around the world. I also coach Deloitte's ladies' futsal team, and this team will also be going to Prague to take part in the Ladies' competition. They are the current ISCA Games silver medalists.
Does this mean you were a serious player in your younger days?
In the past I was a serious player, as were a number of my family members including my grandfather, father and a few uncles. But we have a history of knee injuries curtailing professional careers in my family, and I was another victim of that – I was diagnosed with osteoarthritis (then in the juvenile form) at 16 years old and I could not get a professional contract after that. I went on to play semi-professional football through my university days before retiring when I started my career in Deloitte on graduation. I am two-footed, so I used to play left-wing in my younger days.
The World Cup is upon us again, have you made plans for it?
I will be in Brazil watching it live – the first time I'll be at the World Cup in spite of the fact that I lived in Prague when the World Cup was in Germany and then lived in Africa when it was in South Africa! I will be there for two weeks and have tickets for six games including two second round games (which should include Brazil and France) and first round games for England, Argentina, Portugal and the Netherlands.
Any chance you'd place your faith in your home nation then?
As an Englishman, I have to support my home country but at the same time to expect us to lose valiantly on a penalty shoot-out!
So the winner this year will be?
You can never dismiss the Germans, the Brazilians have home advantage and Argentina have an awesome squad. But the surprise could be the South American dark horses –Uruguay, Colombia and Chile. I expect at least one of them to reach the semi-finals and then anything can happen.